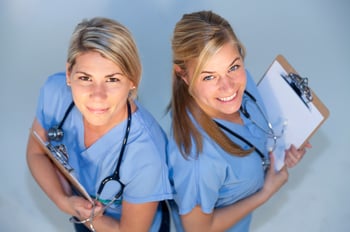 In our continuing series, we're exploring "a day in the life of…" various entry level healthcare careers. If you're considering a job in healthcare, this is a perfect series to keep up with because it will offer a broad overlook for potential entry points into the industry.
Check out the articles we've written so far:
Today's post is the fourth in our series, and we'll be taking a look at a day in the life of a CNA 1.
What Is a CNA 1?
A CNA 1 is a Certified Nursing Assistant who has completed one stage of certification. CNAs work directly under the management of licensed nurses, and they can work in different kinds of facilities, which offer slightly different sets of duties based on specific focuses for patient needs. For the most part, hospitals will not hire CNA 1s. However, CNA 1s can work in a wide variety of other facilities, including skilled nursing facilities, assisted living facilities, and long term care centers. A CNA can work in a hospital if they pursue CNA 2 certification.
Achieving CNA 1 certification can also be a stepping stone for other medical industry careers. Working as a CNA 1 will expose you to different professional opportunities, and your experience as a CNA 1 can act as a bridge to furthering a career in nursing, becoming a physician assistant, or even management.
If you're wondering how to become a certified nursing assistant, the steps to becoming a CNA 1 are remarkably straightforward. At the PCC Institute for Health Professionals, we offer a state approved educational program featuring just over 80 hours of classroom and lab time as well as 75 clinical hours. (We also offer a program for CNA 2.) At this point, you will need to take state certification exam; once you have passed, you can decide what sort of focus you want to take and what facilities you'd like to apply for.
A Day in the Life of a CNA 1
Before we continue, we want to remind you that this article is just an overview intended to give you an idea about what a day doing this sort of job is like. Where you work, not to mention a number of other variables, will make your experience different in any number of ways.
This is especially true of your routine. The day normally begins by receiving assignments from licensed nurses, including pass ons and updates from the previous shift, either individually or as a part of a nursing report. Generally, a CNA 1 is involved in most aspects of the patient's daily care, from taking vitals, observing the intake and output of fluids, and completing information charts to feeding patients, assisting with personal hygiene, and helping transport a patient who has difficulty moving. You may also be required to rotate patients, change bed linens, and help patients work through a range of motion exercises. A CNA 1s most important job is to be the eyes and ears for the nurses and doctors they work for — by working with patients all day, in very intimate physical matters, a CNA 1 can spot problems and complications before they start, thus mitigating risks to patient health and comfort.
The hours can be long, depending on where you're employed. Most shifts are eight hours long, though some may be as short as four to six hours and as long as 12 hours. The beginning of the morning shift is often 6:30 a.m., but that's also the time that the night shift ends. This is because patient needs occur around the clock.
A CNA 1 needs to have a positive personality and plenty of energy since they'll be dealing with patients of many ages, usually teens, adults, and elderly patients. Depending on the facility they work in, they may need to assist patients who have had traumatic physical injuries, have severe and debilitating illnesses, are undergoing cancer treatments, suffer from mental disabilities including dementia and Alzheimer's disease, and are in the process of dying. As the primary source of human interaction on a regular basis, CNAs need to offer patients dignity and in many cases, hope or motivation.
Of course, a CNAs income will vary from state to state, facility to facility, and position to position, but the job outlook is good. Nationally, the Occupational Employment and Wages is a mean of $26,250 per annum or about $12.26 per hour. In Portland, the annual income can range from $24,463 - $34,774.
For more information on how to become a CNA 1, download a copy of the CNA 1 Program Timeline. It offers information about how the course works and how long it takes to complete as well as tips for completing the program successfully.
If you're interested in starting a career in healthcare, we can help! Peruse the rest of this series, or contact us for more information today.