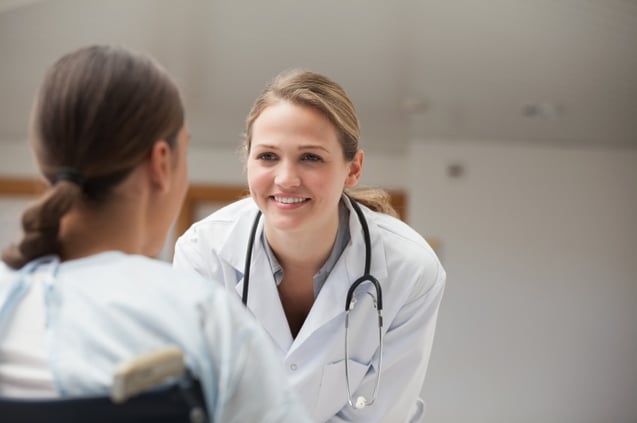 Updated May 3, 2022
One of the most critical questions to ask when exploring options for a new or changing career is what the day-to-day expectations of your new role will look like. After all, knowing what to expect as a patient access specialist or in any other entry-level healthcare career will help you know if the role is the right fit for you, and if you can see yourself enjoying your work and finding what you do fulfilling.
We understand that it can be confusing to know exactly which path in healthcare is right for you, so we've created this series to help you navigate your options. In this post, we'll explore a day in the life of a patient access specialist.
What Is a Patient Access Specialist?
The patient access specialist is often the first person a patient sees when they arrive at a hospital, doctor's office, or any medical admitting department. As such, they work to provide exceptional customer service to both patients and family members. Their role includes duties of registrations (pre-service and point of service), insurance verification and authorization, scheduling of appointments, and financial counseling.
A patient access specialist role can fall under many different titles, such as registration, registration representative, access representative, registration technician, insurance verifier, pre-registration specialist, and financial counselor, to name a few.
A Day In the Life of a Patient Access Specialist
This is a general overview of a typical day in the life of a patient access specialist. It's important to note that this is only meant to give you an idea of what a normal day might look like — of course, this can vary depending on many factors, including the size and type of the hospital or clinic, the types of patients received and more.
The Role Patient Access Specialists Play
A patient access specialist's daily responsibilities encompass many different tasks within the revenue cycle of a healthcare organization. They are responsible for the delivery of the critical components of those functions as well as keeping the hospital compliant with the many regulatory agencies, maintaining patient safety through correct patient identification practices, insurance verification, and financial services. This can include collecting payment in difficult situations all while providing extraordinary customer service.
Daily Tasks for Patient Access Specialists
Some daily tasks they are expected to execute include responding to inbound calls from patients and documenting them in an appropriate database. Additionally, they conduct outbound calls per program specifications, screen and process patient assistance applications by determining eligibility, and make outbound follow-up calls as necessary.
Typically, patient access specialists respond to inquiries regarding operations and requests, such as the status of patient enrollment, product shipments, and returns. They are required to work with distributors and manufacturers to request and track product shipments.
Since patient access specialists work with insurance companies and handle the revenue cycle within their organization, this is a great career path if you're interested in learning more about the business side of the healthcare industry. To be successful in this position, you'll want to be highly organized. Other key skills pertinent to this career include great attention to detail, strong verbal and written communication, a friendly disposition, the ability to be proactive, and wonderful customer service skills.
Types Of Hours Patient Access Specialists Work
Depending on the healthcare facility in which they work, a patient access specialist is generally hired with the opportunity to work 8 to 12-hour shifts. Many clinics and dental offices work 8 am - 6 pm, whereas outpatient surgery centers typically run a 5 am - 8 pm schedule. On the other hand, hospitals, skilled nursing, and rehab centers are a 24/7 work environment.
The Takeaway on Being a Patient Access Specialist
The patient access specialist is a highly skilled, highly knowledgeable, professional career in the healthcare industry. Being involved in the patient's financial care is a rewarding and fulfilling service as much for the employee as it is providing assistance to the patient and family.
If you're leaning more toward the business side of this industry, becoming a patient access specialist is a great way to launch your career. However, if you're still weighing your options, check out our post on a Day in the Life of a Phlebotomist, and keep an eye out for the remaining four in this series!
A career in healthcare may be the perfect fit for you. But with so many options, it can be difficult to figure out which path is best. If you want to talk to someone to learn more about next steps, or to answer any lingering questions — let's talk! Contact us at climbhealth@pcc.edu or 971-722-6633.