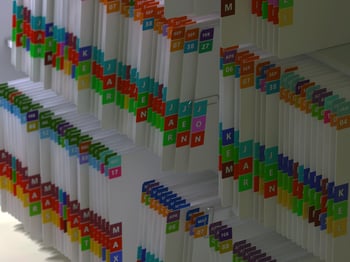 Welcome back to our latest blog series where we explore a day in the life of various entry level healthcare careers. If you're considering a job in healthcare, this will be an excellent series to keep up with, offering a broad view for potential entry points into different roles in the industry.
Today's post is the second in our series, and we'll be taking a look at a day in the life of a medical coder.
You shouldn't confuse becoming a medical coder with computer coding, although they can share a few traits. As healthcare information technology evolves and many levels of, much of your time as a medical coder will be spent on a computer doing data entry.
But what does this actually involve?
Medical coders are needed at almost any healthcare facility, especially hospitals. Their role is to read through a patient's medical records for their most recent visit or appointment, from admission to discharge, and convert all of that information into regulated codes to determine billing and submission for insurance reimbursement.
You might think that this sort of data entry is tedious, however that is far from the case. A medical coder is not unlike an investigator. There is always something new to learn and always someone new to help.
We can help you with the first steps to becoming a medical coder, and further certifications and experience can make this position an entry level job that leads to careers in billing, compliance, management, and other parts of the healthcare revenue cycle.
A Day in the Life of a Professional Medical Coder
Now, before we move forward, it's important for us to remind you that this is an overview, one perspective on what a day, doing this sort of job, is like. Where you work and what you do or don't specialize in, not to mention a number of other variables, can make your experience different. (For instance, Jordan Lee Smith in the UK.)
There is potential for the ability to work from home, depending on where you're employed and what sort of technology is needed. The job requires you to handle extremely personal and sensitive information that's protected by Health and Human Services and the HIPAA Privacy Rule, so information security is vital.
If you work in an office, you may have your own space especially at a small or private practice. At a larger facility, you may share your work space with other medical coders. After arriving and getting settled in, the medical coder is assigned a certain number of cases to work through. They'll review all medical charts associated with the patient's visit in order to ensure they've been properly coded, or to assign codes correctly according to the procedures which the patient underwent. The codes (namely the ICD-10, HPCS-4, or CPT classifications) are recognized nationally by third party payers or similar organizations and companies as describing the services that have been rendered.
Sometimes in order to accurately complete this work, coders will need to follow up with various other medical staff. This is where an investigator comes in. A medical coder needs to be able to extract meaning from bad handwriting, conflicting notes, and highly specialized procedures. They need to be sure that all of the care the patient received is recorded clearly for accurate submission to insurance companies. For this reason, being a medical coder requires fairly independent work, but also requires you to interact well with your colleagues and medical staff.
Coders will work case by case until the end of their shift. Production schedules for medical coding are fairly tight, and most employers will expect a certain amount of work completed per day. Work that cannot be completed in a single day normally has a maximum number of days (called lag days) to be completed as well.
It is important to understand that a medical coder's role is to ensure everything is recorded and billed correctly. Incorrect coding and not adhering to the appropriate guidelines will result in the wrong prices being charged and negative effects on third-party reimbursement. Because of this, compliance officers or insurance personnel will perform audits to ensure things are being recorded correctly. Sometimes this is random to ensure compliance, and sometimes this may be done in response to specific situations.
How long a medical coder's shift is will be determined by where they work and the volume of work needed on a regular basis. As mentioned above, in some situations, working from home is acceptable.
If you're a detail oriented person, capable of working both independently and in conjunction with various colleagues, becoming a medical coder could be the right step for you. It can be rewarding work! To find out more about how to become a medical coder, talk to our staff at the PCC Institute for Health Professionals today!