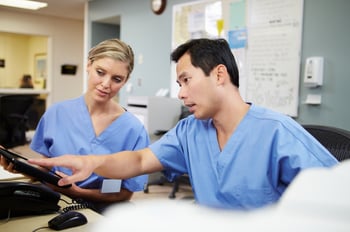 With so many options in the field of healthcare it can be tough to figure out the correct career trajectory for your personality. One popular niche is being a Certified Nursing Assistant (CNA). How does one become a CNA? What are your next steps?
Are you a compassionate and caring person who wants to be part of a health care team working with a licensed nurse taking part in critical actions such as taking vital signs and assisting patients with the day to day activities they cannot perform themselves?
Step Two: Enroll in and Oregon State Board of Nursing (OSBN) Approved Program.
You decided it's right you. Now you need to find the perfect program
Portland Community College's CLIMB Institute for Health Professionals offers certification for both level 1 and 2. The first level requires 80.5 for labs and classrooms and 75 clinical hours in a skilled nursing facility. Please note there is a mandatory, free orientation that you must attend prior to the first day of class.
Step Three: Complete State Certification
After you have finished your course requirements you need to pass the Oregon State Board of Nursing exam to become a CNA1.
Step Four: Determine Next Steps
Congratulations you passed the test and you can seek employment.
Now you need to determine your interest in pursuing a CNA 2 certification. Do you want perform more advanced tasks, enhance your earning ability, advancement potential and employment opportunities?
The program at the PCC Institute for Health Professionals requires 60 hours of classroom and labs coupled with 28 hours of clinical work. You are able to work as a CNA1 while going to school.
Step Five: Determine Your Area of Expertise and Start Working
You have many job options available including Assisted Living Facilities (ALF), Intermediate Care Facilities (ICF) or Skilled Nursing Facilities (SNF). Luckily, many of Portland Community College's students are hired by the clinical sites where they perform their required hours.
We hope this helps answer some of your questions about become a Certified Nursing Assistant in the state of Oregon. To get a more detailed understanding of the process and next steps, download our step by step guide to becoming a CNA.