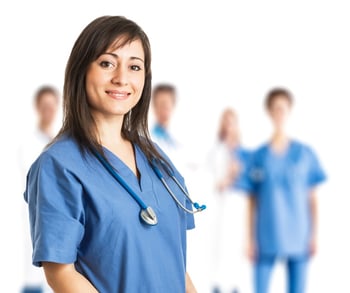 Certified Nursing Assistants (CNA) are an integral part of the health field, and require a certain type of individual to be successful. Becoming a CNA will be a lot of work, but has the potential to be incredibly rewarding for those who decide it is how they want to spend their career.
How Hard Is It to Get My CNA 1 Certification?
CNA programs in Portland allow you to take the necessary courses in order to receive your CNA 1 certification, which you must have prior to beginning work. You must complete 80 hours in the classroom, demonstrate your lab skills and spend 75 hours in a skilled nursing facility to meet the clinical requirements. Once this has been accomplished, you must pass the state exam before you can be employed as a CNA. Download the CNA 1 Program Timeline to better prepare yourself for what is ahead.
What Kind of Pay Can I Expect?
Depending on where you live within the country, wages vary slightly for CNAs, but the national average for this position is $12.62 an hour. This adds up to an annual salary of $26,250.
What Personality Traits Are a Must for a CNA 1?
Not everyone has the personality to be a CNA. Not only does it require a wide range of skills but the job also requires certain personal characteristics. CNAs need to be capable of listening to direction. Being organized and capable of managing time is critical to ensuring all patients get the care they require. Working in an environment where people are not feeling their best means CNAs must have a positive attitude they can pass on to patients and a certain level of empathy to understand and sympathize with their struggles.
How Can I Build on a CNA 1?
Once you have received your CNA 1 certification, you can use the experience and knowledge you have gained for new opportunities within the medical field. Many students who acquire their CNA 1 move on to take the necessary steps for the CNA 2 certification, but becoming an RN or LPN is also common. If working in PA is what interests you, you can work toward satisfying your clinical hours for that course.
What Does a CNA 1 Do in Their Day?
Depending on where you have the opportunity to work, your daily routine may vary slightly but you can expect to assist nurses with a variety of tasks during the course of the day. Taking a patient's vital signs is critical to monitoring their health and an essential part of your job as a CNA. You will also be asked to help with all aspects of daily living: bathing, feeding, dressing and undressing or range of motion exercises.
Where Do CNA's Primarily Work?
For students who have received their CNA 1 certification, there are many places where they can find employment. While the CNA 1 certification does not allow you to work in hospitals, you can gain experience in assisted living facilities, intermediate care facilities or skilled nursing facilities. If you make the decision to get your CNA 2 certification, you will then be eligible to work in hospitals and other facilities.
Becoming a CNA is not for everyone. Making a plan and understanding what steps you need to take to start your life as a CNA is important to your success. This will ensure you take all of the appropriate steps and do not waste time on things that will not be beneficial to you.