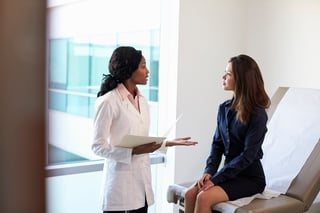 Clinical research explores new ways to deliver medical care, from new medicines and treatments to improved diagnostic tests. Clinical researchers play a vital role in advancing medical care and improving the health and lives of people across the globe.
Clinical researchers can work in many settings, including laboratories, physician offices or hospitals. Most clinical researchers spend more time with patients than alone in a lab. They often work normal hours, performing duties such as taking patient information and histories, recruiting patients to become part of a study or speaking with physicians. Clinical researchers may be nurses, paramedics, nursing assistants, physicians or many other healthcare professionals.
You may enjoy and thrive in a clinical research position if you enjoy working with people, like to work independently and are good at following detailed instructions. You should also have a love of science and a desire to improve people's health.
If you think a career in clinical research is right for you, it's important to lay a strong foundation for your new job. To start your career, you should:
Learn the Facts
First, learn as much as you about clinical research, including understanding how it is regulated by the Institutional Review Board (IRB) or Human Studies Review Committee (HSRC). You should learn about the many agencies that play a role in controlling research and ensuring it is safe and ethical. You'll have to follow tight regulations and be compliant with laws such as HIPAA in order to keep patients safe and ensure you get accurate results.
You should also learn more about how research is designed and funded. It can help you better understand your new career, impress potential employers in interviews and hit the ground running when you land your first clinical researcher position.
Seek the Right Education
One way to gain all the knowledge you need about clinical research is to seek out education on clinical research careers, such as the Foundations of Clinical Research program at Portland Community College. These programs can help you beef up your resume and start your career in clinical research on the right foot. These programs can help you achieve certification in clinical research and make you more competitive for jobs.
You can attend these programs while working full-time, but be sure to prepare yourself to succeed.
Start Applying
Once you have a firm grasp of clinical research and have achieved certification, you can start applying to research positions that interest you. Given your education and ability to understand research, you should perform well in job interviews. You may check for positions at hospitals, medical schools, cancer centers and many more locations depending on what you are interested in researching.
Career opportunities in clinical research continue to grow thanks to today's data-driven world. According to the U.S. Bureau of Labor Statistics, clinical research jobs are growing faster than average, with an estimated 52,100 more positions available by 2024. You should have no trouble finding the position that's right for you and your new career in clinical research.