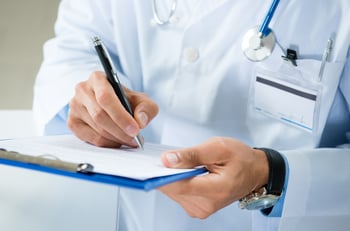 The Portland Community College Institute for Health Professionals offers six entry level healthcare training courses that will get you hired. You can courses to become a certified nursing assistant, pharmacy technician, phlebotomist, sterile processing technician, medical coder, or a patient access specialist. Each course offers entry level healthcare training, which includes classroom and/or online lectures and/or lab training, and practicums to prepare each student for his or her healthcare career and the necessary exams for certification. This post will discuss each course in-depth.
1. Certified Nursing Assistant
Role of a Certified Nursing Assistant
A certified nursing assistant (CNA), under the supervision of a Registered Nurse (RN) or Licensed Practical Nurse (LPN), assists patients with basic quality-of-life healthcare needs. Some of the responsibilities of a CNA include: administering medication or treatments; cleaning and sanitizing patient rooms and exam areas; documenting and reporting of patient behavior or physical symptoms; assisting with bathing, dressing, eating, and mobility; and applying clean dressings, slings, and bandages under the supervision of a nurse or physician. CNAs can work in a variety of settings including hospitals, clinics, nursing homes, adult day care centers, assisted living facilities, and in individuals' homes. A CNA's role is vital as he or she acts as a liaison between the patients and the RN.
Training and Certification Required
The Oregon State Board of Nursing-approved Certified Nursing Assistant Training Program includes 80.5 classroom and lab skills hours along with 75 hours of required clinical practice in a skilled nursing facility. Day and evening classes are available. Upon graduation, students will receive a certificate of completion and will be recognized as a Nursing Assistant (NA). After successful completion of the required Oregon State Board of Nursing (OSBN) exam the student will be a Certified Nursing Assistant 1 (CNA 1). Should a student desire to be a CNA 2 Acute Care Nursing Assistant, classes and training are available. A CNA 2 performs more advanced tasks which allows for higher earning and advancement potential.
Additional Information
The national annual median salary is $24,400 (in Oregon, much higher) with potential pay increases for skills associated with work in telemetry, the intensive care unit, and the emergency room. Pay varies based on location. Potential long-term careers for CNAs include: RN, LPN, medical assistant, and certified medical assistant.
2. Pharmacy Technician
Role of a Pharmacy Technician
Pharmacy technicians help pharmacists dispense prescription medication to customers or healthcare professionals. Technicians also manage third party insurance reimbursements and other various tasks. Technicians work under the direction of a pharmacy in retail pharmacies, hospitals, long-term care facilities, pharmaceutical companies, and other healthcare facilities.
Training and Certification Required
Enrolling in and completing a post-secondary education program, such as the PCC Institute for Health Professionals, will help increase knowledge and practicum experience, and prepare students for the Pharmacy Technician Certification Exam (PTCE). Most states regulate pharmacy technicians, Oregon included, which requires the passing of the certification exam before practicing.
PCC's pharmacy technician program is a two-part course totaling 160 hours of didactic and lab training followed by an externship experience, and combines online learning with onsite lab practicums to help prepare students to enter the pharmacy. Certification requirements are also covered in preparation for the exam. At the end of the course a comprehensive review of topics and test-taking strategies will prepare students to take the Pharmacy Technician Certification Board's (PTCB) Exam, which registers a pharmacy tech with the state board. On-the-job training is required in addition to annual, continuing education credits to maintain your national certification. One hour of Oregon pharmacy law is also required each year.
Additional Information
Pharmacy technician jobs are great for people who are adept at algebra and basic sciences. Some of the most common career paths for pharmacy technicians are: certified pharmacy technicians, lead pharmacy technicians, registered nurse, and pharmacist. The national annual median salary of a certified pharmacy technician (CPHT) as of 2015 is $30,450.
3. Phlebotomy
Role of a Phlebotomist
A phlebotomist draws blood from patients for testing or transfusion and ensures the proper handling of blood specimens. They are often responsible for performing additional functions to process the blood samples for further analysis by medical professionals. Phlebotomists work in a laboratory, health clinic, or medical center. Those who work in a laboratory setting are also responsible for ensuring the samples are analyzed correctly.
Training and Certification Required
Requirements for certification vary from state to state. For Oregon, phlebotomy courses can be taken in one or two terms. The intensive two-term course offered by PCC Institute for Health Professionals provides students with knowledge and experience to work as a phlebotomist and to qualify for the American Society of Clinical Pathology Exam to become a nationally certified phlebotomist. Term One includes 90 hours of classroom and lab training. After successful completion of Term One, students will move into Term Two which includes 100 hours in a laboratory setting in a hospital, physician office, or outpatient facility. Once students complete their clinical rotation, they are prepared and eligible for the national certification exam through the American Society for Clinical Pathologists, which "greatly enhances employability in the field."
Additional Information
The national annual median salary of a phlebotomist as of 2015 is $30,303. Job skills that are associated with higher pay in this field include: data entry, specimen processing, and oncology. Potential career paths for phlebotomists include: licensed practical nurse, medical laboratory technician, and registered nurse.
4. Sterile Processing Technician
Role of a Sterile Processing Technician
A sterile processing technician is a medical professional who is trained to stock, sterilize, package, and prepare the tools and equipment used in surgical procedures, along with taking inventory of items such as gloves, masks, scalpels, and needles. Sterile processing technicians may also be responsible for ensuring the cleanliness and safety of operating rooms, tables, and equipment. Work settings may include: hospitals, public health clinics, physician offices, and specialized surgical centers.
Training and Certification Required
The PCC Institute for Health Professionals offers a two term Sterile Processing Technician program, which provides knowledge and clinical experience to work in the field. Once employed in a sterile processing department for one year and a minimum number of hours performing a variety of sterile processing tasks are completed, you may obtain certification through the Certification Board for Sterile Processing and Distribution, Inc. (CBSPD) and the International Association of Healthcare Central Service Materiel Management (IAHCSMM).
Additional Information
The national annual median salary of a sterile processing technician as of 2015 is $33,804. According to a survey from September 2015, sterile processing technicians reported high job satisfaction. Common career paths include: sterile processing technologist, surgical technologist, surgical technician, RN (operating room), RN, and LPN.
5. Medical Coding
Role of a Medical Coder
A medical coder is responsible for "transferring diagnostic and treatment terms from doctors and other health professionals into coded form for record keeping, use of other medical professionals, and often for billing and insurance purposes." Many coders receive in-depth education and training in anatomy and physiology to help recognize different aspects of illnesses and diagnoses to translate them properly into a standardized code. They also review records for completeness and accuracy to ensure compliance with regulations.
Training and Certification Required
Medical coders are often required to have further education in medical terminology, management of databases, coding of data, and other relevant coding courses. PCC Institute of Health Professionals offers online courses to prepare students for the AAPC National Coding Certification. Courses include medical coding parts A and B, terminology, and an advanced anatomy and physiology course for coders.
Additional Information
The national annual median salary of a medical coder as of 2015 is $37,969. Areas of expertise that are associated with higher pay in this field include: collections, medicine/surgery, and surgical coding. Common career paths include: medical records coder, certified professional coder (CPC), and certified medical coder (CMC).
6. Patient Access Specialists
Role of a Patient Access Specialist
A patient access specialist is responsible for excellent front-line customer service in a registration position, in a hospital setting. Patient access specialists help keep the hospital compliant with the various regulatory agencies, maintain patient safety through proper patient verification processes, and verify insurance and utilize collection skills when necessary.
Training and Certification Required
The Patient Access Specialist Program is offered over two terms and will prepare students to have the skills and knowledge required to take the Certified Healthcare Admissions Certification (CHAA) exam. Students will also learn about healthcare insurance, the legal and ethical side of medical healthcare coverage, types and sources of health insurance, managed care insurance coverage, Medicare, Medicaid, workers' compensation, and disability. In addition, students will study hospital billing and prepare for the certification exam.
Additional Information
The national annual median salary of a patient access specialist as of 2015 is $37,460. Job satisfaction is usually high in this field. Pay is determined by geography, career duration, and the place of employment.
Whether you are a health professional completing entry-level training or are a working professional receiving continuing education credits or certifications, PCC Institute for Health Professionals can offer you a comprehensive program to successfully begin or continue your healthcare career.