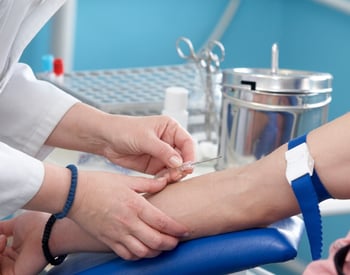 Are you interested in a career in healthcare? It can be confusing to find your way into healthcare careers, especially if you didn't dive into a medically geared education after high school. Don't let that stop you though! There are plenty of rewarding, well paying jobs that will allow you to help people, including becoming a phlebotomy technician (or simply a phlebotomist). The following article will tell you everything you need to know about what a phlebotomist does, why phlebotomy is a great first step, and how you can start your career in phlebotomy today.
What Does a Phlebotomist Do?
The word phlebotomy comes from two Greek words: phlebo- (pertaining to blood) and -tomy (making an incision). The core skill of a phlebotomist is drawing blood. You may be tempted to think, "Is that all?" However, this is an important role that, because it is so highly specialized, eases the workload of other healthcare professionals.
The typical work day of a phlebotomist is going to vary by where they work. For instance, a phlebotomist working at a plasma donation center in a small town is going to have a drastically different kind of schedule than a phlebotomist working at a major hospital in a big city. However, the responsibilities are very much the same. Phlebotomists must interact with patients calmly and put them at ease, and they may need to do a skin-puncture blood sample (i.e., usually from a fingertip, requires a small amount of blood) as well as taking a venipuncture blood sample (i.e., a needle inserted into a vein to withdraw larger amounts of blood). In the case of plasma donation, a phlebotomist will need to understand how to work specialized machinery that cycles out plasma before returning red blood cells to the patient.
Phlebotomists are also responsible for controlling conditions to prevent sample contamination and patient infection, as well as maintaining sterile conditions, accurately labeling samples and entering pertinent data into patient files. They may also be required to work with lab technicians to safely transport samples, organize test results, and, present them to the appropriate doctor or specialist.
How Do I Become a Phlebotomist?
Training to become a phlebotomist is quite fast compared to some other healthcare careers, and depending on the program you select, you may complete your training and certification in a year or less.
Before starting your medical education and training to become a phlebotomist, you must have a high school degree or equivalent. From here, the education and certification will vary by state, however, a phlebotomy program is usually required and certification is preferred by most employers. We strongly recommend that you find a program that not only teaches you in the classroom, but also offers clinical lab training. This not only boosts your confidence on the job, it also increases your success with patients and coworkers.
The PCC Institute for Health Professionals' course for phlebotomy consists of a two-term course. The first is a 90-hour classroom education which will cover anatomy, physiology, pathology, and lab instruction regarding information systems and security, equipment, safety protocols, and state and federal regulations. The second term is a 100-hour clinical rotation for supervised blood draws and lab work, and should result in students achieving at least 100 successful venipunctures and 25 skin-punctures.
At this point, students are ready to take the American Society for Clinical Pathologists certification exam. Please note, other organizations may have different eligibility requirements. For example, the National Phlebotomy Association requires 200 hours of training, including clinical experience. Be sure you're ready to meet the requirements of the pertinent organization for your desired employer or location.
What's the Benefit of Becoming a Phlebotomist?
Working with patients across a spectrum of employment opportunities, phlebotomy can be vastly rewarding on a personal and professional level. But if you're not sure about making a career in phlebotomy, you should remember a few of the reasons why phlebotomy is a great first step toward achieving other healthcare careers.
In terms of healthcare careers, a career in phlebotomy can be successful, rewarding, and offer a better than livable wage for a relatively brief level of education and certification. For more information on how to become a phlebotomist, see our course page for details and requirements. And don't forget, applications are due before the end of January!