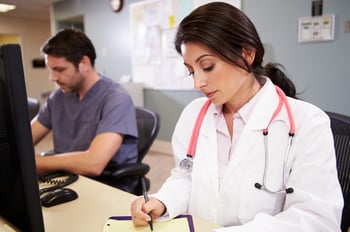 If you've decided you would like to pursue a career in healthcare and you love working with people, then consider becoming a patient access specialist. The following post will seek to answer your questions about this exciting and rewarding career path.
A patient access specialist is a front-line registration position and is often the first face someone sees when they enter a hospital, clinic, or specialized medical department. Your customers are the patients, their family members and the clinical teams you support. A patient access specialist can fall under many different titles including the following: registration representative,access representative, registration technician, insurance verifier, pre-registration specialist, and financial counselor.
2. What are the Responsibilities of a Patient Access Specialist?
From signing-in patients to completing insurance forms, a patient access specialist plays an important role in the business side of the hospital or medical clinic and is responsible for many tasks related to the revenue cycle within the organization. As a patient access specialist, you are responsible for adhering to strict patient safety policies to ensure compliance to regulatory agencies through proper patient identification processes, insurance verification, and financial services. At times you may need to collect payments in difficult situations, without sacrificing your excellent customer service skills.
A patient access specialist also answers incoming calls and makes outside calls to vendors; insurance companies for verification and eligibility requests; and follow up calls related to co-pay programs. All calls are documented in appropriate databases. You may also be required to respond to inquiries regarding operations and requests, specifically the status of patient coverage eligibility and benefits, authorizations and billing, product shipments, and financial and clinical requests.
3. How Can You Become a Patient Access Specialist?
You can complete the Patient Access Specialist program online at the PCC Institute for Health Professionals in 2-3 terms, or 20 weeks. The program consists of three online instructor-led courses that will prepare you to pass the Certified Healthcare Admissions Associate (CHAA) exam. A prerequisite to the course is medical terminology. The courses are sequential and require the PAS I be completed prior to signing up for the PAS II . You will come away with specialized skills and knowledge that will prepare you for a rewarding career in healthcare.
4. How Do I Know If I'd Make a Great Patient Access Specialist?
If you enjoy working with people and have exceptional customer service skills, then this may be the perfect career for you. In addition, you'll need to possess sharp attention to detail, strong written and verbal skills, a friendly personality, a flexible attitude, and a willingness to collaborate well with others. As a front-line employee, you will be representing the face of the organization on a daily basis.
5. What Are the Opportunities for Growth?
As a patient access specialist, there are many opportunities for growth. Common careers include:
Employees report high job satisfaction in the role of patient access specialist and the opportunities for growth make it an appealing path to take. Involvement in the financial care of patients can be rewarding and is a vital part of the larger healthcare system. If you would like more information on how to become a patient access specialist, download our free guide to entry level healthcare careers.