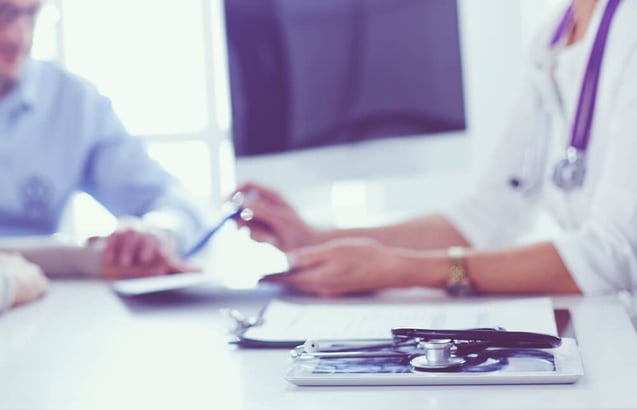 Updated Dec. 22, 2022
As the population rises and the average age increases, more people will need medical assistance, making healthcare a stable industry to pursue. The industry's success also relies on its staff, especially when greeting patients and facilitating in-take and appointments.
These roles typically fall to patient access specialists, who ensure the office stays in order and runs smoothly. They greet patients, handle forms, and alert other staff to schedules and appointments.
Here are answers to five common questions about becoming a patient access specialist.
1. What Do Patient Access Specialists Do? 
Patient Access Specialists are patients' initial point of contact after arriving at the medical facility. As patients check in and out, the Specialists collect their information for use by the Doctors and Nurses, communicate with family or caretakers, and process insurance billing. Compassion and excellent communication skills are requirements for the job since they spend most of their time interacting with people who are sick or stressed.
2. What Responsibilities Do Patient Access Specialists Oversee? 
Patient access specialist responsibilities include greeting new patients, registering them, and guiding them through the many papers they must sign. Furthermore, a strong patient access expert must be a comforting presence to help ease patients' anxieties about what they may face throughout their consultation. As simple as it may sound, a welcoming grin and a relaxed approach significantly reduce the patient's worries.
Their responsibilities are as follows:
Greeting patients and their caregivers on arrival

Collecting information such as patient details, medical history, billing, and insurance information
Preparing patient admission and discharge documentation

Entering data into databases and keeping correct records

Informing patients and caregivers on hospital rules, procedures, and protocols.

Answering patient queries, concerns, and problems

Performing general administrative tasks

Providing patients with billing and payment information

Relaying information to relevant staff members
3. How Do You Become a Patient Access Specialist? 
An accredited high school diploma is all you need to begin working as a patient access specialist. Other credentials, such as experience working in healthcare service positions and outstanding customer service skills, go further to make you a strong candidate. Attending classes in medical terminology and insurance procedures give you a knowledge foundation in these areas. PCC's Patient Access Specialist training program takes about 20 weeks. It prepares you for the Certified Healthcare Admissions Associate (CHAA) test through three online instructor-led classes delivered in a virtual classroom setting.
Once completing your qualifications, you can apply for work at various healthcare facilities. Hospitals, urgent care clinics, surgery centers, and other medical practices are great places to look for work as a patient access representative.
4. What Skills and Personality Traits Thrive in this Role?
Patient Access Specialists will require various prerequisite skills and certifications to be effective. You need excellent customer service abilities to communicate with patients and medical staff. You must relay information and know how to organize and prioritize tasks to keep staff aware of the situation while managing disruptions and ensuring patient privacy. The medical industry has extensive regulations regarding privacy, which patient access specialists must adhere to as a vital part of their role.
Attention to detail and problem-solving abilities are essential traits, as well. Patient access specialists must ensure that patient information and scheduling are correct and organized so others can find it easily. They must also be able to handle difficulties as they arise, such as scheduling conflicts or insufficient documentation, all while juggling multiple tasks simultaneously.
Furthermore, patient access specialists must be compassionate and personable. They are a point of contact between potentially stressed groups of people. Patient illnesses often put them in stressful situations, while the internal workings of medical facilities can be stressful for the people working there. Being empathetic to everyone's surrounding circumstances is a helpful trait in managing and reassuring both groups.
5. Does This Role Have Growth Opportunities?
Patient Access Specialists have significant growth opportunities through standard career experience or by giving you a foundation for further training.
Patient access specialists have various employment options, including entry-level management jobs, coordinators, or trainers. Working as a patient access expert for a significant time in the field opens opportunities to become a manager or supervisor. You can be responsible for the education and outreach initiatives in the community, as well as the training of other professionals or representatives.
It's also a great career to help you support yourself while pursuing further healthcare education. Because it's so accessible, you can enter this career and use it as a starting point to train as a nurse or in health education.
Becoming a Patient Access Specialist at PCC
Healthcare is a stable industry with many growth opportunities. Becoming a patient access expert is an excellent way to break into the industry, whether as an ongoing position or while training for a different specialization. PCC's Patient Access Specialist program provides training and industry-recognized certification, helping you learn the necessary skills to thrive on the job.