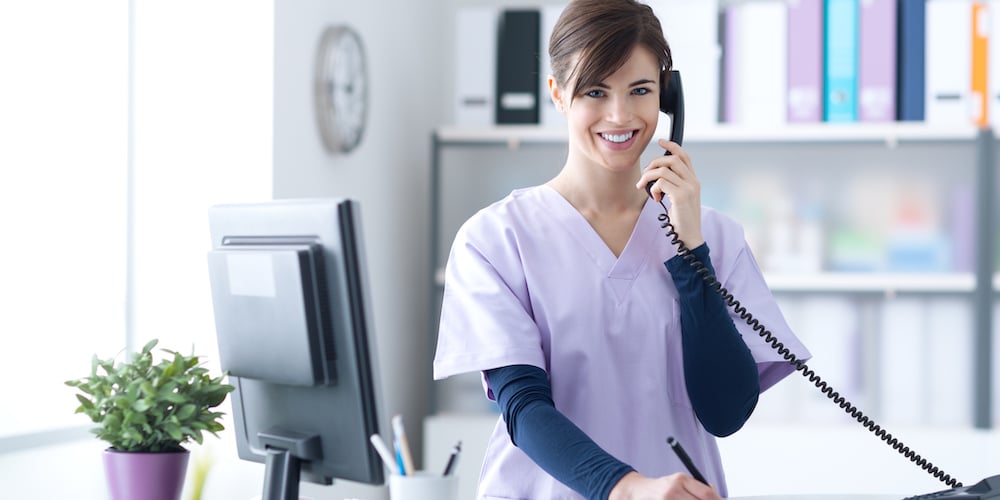 Patient access specialists are frontline healthcare workers who provide routine and essential services in all medical settings. These include medical offices, hospitals, clinics and other facilities.There are many benefits to starting a career in patient access as you can expect a solid salary and exceptional job growth, according to the Bureau of Labor Statistics. If this sounds like it might interest you, check out these steps we have outlined for becoming a Patient Access Specialist.

1. Complete Postsecondary Education
A career in this field typically requires postsecondary training. This may range from a certificate to an associate's degree, which can be attractive to potential employers. However, while the coursework for a patient access specialist is in depth, it's not extensive.
For instance, Portland Community College offers a Patient Access Specialist training program that includes three online, instructor-led courses. Students will gain knowledge and insight to perform the required duties of a patient access specialist and to pass the Certified Healthcare Admissions Associate (CHAA) exam. What's more, the program can be completed in two or three terms, preparing you for your future career goals in a short period of time.
2. Gain Experience Through On-the-Job Training
Most patient access positions require applicants to have at least 1-2 years of work experience. You can gain experience through an internship or perhaps a part-time job that will allow you to receive on-the-job training while you work or pursue postsecondary education.
This type of hands-on experience is an important part of the learning process. It can help you identify skills that need to be improved or even find areas in which you'd like to focus on in the future.
3. Foster Other Relevant Skills and Qualities
There is more to being a patient access specialist than what you'll learn in the classroom. Those who are successful in this role generally have the following characteristics:
Compassion and empathy

Strong attention to detail

Dedication to learning

Ability to communicate clearly and effectively

Flexibility
The best patient access specialists have a good mix of formal education and innate interpersonal skills.
4. Consider Licenses, Certifications, and Registrations
It may not be necessary, but there are often benefits to acquiring additional certifications and licenses. For example, the Certified Healthcare Admissions Associate (CHAA) certification could make you more appealing to employers. One of the most exciting aspects of working in healthcare is there is always new skills to learn or challenges to take on as you grow in your career.
5. Begin your Career as a Patient Access Specialist
Once your postsecondary education and on-the-job training is complete, you will be prepared to secure a patient access specialist position in a hospital, physicians' office or medical clinic. With your knowledge and some experience under your belt, you should be ready to enter the workforce. You will have an advantage over candidates who may not have postsecondary training, such as PCC's Patient Access Specialist course, helping your resume stand out from the crowd.

Surprisingly, a career in patient access requires minimal investment and it offers excellent rewards. We encourage you to learn more about PCC's Healthcare Business Operations courses, which includes options for aspiring patient access specialists. By taking this first step, you could be just a few short courses away from a career that can provide you with a bright future in healthcare.