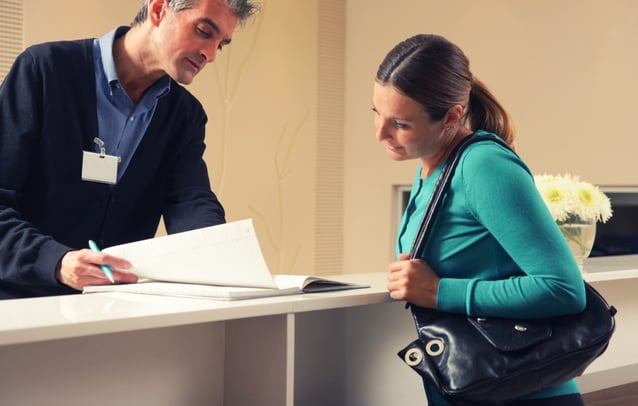 Patient access specialists are key members of the care team at hospitals, doctors' offices, and outpatient centers. They provide outstanding patient service while helping to manage the important financial aspects of patient care.
We talked to Lisa Morrison, Director of Patient Access at Kaiser Permanente and instructor at PCC Institute for Health Professionals, about what characteristics make for a successful career as a patient access specialist. Lisa is passionate about helping students interested in the career achieve their goal of becoming a patient access specialist.
What characteristics does someone need to succeed as a patient access specialist?
Lisa shared with us the top traits she feels her students and others interested in becoming a patient access specialist need to thrive in the position, such as:
Compassion and Empathy
"The patient access specialist role is very rewarding when you stop to think about how you can affect the patient experience from the first moment you encounter the patient or family," Lisa says. "The joy of the position is to share a moment in our patients', and their families', lives all the while ensuring the financial viability of the organization."
"The patient access specialist sets the stage for the patient's confidence in the type of care they will receive. They are often the last person the patient talks to regarding their financial care experience. Patient access specialist should send patients home with confidence that their financial obligations have been taken care of so they don't have to worry and can concentrate on their recovery."
Strong Attention to Detail
The role of a patient access specialist is very complex, involving knowledge and skill in a variety of areas. It's not an entry level position; organizations rely heavily on patient access specialists to provide quality patient service while taking care of the detailed financial side of healthcare.
Lisa believes strong attention to detail will become even more important as the role changes. "More and more financial clearance and customer service functions are moving toward the front end to help patients make informed decisions about their healthcare. Patient access specialists are being required to have a much more detailed knowledge of pre-insurance requirements, coding and billing at the time of scheduling. The role is becoming very specialized."
Dedication to Learning
Patient access specialists have many learning opportunities throughout their career, starting with classes to study for the certification exam. To handle the complexity of the patient access specialist role, students need to be dedicated to learning.
"There is a lot of reading involved," Lisa says, "and the students must take time to prepare for class. It does take time to study and complete assignments. The education experience prepares students by showing them the different titles and roles the position encompasses and how the position is critical for the success of all healthcare organizations."
In her classes, Lisa provides an hour-long interactive lecture as well as an hour for any questions students have. She reviews the assignments that were due that week and prepares students for the next lesson. Her classes cover a broad range of topics to prepare students for their new careers as patient access specialists.
"We delve into all insurance experiences, types and requirements from government to commercial to HMO and self-pay expectations," Lisa says. "We also look at some of the billing requirements, the insurance verification requirements and tie the health insurance learning to the certification requirements."
"By the time the student gets to the last five weeks of the second term and is actually using the study guide for exam preparation, they can see how what they learned in the first term ties into the second term. They build up confidence in what they have learned and already know for the certification exam."
Flexibility
Lisa says patient access specialists need to like change to enjoy the position. Patient access specialists can take on a wide range of responsibilities and tasks. "The role is ever changing and at times vary rapidly, based on departments in the organization, Joint Commission and Centers for Medicare & Medicaid Services."
Working with certain organizations can require more flexibility than others. "If you want to work in a hospital environment, you have to keep in mind that hospitals are a 24/7 environment. The position is probably not a Monday through Friday, 9 am to 5 pm job."
"Embrace change head on," Lisa says, "and if you don't adjust well and quickly to change, this may not be a career for you."
If you think you have the characteristics to succeed as a patient access specialist, contact the PCC Institute for Health Professionals today. We'll help you take the first step toward becoming a patient access specialist.