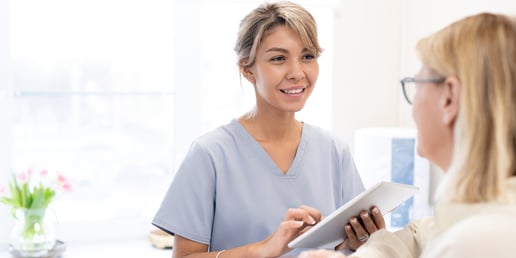 Are you detail-oriented, committed to accuracy and thoroughness? Are you motivated to excel in customer satisfaction, no matter how ill or anxious your patient may be? You may love an exciting and fulfilling role as a patient access specialist with training offered by PCC's Institute for Health Professionals.
The Job
As a Patient Access Specialist, you will:
Maintain patient safety by using proper patient identification practices

Keeping the hospital compliant with many regulatory agencies

Deliver outstanding customer service

Ensure proper medical billing and insurance claim submissions
Begin your career as a Patient Access Specialist, where you will have immense potential for career advancement. The Oregon State Labor Market reports that in 2014, Patient Access Specialists were paid between $12 - $25 per hour, with an average wage of $16 an hour.
What to Expect
This is one of the most important and concentrated positions in healthcare, encompassing many different roles and responsibilities within a hospital setting.
Enroll in the Patient Access Specialist program to gain the skills and know-how to pass the Certified Healthcare Admissions Associate (CHAA) exam.
The Institute for Health Professionals' Patient Access Specialist program consists of 3 online, instructor-facilitated courses that will prepare you to pass the Certified Healthcare Admissions Associate (CHAA) exam. You can complete the program in 2–3 terms. Students must take Patient Access I and Patient Access Specialist II in sequence.
Medical Terminology Online
Patient Access Specialist I
Patient Access Specialist II
You will gain a basic understanding of:
Accurate patient identification practices
Standards for patient safety
Customer service skills
Regulations for accountable care and patient satisfaction
Health insurance information
Health care reform
Medical billing and claim submission processes
After completion of the program, you will be able to:
Recognize and understand medical terminology in order to comprehend and analyze medical reports for coding and billing
Accurately record patient demographics, insurance and billing information
Understand Revenue Cycle flow from the front, middle and back end functions, as well as various requirements of major insurance carriers
Provide excellent customer service, with an understanding of age-appropriate communication, how to address disputes, cope with challenging individuals, and deal with difficult situations
Understand health insurance rules and regulations, and how the Patient Protection and Affordable Care Act affects service standards
Who is the Patient Access Specialist program for?
If you are new to the healthcare industry, seeking an entry-level, front-line registration position within a hospital setting, this program may be for you.
The Investment
Time:
2–3 terms and 3 online courses, 20 weeks
Tuition: $1,647 total, excluding books
Medical Terminology Online – $249, excluding book
Patient Access I & II: $1,398, excluding books
Required Materials
Access to PCC Online Learning Course
Computer headset or applicable audio
Required Book:
Health Insurance Today: A Practical Approach, 6th edition
Author: Janet. I. Beik
ISBN-13: 978-0323400749
ISBN-10: 0323400744

Please be advised that this book is not made available for purchased at PCC Bookstore. Students are encouraged to shop for best pricing a bookstore of their choice.
More information:
Bem Hanamoto
bem.hanamoto@pcc.edu