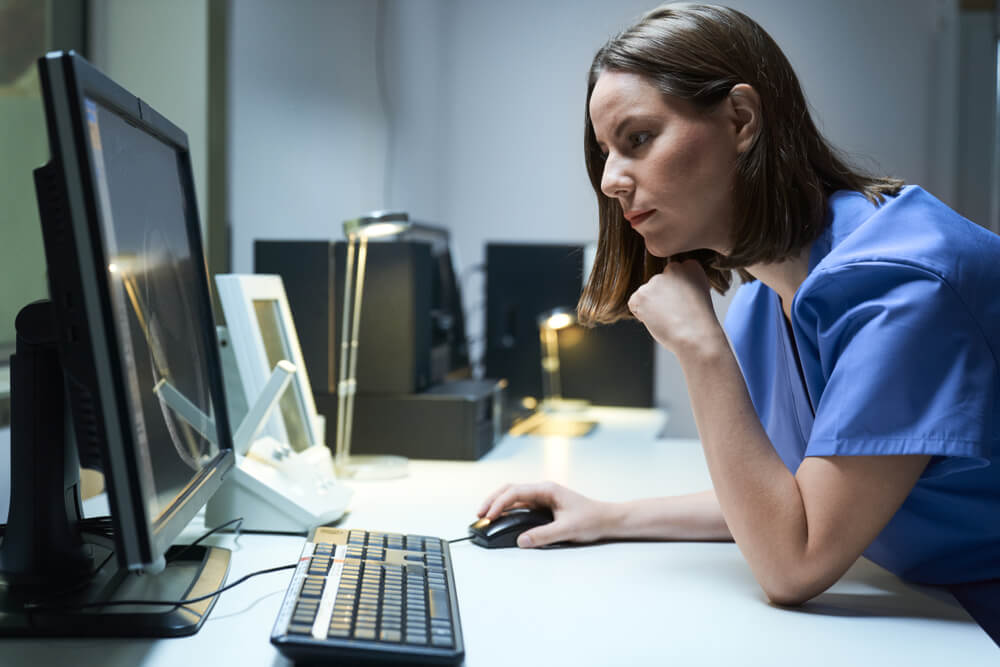 Updated Feb. 13, 2023
Medical Coders play a vital role in the healthcare industry, using specialized software to assign codes that accurately represent patients' diagnoses and procedures based on their doctor's notes. These go into the patient's medical record for insurance and payment processing purposes. 
Becoming a medical coder requires you to remain up-to-date on coding changes to ensure accuracy. You must also maintain detailed work records and stay compliant with HIPAA regulations. Medical coders ensure patient record accuracy so insurance companies receive proper billing for the necessary procedures and treatments. 
How Medical Coding Works
Medical coding is a complex and specialized process that involves translating medical diagnoses, procedures, medications, and equipment into alphanumeric codes. Healthcare facilities use these codes to bill insurance companies for their provided services.
Medical coders must stay up-to-date on current guidelines to ensure they use the correct codes. They are also responsible for verifying patient records and ensuring insurance companies receive proper billing information.
Medical coders must know medical terminology and coding guidelines and understand basic anatomy, physiology, pharmacology, pathology, and other medical concepts. They must also be familiar with HIPAA regulations to protect patient information. With their knowledge and expertise, Medical Coders play an invaluable role in keeping the healthcare system functioning.
The Benefits of Careers in Medical Coding
Medical coding is an excellent occupation choice for many people, offering competitive wages and flexible work hours. There are also plenty of job opportunities available since all facilities that provide treatments or services to patients require medical coding.
Stability and Job Opportunities
Medical coding is a stable and secure career path with good job prospects. It is continuously growing in need as medical facilities adjust to the changing requirements of insurance companies and government regulations. Medical Coders have roles in hospitals, doctor's offices, laboratories, nursing homes, home health organizations, and many other medical settings.
No Degree Required
Medical coders do not need a degree to become certified. Anyone with the necessary interest and training can start a career in this field. Most certification programs are offered online or through schools such as Portland Community College, which makes them convenient and accessible for anyone interested in pursuing a career in medical coding.
Good Pay
The average salary for medical coding is approximately $54,000 per year, depending on experience and location. Starting rates are approximately $40,000, whereas highly experienced medical coders can earn even more, with salaries over $70,000. Many opportunities exist in this field for experienced professionals to advance in their careers or rise into other healthcare administration or insurance roles.
Flexible Hours
These jobs often have the flexibility to work from home, depending on their employer. That makes it an excellent job for those wishing for more career or schedule flexibility.
Growth Potential
Furthermore, medical coders can earn additional certifications and increase their knowledge base, leading to promotions and higher salaries. As technology advances and the healthcare industry grows, there will be an increasing demand for qualified Medical Coders.
Diverse Work Environments
Medical Coders have the opportunity to work in a variety of different settings, including hospitals, medical offices, and insurance companies. That makes it an ideal career for those who want to avoid staying in one single job location.
Becoming a Medical Coder
Crucial skills to become a successful medical coder includes the following:
Great attention to detail and accuracy
Proficiency in technology and software programs related to medical coding

Knowledge and understanding of medical terminology

Having a medical coding certification increases your chances of obtaining the job. With hard work and dedication, you can establish yourself as a successful Medical Coder, opening up new opportunities for career advancement. 
Medical coding plays an essential role in keeping the healthcare system functioning efficiently and ensures patients receive the treatments they need without worrying about insurance complications.
How to Receive Medical Coding Certifications
Portland Community College's Medical Coding course is a great way to get started in this career field. The course includes instructions on using code books, software programs, and other resources for Coding according to ICD-10-CM/PCS guidelines.
PCC's program also helps prepare students to take the CPC (Certified Professional Coder) exam, a nationally-recognized credentialing program for medical coders. Students can complete the course online in as little as 20 weeks and receive an official certificate of completion upon finishing. With PCC's Medical Coding course, you can learn the necessary skills and terminology to become certified and start in this rewarding field.
Start Your Medical Coding Career Today with PCC's Online Course!
Take the first step towards a new and rewarding career with Portland Community College's Medical Coding course. With our flexible online format, you can quickly learn the necessary skills to join this fast-growing field. Get certified and start your medical coding career today!
Sign up for PCC's Medical Coding course today and start on the path to success. With our help, you can gain the certification you need to make your mark in this exciting field!