For each medical diagnosis, procedure, or office visit, there is a code that is used to tell insurance companies what was done. Specific people at medical facilities are responsible for determining which codes to enter. They are often tasked with related duties as well. These people are commonly referred to as medical coders.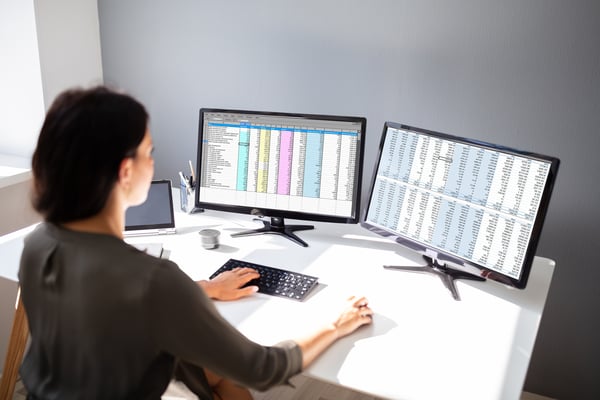 The Bureau of Labor Statistics (BLS) has a more cumbersome name for people in this profession: "Medical Records and Health Information Technicians." According to this agency, the field will grow by 11 percent between 2018 and 2028, which is much faster than the average for all occupations. As of 2018, there were an estimated 215,500 jobs in this category.
What is Medical Coding?
Medical coding involves more than just matching up the actual codes. These coders go through patient records to verify procedures performed, and then assign the proper codes to submit to insurance companies. This is an essential service that every medical facility requires, and a certification in this field is recognized by most employers and even government agencies.
One of the things that makes medical coding so important is its role in fraud prevention. Honorable coders will only code what can be verified as actually having been done. To do this, they examine actual patient records. Medical coders are on the lookout for "upcoding," which is billing for procedures at a higher level than those actually performed; and for "unbundling," which is reporting more codes than are actually involved. The latter is done to increase payments.
Due to the fact that this coding has to do with billing, it is sometimes referred to as "medical and billing coding" in job descriptions. Often, a medical coder will not only bill insurance companies but deal with sending bills to patients for any uncovered amounts. That said, coding and billing are not the same thing, and some employers will hire different people for each of these tasks.
Why is Medical Coding a Good Career Choice?
Job opportunities are plentiful. The first reason is that openings are relatively plentiful. Someone with a certification in medical coding can find work in a wide variety of facilities, ranging from small single-doctor offices all the way to huge hospital billing departments.
Who will excel at medical coding? This field is great for those with excellent problem-solving skills and good memories. There are thousands of medical codes in use and deciding on which one should be used can be as much of an art as it is a science. Some, however, are used over and over again. This is where a good memory comes in. Someone who can memorize the most common codes will be able to work much faster.
No degree is required. Unlike many medical jobs, there is no expensive MD or nursing degree required. Certification, however, shows potential employers that you know the basics and are ready to be productive right away.
Online courses are available. This eliminates the need to commute to a campus. It is a great option for those who already have jobs and need to fit classes around their schedules.
The salary is good. According to the BLS, medical coders make an average of $40,350 per year, which is a good amount more than what many entry-level positions pay. This makes it great for people who want to make a decent amount of money without a college degree or a lot of experience.
Becoming a Medical Coder
The Institute for Health Professionals' AAPC Medical Coding program allows you to get a professional certification for this field. This will give you a serious advantage over those who have no prior training.
To get the certificate, you must complete a program involving four real-time online courses. It takes between two and three semesters to finish. In this program, practical experience is gained through the use of case studies. Exam preparation is provided as well.
When you sign up for the Medical Coding Program through PCC, you'll be trained in how to determine which codes to use, as well as in anatomy, physiology, and medical terminology. You'll also be given preparation to take the certification exam. To learn more, check out PCC's program today