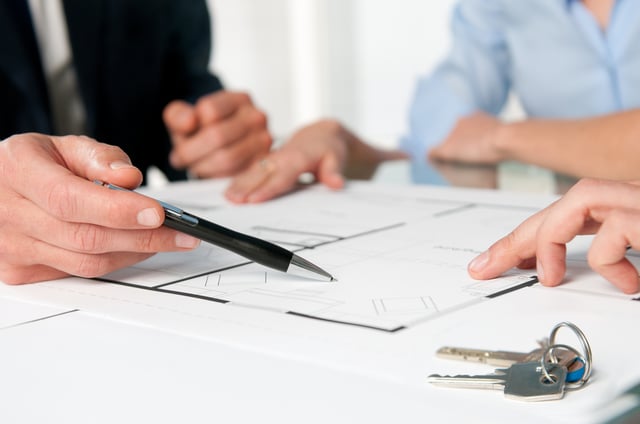 Real estate brokers have a lot of opportunities in the Portland market. You may be more familiar with the generic term real estate agent, but in Oregon, to be officially licensed to sell and buy homes as an agent for the sellers and buyers, you must pass the exam to become an official real estate broker. That career is exciting since much of your income comes from your hustle and the networks you can build. Even when markets are in flux, great real estate brokers make their business connections, shift from working with lots of sellers to working with more buyers and find creative ways to grow their reach.
Once you've found success in this field, there are many opportunities to use your experience to start your team and lead other real estate brokers as a Principal Broker. It allows you to combine your leadership skills with the work you have developed a strong ability to do.

Real Estate
Agent Vs. Broker: Is There a Difference?
In some states, there is a difference between a real estate broker and an agent. However, in Oregon law, all real estate careers in Portland start with official licensure, usually as a real estate broker. If you're wondering how to become a real estate broker, the process begins by following a step-by-step process but doesn't have to take even a year to complete.
In either case, the work of being a real estate broker is client-focused. While you'll have a typical process after you've helped various clients, every sale will usually go a little bit differently. Some clients will want to understand every line of every contract, asking six questions as they do so. Others want you to walk them through the process and won't try to understand it all that much. Because you never know which kind of client you'll have, the real estate broker licensure process allows you to learn your stuff, from real estate law to financing to rules for things like investment properties and rentals in Oregon. By getting this comprehensive knowledge, you approach even your first few sales with a wealth of knowledge.
Obtaining Your Oregon Real Estate Broker License
The best tip we can give you is to gather your information and stay organized as you become a real estate broker. First, you'll have to decide which license you want to hold. For instance, you can no longer hold a property manager license if you've chosen to pursue your real estate broker license.
Then you must meet some basic requirements. You must be 18 or older and need a high school diploma or have acquired your GED. If you grew up outside of the United States, you need the equivalent of a high school diploma from your home country.
Then you'll register through the state of Oregon's eLicense management system. That signals you're pursuing your licensure and is an organized spot for all the elements of your licensure process. You'll pay your application fee there, currently a $300 cost. At this point, you'll want to enroll in a qualified broker pre-license education program. Don't assume that all programs are Agency-approved, but check their list. Portland Community College offers an Agency approved course that is both flexible and quick, given that you'll put in 150 hours of training during the course.
When you enroll in real estate broker preparation classes, you'll need to share the applicant ID from your eLicense portal since they need to be able to confirm that you completed the required training. Once you've completed the comprehensive coursework, you'll schedule and pay for the exam. Upon passing both sections, you'll need to pass the final step of paying for and receiving a background check.
Be aware that all brokers work under a principal broker, so you need to plan for who that will be. Your license won't go from pending to active until your principal broker lists you. Once your license is officially issued, you can experience the benefits of being a real estate broker.
How a Comprehensive Course Sets You Up to Succeed
Portland Community College prides itself on offering courses for busy professionals. Many people transition from other full-time careers to real estate, and you need flexible, affordable pre-licensure classes that will work with your schedule. At the same time, the course instructors recognize that knowing every detail is essential to pass your exams successfully. They are committed to covering everything comprehensively and answering your questions so that you are as prepared as possible when you work on the two-section test.
To learn more about how PCC real estate preparation courses can help you join this growing field, visit our website and sign up today.