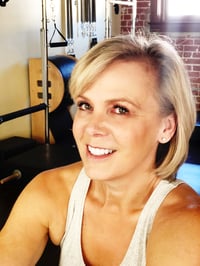 Christine Binnendyk, LMT, brings more than 20 years of study and training in anatomy and movement to PCC CLIMB as the instructor of our course on Soft Tissue Release Tools. She is a sought after expert in addressing pain patterns caused by "soft tissue issues," and is eager to share techniques to help people reduce pain and help wellness professionals expand their client services.
The Soft Tissue Release Certificate program at PCC teaches licensed massage therapists, Pilates and yoga teachers, somatic therapists, and other wellness professionals soft tissue release techniques at an in-depth level, allowing them to deliver their own Wellness Workshops.
The following Q&A with Christine offers a closer look:
How long have you been incorporating soft tissue release into your practice?
I started working in fascia techniques in 2003, learning fascia stretch and yin yoga techniques. It changed my mobility, range of motion, and comfort levels so much that I sought out experts in the field to learn as much as I could. Initially, I used one-off techniques with my Pilates clients on an as-needed basis. Over the years, they started requesting full sessions of my Pain Free Body techniques. By 2010, I became a connective tissue subject matter expert for the National Institutes of Health.
I've worked with thousands of people from professional athletes to breast cancer survivors to people living with lifetime illnesses like MS and Parkinson's Disease. Working with a wide scope of people has allowed me to suss out the techniques that are the most successful for the widest range of people. It has also allowed me to work out the techniques that carry the most risk — just because you see it on YouTube doesn't mean it's a good idea!
What soft tissue release tools do you use?
My courses use a variety of soft muscle release balls, firm muscle release balls, and myofascial rollers. I've sourced the highest quality muscle release tools from LedraPlastics in Italy. They are BPA and phthalate-free, making them the best choice for working with populations with sensitive immune systems.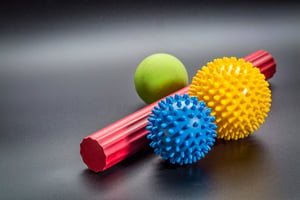 One of the things students learn in my courses is how to choose the best tool and the best technique for the issue at hand. Using the wrong tool or technique can overload a person's nervous system, causing sleep disturbance, soft tissue rebounding, and flare-ups of chronic illness. When in doubt, use a soft tool that's large in size — that's the least likely to cause harm.
Do you encourage your patients/clients to incorporate soft tissue release on their own? Are there exercises they can perform at home or work?
Yes! I give my students short homework series that they can do at the ball field, seated at their desk at work, at the gym, or at home. Although I occasionally do an hour-long release session on my own body, I'm a huge fan of simply doing 10 minutes worth of release techniques per day. Consistency here is like consistency flossing your teeth — it's much easier when it's not a big deal.
How has teaching soft tissue release techniques grown your practice?
After spending years as a trainer and a massage therapist, I felt burnt out. One-on-one work paid better than Group Exercise classes, but there was a ceiling to how much I could make per hour. If I wanted to make more, I had to work more. Then, I created a program that allowed me to teach skills to the public in groups. Each person attending a group wellness event pays a set amount to attend the workshop and experience techniques that can change their life. I've had people come up at the end of a workshop to tell me that it had taken years for them be diagnosed with thoracic outlet syndrome, sciatica, carpal tunnel, or something else and more years to get any relief, yet they felt great at the end of the workshop. For many, they feel hope for the first time in a long time.
Since I can reach a large number of people — 20-30 in a single workshop — I'm able to boost my income substantially. Attendees pay a single price per person to experience and learn self-care techniques. When they feel great at the end of the workshop, they can either go home without spending another penny, or they can purchase tools from me to keep doing the techniques on their own. About 50% of attendees come to multiple events, whether it's a repeat/refresher or a new topic.
Why would fitness and wellness professionals want to learn how to teach Wellness Workshops using soft tissue release tools?
The Soft Tissue Release workshop series enables fitness and wellness professionals — massage therapists, athletic trainers, pilates, yoga, and fitness trainers — to move from working with one-on-one clients on an hourly basis to creating an additional, higher-paying income stream by delivering Wellness Workshops that feature Soft Tissue Release techniques. The techniques are also great for the trainer — use them for your own self-care!
Can the courses be used for Continuing Ed?
Oregon and Washington LMT's: these courses offer state-required CEUs. Each workshop offers 7 credits. Take all year, plus an ethics workshop and you're covered for your two-year continuing ed requirement.
If you are a healthcare professional interested in improving your client offerings and increasing your potential income, take the Portland Community College Soft Tissue Release Tools course to add soft tissue release to your practice.
---
Christine Binnendyk, LMT, has created original programming for the National Institutes of Health, NIKE fitness centers, NIKE Golf online, Adventist Health, and many wellness centers across the United States. Thousands of people have taken Pain Free Body workshops with Christine where they learn how to transform pain, injury, and dysfunction into robust wellness. Certified by Joseph Pilates' protégé, Romana Kryzanowska, she has taught Classical Pilates with a Contemporary twist at health and wellness centers across the country.