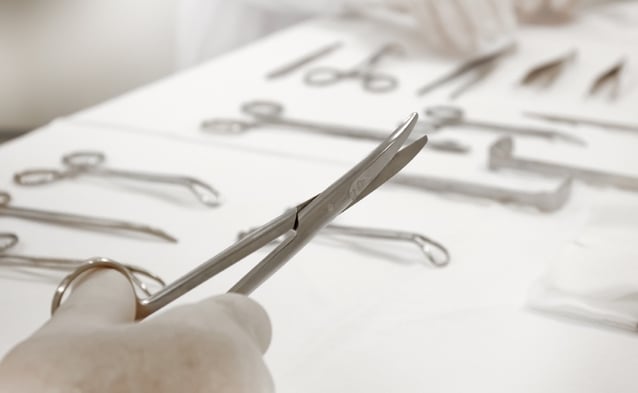 A sterile processing technician's role involves daily sterilization of surgical instruments and medical supplies for reuse. The position is vital in keeping patients and medical staff safe, and requires a vigorous adherence to sterilization processes on a daily basis.
Here we will answer the five most common questions about this field and help guide you in making an informative decision.
1. How much schooling is required?
The PCC Institute of Health Professionals Sterile Processing Technician program is taught over two terms and includes live, virtual lectures, self-directed study, in-class training, and clinical hours in a hospital laboratory or outpatient setting.
Term one includes 42 hours of online and in-hospital training in the following:
Infection control and prevention

Decontamination, cleaning, disinfection, and sterilization

Surgical instruments and storage

Distribution and inventory control

Microbiology

Medical terminology

Anatomy & physiology
Term two involves 80 hours of clinical practicum in a hospital laboratory or outpatient facility approved by the PCC Institute of Health Professionals. You will utilize the skills learned in term one while shadowing a sterile processing technician to gain hands-on, real-world experience.


2. How long does it take to become a sterile processing technician?
In addition to the two terms of schooling, you will be required to work for at least one year in a sterile processing department and meet a minimum number of hours performing various duties before becoming certified through the Certification Board for Sterile Processing and Distribution (CBSPD) and/or the International Association of Healthcare Central Service Materiel Management (IAHCSMM).
3. Where do they work?
Sterile processing technicians work behind-the-scenes in healthcare organizations including hospitals and outpatient clinics. Though you won't work directly with patients, your job is crucial to the health and safety of every patient and healthcare professional at your place of employment.
4. How much do they get paid?
Depending on where your job is located geographically and how much experience you have, the salary of a sterile processing technician can range between $23,473 and $48,356. The average salary of a sterile processing technician in Portland, Oregon is between $21,550 and $47,692.
5. Where is the growth in this position?
As a sterile processing technician, you can move into other related positions and potentially grow your salary. Though rare, you may have an opportunity to move into the role of a Sterile Processing Manager which offers a potential salary of $61,000 per year. Typically, sterile processing technicians move into the following roles:
Sterile Processing Supervisor

Sterile Processing Technologists

Clinical Medical Assistant

Surgical Technologist

Surgical Technician

Licensed Practical Nurse (LPN)

Registered Nurse (RN)

Registered Nurse (RN), Operating Room
This career choice may be a good fit for you if you are detail-oriented, precise, cautious, patient, analytical, and enjoy hands-on work. This job also requires vigilant reading and following of instructions to ensure patients and staff are kept safe and protected against infection. Learn more about the steps you can take with the PCC Institute for Health Professionals towards becoming a Sterile Processing Technician.