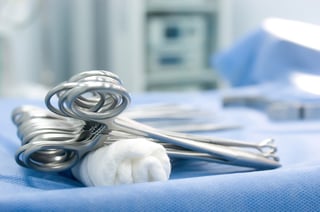 Thank you for reading the fourth part in our newest series, in which a day in the life of a number of different healthcare professions will be explored. Today's post will take you through a day in the life of a sterile processing technician.
Sterile processing technicians play a very important role in patient care, though they don't work directly with patients. Technicians are responsible for washing, sterilizing, cooling, assembling, packaging, storing, and delivering surgical and procedural instruments to different hospital and clinic departments. Taking inventory of gloves, masks, scalpels, and needles may also be required. Work settings may include hospitals, surgical clinics, physician offices, and specialized environments such as pediatric medicine or animal hospitals.
In most cases, sterile processing technicians are assigned a different role each day. The work environment is fast-paced, innovative, and constantly changing. There is never a dull day!
A Day In the Life of a Sterile Processing Technician
The job of a sterile processing technician varies from day-to-day and from workplace-to-workplace, therefore, this is just a general overview of what a typical day may look like.
The Role You Play
The responsibility of a sterile processing technician is a very important and serious one. Your job is to ensure that surgical instruments — and all of their various parts — are cleaned, sterilized, reassembled correctly, packaged, stored, and labeled for future use. In some instances, you will also be responsible for ensuring the sterilization, cleanliness, and safety of operating rooms, tables, and equipment. Each and every part of the instruments must be taken apart to be cleaned and sanitized properly. Every screw, hinge, tube, and crevice must be thoroughly cleaned, flushed, dried, and then sanitized at high temperatures. Then each piece must be reassembled properly for patient safety and surgical effectiveness. Instruments are subsequently delivered to each department for reuse or sent back to the manufacturer for disposal or melting if the material is prone to rusting.
Sterile processing technicians must also protect themselves to prevent contamination or exposure to blood and bodily fluids on each instrument. Most technicians wear gowns, masks, face shields, shoe covers, and two pairs of gloves to protect from fluids and harsh cleaning agents.
Types of Hours You'll Work
The shifts of a sterile processing technician vary according to each work environment. Most positions offer three shifts:
7:30 — 3:30pm

3:00pm — 11:00pm

11:00pm — 7:30am
At Akron Children's Hospital in Ohio, the morning staff begins bright and early at 6:30am. The technician immediately begins the process of washing, sterilizing, cooling, assembling, packaging, storing, and often delivering the instruments. The work builds up very quickly and needs immediate attention. Each technician in subsequent shifts takes over where the previous technician left off and the process continues throughout the day and night.
The National Average Pay
The pay scale for a sterile processing technician ranges from $20,876 - $49,907. Sterile processing technicians also reported high job satisfaction in a survey from September 2015.
How to Become a Sterile Processing Technician
If you enjoy hard work, a fast-paced environment, and working behind-the-scenes in a role that is vital to patient healthcare, a sterile processing technician may be the right career for you! The steps to becoming a sterile processing technician include attending a sterile processing technician program, which will provide knowledge and clinical experience to work in this field. Some employers require an internship in a surgical room. Certification and licensing requirements vary widely. Most states and employers require a minimum of one year of work in a sterile processing department and a certain number of hours performing a variety of skills prior to receiving certification through the Certification Board for Sterile Processing and Distribution, Inc. (CBSPD) and International Association of Healthcare Central Service Materiel Management (IAHCSMM).
If a day in the life of a sterile processing technician sounds like an exciting career for you, consider entering a comprehensive program that will prepare you for a rewarding job in healthcare.