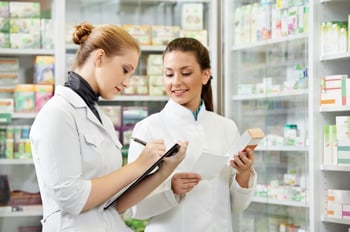 While there have been shortages in various working fields in the past few years, pharmacies have been particularly hard-hit. The constant need for staff to help people receive their much-needed medications while running a tight ship puts them under a lot of strain. While pharmacists are crucial, it's also important to understand just how vital the role of pharmacy technicians is to Portland. Understanding this role helps you determine if this is your right-fit career in health and medicine.

Responsibilities of a Pharmacy Technician
Pharmacy technicians are at the heart of pharmacy work. They take part the moment a call comes in from a doctor, taking down the information and managing the electronic records, ensuring they correctly the medicine and dosage. They organize the pharmacy's large inventory of medications available and help measure and package individual prescriptions. Their roles may also include speaking with customers, in person or on the phone and accepting payments. They also work with insurance claims through the pharmacy's electronic systems. They also know when to reach out to the pharmacist to answer customer questions, as the pharmacist has more comprehensive knowledge of the medications.
Regarding Portland's pharmacy technician roles, some jobs involve working in hospital settings and distributing medication around the hospital. That may be a different and more patient-facing role, providing variety if you prefer that over a traditional pharmacy setting. 
Traits and Temperaments That Help with Pharmacy Technician Work
Attention to detail is essential in nearly every workplace. However, as a pharmacy technician, it's critical to handle every aspect of prescriptions accurately. Luckily, much of the dispensing itself within the pharmacy use automation. You'll still need to double and triple-check the accurate handling of prescriptions. Furthermore, you'll also need to take direction and management well. Pharmacy technicians always work under a pharmacist's supervision. Working well with customers will also help you a lot, as you will need to help and reassure people at the counter. Finally, you'll most likely need strong computer skills and the ability to move quickly from task to task since a pharmacy technician's day frequently shifts from work in the pharmacy to answering phones to helping customers in person.
How to Become a Certified Pharmacy Technician
Portland Community College's Institute for Health Professionals offers a course to help you prepare to become a pharmacy technician, moving through the learning and practice you'll need to pass the Pharmacy Technician Certification Exam. If you've wondered how to become a pharmacy technician, the best way to get started is to apply for admission to the program since it is not open enrollment. If you meet or exceed the minimum requirements, you'll be able to enroll in the two-term course.
Pharmacy is, naturally, a highly regulated industry, and preparation begins with online lectures that help you learn laws, regulations, and the different kinds of medicines. You'll also learn how pharmacies run their records and handle measurements and inventory. Your second term will teach you in-depth information about medication labeling, how to work in sterile environments, and how to properly manage inventory, keeping a responsible but not endless supply of medication on hand.
The coursework also includes weekly on-site practicum sessions since so much of your work as a pharmacy technician will be hands-on. Even more, these practicum sessions are held at local CVS Pharmacy locations, which allows students to get their foot in the door at these locations and matches them with pharmacies eager for new talent.
This practice helps cement any textbook and lecture learning and enables you to prepare to hit the ground running with your certification exam and your role in a pharmacy setting.
How Portland Community College Can Help You Become the Pharmacy Technician Portland Needs
Pharmacy technicians are in high demand, and the settings where you can work are varied. Even better, the average wages are nearly $20 an hour in the Portland area, making it both a valuable job opportunity and an excellent starting place if you're still deciding where you'd like your healthcare career to go. Many pharmacy technicians work full-time, but there are part-time roles available. Because the coursework only takes two terms to complete, it is possible to enter the field and start working soon after quickly.
Portland Community College helps students and prospective students to identify roles where they have a strong chance of success. You can start your career with often only a year or two of schooling in an affordable, hybrid setting that allows them to work around other commitments like caregiving and their current work. Learn more about how coursework from the Institute of Healthcare Professionals can help you today.