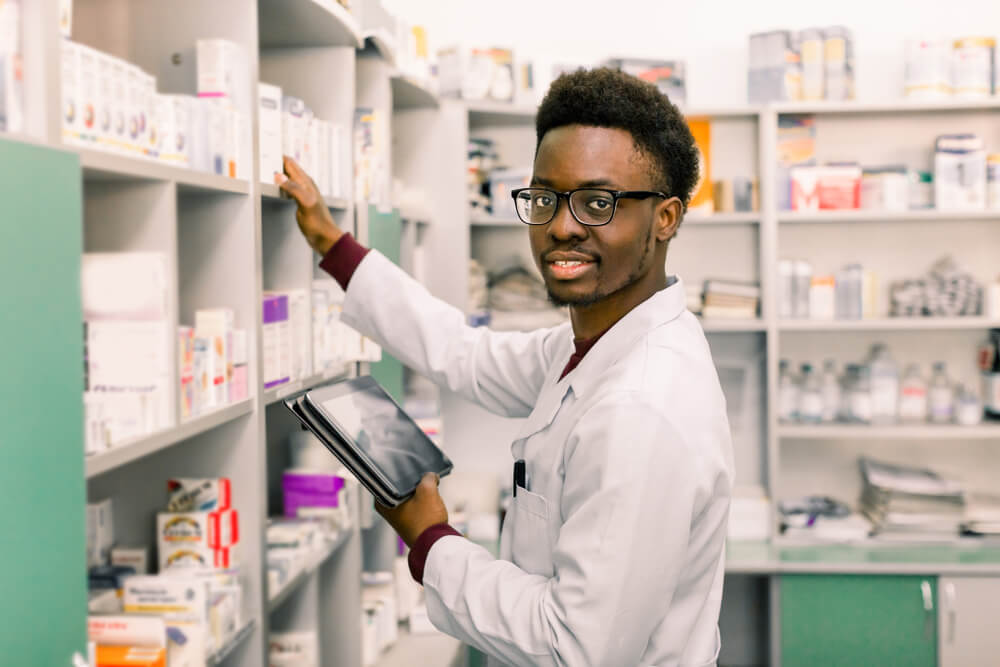 Updated March 1, 2023
Healthcare is a field that never goes out of style. With the rise in chronic illnesses and an aging population, the demand for healthcare professionals is only growing. Working as a pharmacy technician is an accessible and quick entry point into a fulfilling healthcare career.
With flexible hours, a solid salary, and the opportunity to help others, being a pharmacy technician is a wonderful way to help people while securing your financial well-being. Here, we cover the ins and outs of what a pharmacy technician does to help you determine if it's the right career path for you.
What Does a Pharmacy Technician Do?
Pharmacy technicians work alongside professional pharmacists and are responsible for performing various tasks that assist in the smooth running of the pharmacy. Their roles include:
Ordering and receiving medications and supplies:

Pharmacy Technicians are responsible for ordering and receiving medications, supplies, and other necessary products for the pharmacy. They place orders, monitor inventory levels, and keep track of expiration dates.

Preparing and dispensing medication:

They assist licensed pharmacists in preparing and dispensing medications to patients. That may involve counting pills, labeling bottles, mixing medications, and processing prescription requests.

Entering and verifying patient information:

Technicians ensure that patient information is accurate and up-to-date. They enter and verify patient information, such as names, addresses, and insurance information, into the computer system.

Billing and insurance claims:

They also assist in the billing and insurance claim process by verifying insurance coverage and entering information into the computer system. Additional duties involve helping patients with insurance questions and concerns.

Maintaining records and tracking inventory:

Technicians maintain accurate records of medication dispensing and inventory levels. They are responsible for monitoring expiration dates and ensuring a sufficient supply of medicines at the pharmacy.

Customer service:

Pharmacy Technicians are often the first point of contact for patients and must provide excellent customer service. They answer medication questions, assist with prescription refills, and provide information about drug interactions and side effects.
Training to Become a Pharmacy Technician
You must finish a training program to become a pharmacy technician and pass a certification exam. Portland Community College offers a comprehensive pharmacy technician program that gives learners the information and skills they need to succeed in this field. This program includes hands-on training in a real-world pharmacy setting with classroom instruction to help establish your knowledge. Additionally, students will have the chance to obtain a certificate of completion, helping them stand out to potential employers.
In addition to PCC's program, there are a variety of online courses and certification programs available that can help you prepare for the certification exam. These courses can significantly increase your knowledge and help you gain practical experience in a simulated pharmacy environment.
Career Opportunities for Pharmacy Technicians
Pharmacy technicians are in high demand, with employment projections indicating that this field will continue to grow in the coming years. The typical starting income for pharmacy technicians is $37,920 per year, according to the Bureau of Labor Statistics. As you gain experience and build your skill set, you can expect to earn even more.
In addition to the potential for career growth, pharmacy technicians also enjoy job stability. Pharmacies are a staple in our healthcare system and will still be an essential part of healthcare for the foreseeable future. This stability means pharmacy technicians can enjoy a secure career path with good earning potential.
Why Becoming a Pharmacy Technician May Be Right For You
Becoming a pharmacy technician is a great starting point if you are interested in a healthcare career. With relatively short training programs and high demand for qualified technicians, you can quickly start your career and make a difference in patients' lives.
Pharmacy technicians also have the opportunity to advance in their careers. Some technicians go on to become pharmacists, while others may choose to specialize in areas such as nuclear pharmacy, compounding, or long-term care. This versatility allows pharmacy technicians to pursue careers that align with their interests and skills.
Take a Step Towards a Rewarding Career Path
Becoming a pharmacy technician can be a fulfilling and rewarding career choice. With the growing demand for qualified technicians and the stability of the healthcare field, you can expect a secure and well-paying job. Whether you are a student considering your options or an adult looking to continue your education, Portland Community College's pharmacy technician program is an excellent way to get started in this exciting field.
If you have a passion for helping others and are interested in healthcare, becoming a pharmacy technician might be the perfect career choice. With the proper training and certification, you can quickly enter this growing field and make a difference in patients' lives.