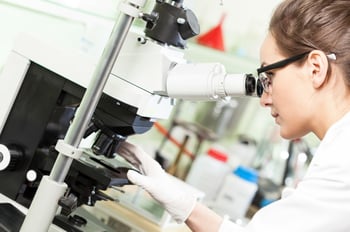 "One of the most challenging aspects [of being a pharmacy technician] comes down to maintaining knowledge on all the changes that occur within the field. Pharmacy practice changes on a weekly basis with new generics and new drugs," states Mike Johnston, chairman and CEO of the National Pharmacy Technician Association. Another difficult thing is working with patients who are "not always feeling their best," he says. "The majority of your customers that you're going to be dealing with are sick – whether it be a cold or sinus infection or a much more serious, chronic condition. So it takes a lot of compassion and empathy." Given that this is such an important role in the healthcare industry, we've broken down what you need to know about becoming a pharmacy technician in this post.
What Does Being a Pharmacy Technician Mean?
Pharmacy technicians ensure medications are filled properly and in a timely manner. While it may seem simple to assist a pharmacist in dispensing the right prescription medication, it requires incredible precision and attention to detail. As a pharmacy technician, you could work in department stores and grocery stores, but the majority work at pharmacies, drug stores and hospitals.
What Does Being a Pharmacy Tech Entail?
The main duties of a pharmacy technician include assisting in correctly measuring, counting, mixing and labeling dosages of medications. As a pharmacy tech, you wouldn't typically answer questions patients may have about the drugs, nor would you advise them on side effects or how or when to properly take the medication; those are all things pharmacists are trained to do.
What Can I Expect? What Are Some of the Responsibilities?
To get a better idea of their day-to-day tasks, we've laid out a day in the life of a pharmacy tech:
A patient takes their prescription from the doctor to a local drug store. You, as the pharmacy technician, are likely the first person they'll meet. After you get the prescription, you'll:
Enter all the data into your software

Count, mix, and/or measure, then bottle the medication(s)

Take care in labeling the prescription accurately

Process payment information (this often requires working with the patient's insurance company)
Other daily tasks you may come across include answering phone calls, taking inventory of drugs and supplies, making note of anything that may need to be re-ordered, and directing any medical or prescription-related questions to the pharmacist.
Work as a pharmacy tech can be tedious, as attention to detail is imperative. The job can be repetitive, but eventually you'll get to know the patients and their different health issues, and being able to help them is very rewarding.
What Are the First Steps in Getting Certified?
You've read the duties and responsibilities and think this could be the career path for you! So next you may be wondering how to become a pharmacy technician.
You can get certified by completing on-the-job training or by taking classes from an accredited establishment like a community college or a vocational school. Earning a certificate requires taking a rigorous exam. There are two different organizations that provide testing toward certification. They are the Pharmacy Technician Certification Board (PTCB) and the National Healthcareer Association (NHA). Since each organization has different criteria and expectations, make sure you understand both before making your decision. Additionally, each state has its own regulations, so make sure you're in accordance with those!
To further your education, you can attend a postsecondary program with an emphasis in pharmacy technology. This is a helpful program, but not required by most employers. Vocational schools and most community colleges offer these programs, which usually last one year. During this program you might learn mathematics commonly applied to medications, gain more understanding of drug names, and uses of certain drugs. Some training programs will get into pharmacy law and ethics, best practices for dispensing medications, and may even include internships that offer invaluable hands-on experience in the industry.
How Long Does It Take to Become a Pharmacy Technician?
Most states actually have no certification or licensing requirements for you to become a pharmacy technician. However, many employers are requiring applicants who have national certifications regardless of what their state requirements. Having the proper training shows initiative and a greater understanding of pharmacology and usually takes less than a year.
How Is It as a Career Path?
According to the Bureau of Labor Statistics, employment opportunities for pharmacy technicians are expected to be far better than average in the upcoming years. In fact, employment of pharmacy technicians is projected to grow 20% by 2022. This can be attributed to the fact that we're all living longer. As the baby boomer generation ages, many will need to be on more medications creating a demand for this position.
In terms of career path and advancement, some certified pharmacy technicians practice in the field for a few years, and then determine if they'd like to pursue additional degrees. Some common fields many pharmacy technicians tend to gravitate towards include but are not limited to other allied health fields such as nursing, becoming a paramedic, and physical therapist. Oftentimes, pharmacy technicians choose to change direction by adding a business or science degree to their resume and seeking out management jobs, pharmaceutical sales or research labs.
What Is the Pay Like?
According to Glassdoor, the national salary average for pharmacy technicians is $31,296 a year. However, average salaries in Oregon last year were much larger at $36,270 a year or $17.44 an hour. Consider looking at the income potentials in each city and state, as the salaries depend largely on local economic and employment conditions, as well as your experience level and whether or not you're certified. One fact is consistent though, everyone agrees that the field is growing at a rapid pace, and those just entering the industry should enjoy excellent job prospects.
What Are the Hours Like?
Most pharmacy techs tend to work full time, but it varies drastically based upon the establishment in which you work. If you work at a grocery store or hospital, you may have more untraditional hours compared to someone working at a pharmacy or drugstore. Some techs are expected to work weekends, night and holidays while other may have a more traditional Monday through Friday schedule.
Having a job where you have the power to help and assist others is a very rewarding career path. Sure, some processes can be monotonous, but understanding the process brings clarity and acceptance to the daily operations. Further, if your ambitions are to pursue advancement in the field, starting out as a pharmacy technician is a great way to discover if a healthcare career is right for you!