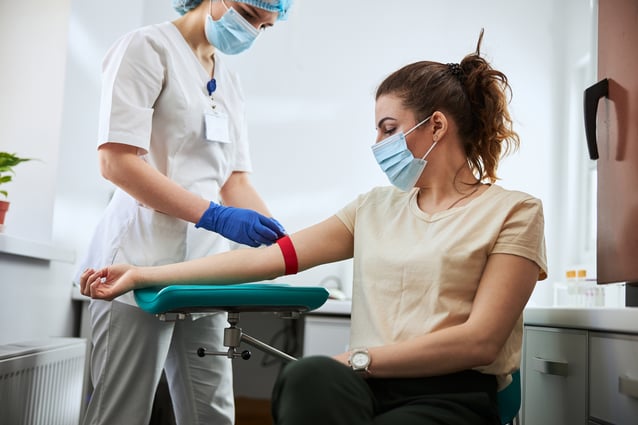 There's a misconception that getting into healthcare as a career takes many time-consuming years of study. Many people begin their healthcare careers with a rapid training course that moves them into an entry-level job. People develop their expertise from entry-level careers in phlebotomy or other areas of healthcare. Others work full-time while taking evening coursework to move into different healthcare roles.
Unlike going to school full-time for years, this method of incrementally advancing through the healthcare field provides an income while studying. It can still help you move into your ideal healthcare role eventually. Let's look at how to become a phlebotomist Portland desperately needs and why this role is well-suited to growing a healthcare career of various kinds.

What Does a Phlebotomist Do?
Phlebotomists have an integral role in every healthcare setting, from hospitals to clinics to long-term care facilities. They focus on drawing blood correctly, contribute to blood testing, and occasionally help with diagnostic situations. Their work also requires carefully managing spaces to conduct all blood draws hygienically and avoid contamination that could endanger staff or patients. They also want to ensure you can conduct all tests accurately. Labeling and organizing their workspace is critical to prevent mixing up results.
Part of why entry careers in phlebotomy offer a great starting point in the health care industry. The core skill of drawing blood is helpful in many other areas of healthcare, from working as a medical assistant to a nurse. This skill may not be your entire job as you move into different roles throughout your career. Knowing how to draw blood is a great introduction and foundation as you continue your training and diversify your roles.
How Quickly Can I Become a Phlebotomist?
The other exciting thing about phlebotomy is that many people enter this career with less than a year of schooling. The comprehensive coursework at Portland Community College begins with a term about the classroom and lab elements, from managing, transporting, and processing blood correctly to maintaining patient confidentiality and compliance with HIPAA.
The second term is a clinical rotation that gives you access to mentorship and the opportunity to conduct blood draws. You'll conduct at least 100 draws to complete your rotation. In this way, you become highly skilled in the theory and practice of phlebotomy. You are in a better position to secure an entry-level role as a phlebotomist than many others who might apply. You'll be eligible to apply for national certification, and passing that exam makes you even more employable.
Phlebotomy is currently growing at a rapid rate, with a strong need for phlebotomists in Portland. By taking this two-term coursework and launching your healthcare career, you put yourself in a very employable spot, ready to join the healthcare field.
Stick With Phlebotomy or Enter Other Healthcare Roles
Phlebotomy is an established career path with opportunities to join management or supervision depending on the healthcare context where you work. However, it's also an excellent springboard for other roles. After working as a phlebotomist, you can take flexible, affordable coursework to transition into new roles, like radiology technicians, while working full-time. Others return to school to become nurses or nurse practitioners, growing their career independence and enhancing their earning potential.
The key to phlebotomy is that it is a fundamental skill. You can't be squeamish about blood but can quickly progress with the role. Once you've perfected the blood draw, you've got a core skill that will serve you throughout the healthcare industry. Phlebotomists also learn to work well with patients, many of whom aren't looking forward to their blood draws. There is great satisfaction in doing your job effectively and quickly to reduce your patients' medical anxiety.
Portland Community College: Launch a Healthcare Career Today
The phlebotomy coursework at Portland Community College balances the need for rigorous training with the flexibility and speed that modern professionals need. The value you gain from these courses helps you start applying for jobs in healthcare, but the clinical rotations and the job itself may expose you to even more healthcare careers you hadn't known before, expanding your options. Explore PCC's catalog today to find the next great healthcare course for your interests!