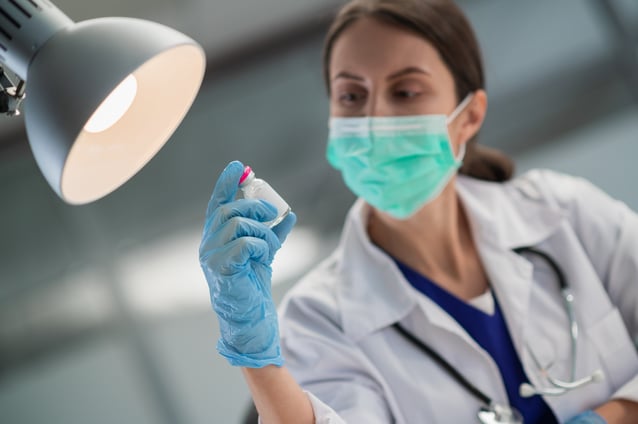 Nursing is an excellent example of a field where a general, far-reaching curriculum creates the foundation for the career. However, many nurses choose a role where they rely on a subset of their skills most of the time. Perhaps they are working with patients frequently who need specific procedures done but don't require blood draws or IVs as often.  After all, some healthcare settings have dedicated phlebotomists specializing in blood draws and other similar skills.
However, as a nurse, you may eventually want to move up or move on to a different setting, and knowing what will make you most attractive as a candidate for advancement or a new, in-demand role can be difficult. Nurses can distinguish themselves with phlebotomist certification, such as Portland Community College's phlebotomy technician program.

What is a Phlebotomist?
A phlebotomist is a healthcare professional who typically takes blood or inserts IV lines, verifies patient information, and accurately labels and organizes samples to analyze in a lab. While this role can be a stand-alone full-time position, there are also many aspects of the phlebotomist's job done by nurses, so you may already be familiar with the procedures.
Phlebotomist training at Portland Community College brings up-to-date industry changes and understanding of needed credentials, in addition to a knowledge of how hospital systems and other healthcare settings function and change over time. When they complete the training, phlebotomists have had extensive hours in a hands-on environment, completing blood draws and getting feedback and technique training to work in multiple settings.
Many of the same qualities that make a nursing staff member exceptional make phlebotomists great at their jobs. For instance, both benefit from an ability to work compassionately with patients, patient education, and precision in your work.
How Nurses Can Benefit as a Phlebotomist Technician Student
If you're already a nurse, you may first think that this additional training wouldn't be necessary since you received the basic training on these tasks in school. However, there are a variety of contexts where phlebotomy technician training could help you.
In some contexts, you can fulfill a continuing education requirement by taking coursework, such as a phlebotomy technician course.
When looking to transition into a job that has more blood draw needs or more complicated patients for blood draws, this training can be invaluable.
The course includes updates on how hospitals are working and general industry changes in addition to refreshing standard tasks.
Returning to the career full-time after working as a PRN or taking time off, a certification can help you transition into the field while gaining more vital skills.
If you feel like you've lost some of your excitement about your career as a nurse, learning a new skill or reinforcing an old one can be very meaningful, all while making new connections in the healthcare field.
Many people think of 'going back to school' as an expensive endeavor that takes many years, which leads them to not pursue continued education after their career commences. However, Portland Community College healthcare coursework like the phlebotomy technician program is affordable and short-term, making them excellent ways to see the benefits of going back to school without the long-term, expensive commitment.
Lateral Moves Can Poise You for New Upward Mobility
Another possibility of gaining additional credentials and building upon your experiences and skillsets creates more upward mobility. You might not think that a phlebotomy program is critical to moving up or getting a management position in your job, but it is often the case. If you are a top candidate applying to work at a larger hospital, you're part of a different workplace entirely. Your new location opens you up to more management opportunities, and more credentials make for more potential. Everything that builds your resume, in that sense, gives you more options down the road.
It also simply doesn't hurt to be very skilled and confident in all the daily tasks that a fast-paced nurse's shift will include. More experience or background context can help you be better at your job, even if it isn't phlebotomy. Consider taking a healthcare professional course to improve your job satisfaction and ability to serve your patients. Nurses have so many reasons for learning new things, and professional development is one of the ways that people in all careers keep their experiences fresh and feel like they're progressing throughout their career.
Check out all the Portland Community College offers for professional development coursework and sign up to get excited about nursing and healthcare again.