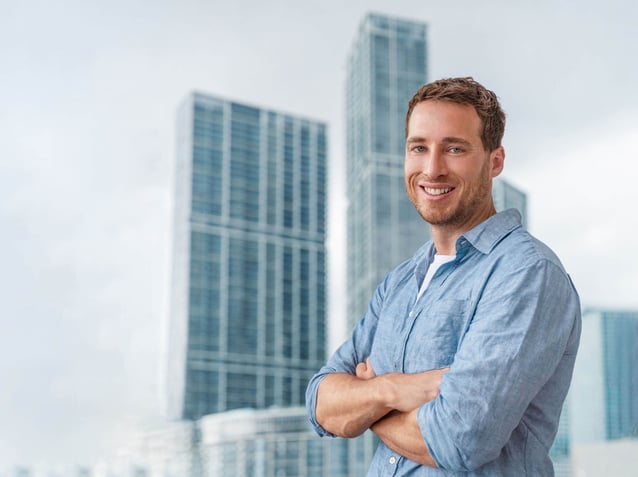 People always need places to live and constantly move into or out of new apartments, houses, or townhomes. Real estate, as a field, will always be a necessity. The steady influx of new renters means those who choose to become real estate property managers will always stay busy. Becoming a property manager might be a good choice if you want the benefit of working in real estate but want to avoid the sales-oriented role of acting as a real estate agent.
Working as a property manager puts you in control of your schedule, often working from the comfort of your home or spending part of the week in an office. You will also forge connections with many interesting people, creating connections with service personnel and tenants that could last for years.
Here we cover what property management involves and tips to obtain your license.
What Does a Property Manager Do?
Becoming a property manager requires obtaining a special license. Passing the test for the license requires you to develop a deep understanding of rental laws, how to maintain a fair relationship with renters, and organizational procedures to keep the units up to date and rented out.
Property managers handle multiple tasks depending on their building and location. However, their general duties typically include the following:
Market a rental property

Collect and deposit rent

Evaluate tenants
Handle emergency repairs

Price rental properties

Perform house visits
You will also manage financial records for tax purposes and ensure compliance with all fair housing laws. Good property managers are organized, personable, proactive, and motivated. After all, property managers often manage multiple properties simultaneously, overseeing several units at once and ensuring they are in good repair with satisfied tenants.
Obtaining the property management license gives you the tools you need to grow into your role. With that foundational knowledge, you can grow in your role, taking on more responsibilities as you increase your work efficiency.
How Long Does It Take to Become A Real Estate Property Manager?
Portland Community College's course helps you begin a career as a property manager in about three months, teaching you the necessary components to pass the exam with additional guidance for your first role. It covers fair housing laws, tenant evaluation, and building great relationships with tenants or maintenance personnel.
After you obtain your property manager license, you can expand your knowledge by attending special workshops and classes hosted by real estate professionals. Continuing to learn what you can about the career path, especially regarding legal matters and fair housing laws, can only help you become more successful as you go forward. Laws and regulations may change, and ongoing education will help you know how to implement those quickly.
How Much Can You Make as A Real Estate Property Manager?
Property managers have a wide range of salaries, which change most drastically based on what type of property they manage. Properties could be residential, commercial, industrial, or serve a specific purpose. Commercial property managers tend to have higher pay, with a general range of between $50,000 to $100,000 yearly. In comparison, residential property managers tend to make anywhere between $57,000 to $92,000.
Location plays a significant role in a property manager's salary. You'll generally receive more if you manage properties in a metropolitan area like Portland. Rents and other wages tend to be higher in city areas. Whereas a property manager's salary in more rural areas will be lower accordingly. However, that will also depend on the scope or number of properties managed. Compensation will also increase as you become more skilled and can handle more significant responsibilities.
It also puts you in closer contact with investment opportunities, where your experience in property management can help you run more smoothly.
Enjoy a Rewarding Career as a Real Estate Property Manager
Property management has numerous benefits, offering you a way to connect with people while advancing in a career involving real estate, finance, and project management. With the real estate market growing every year, there's no better time to get started on a career in property management.
Portland Community College offers an immersive, thorough course in property management that will equip you with everything you need to know to become a licensed real estate property manager. Contact us today to learn more about our course in property management, or check out our website to learn more about the programs and educational courses that we offer. We can't wait to help you succeed in your chosen career path!