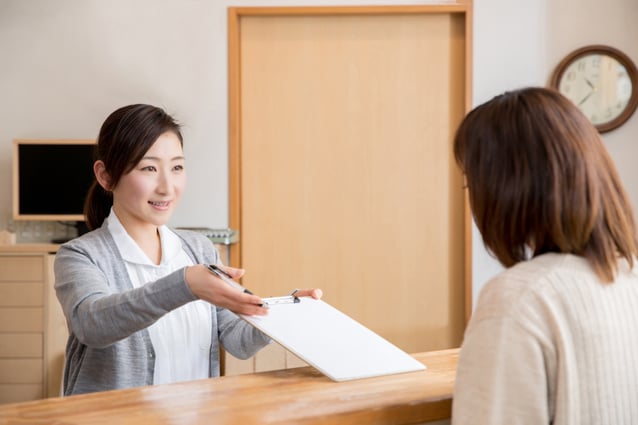 While the reception workers in any business can make customers feel comfortable and well-oriented, there are few contexts where they are as vital as in the medical world. Patient access specialists work as the first contact with patients visiting a doctor's office or other healthcare settings.
People often come to the doctor with stress or concerns, and the patient access specialist they encounter shapes their experience, calms them down and helps them feel cared for and supported. If you're looking for a role that impacts people and keeps you busy with new tasks every day, a patient access specialist is a fantastic role that can lead to other industry opportunities.
What is a Patient Access Specialist?
The first few moments of conversation when someone arrives at a doctor's office are crucial. They need to be friendly and easy-going since the patient could be in a stressful circumstance, but they also need to be precise to get the information for the doctors and team. To do your job well in those crucial minutes, you'll need to know how to accurately identify patients, keep them safe, determine if they require immediate care or attention, and obey regulations about care standards and patient satisfaction.
In between using customer service skills to work well with patients, you'll have information management skills for health insurance, medical billing, claim submission processes, and revenue cycle information to handle. A successful doctor's office juggles a variety of data systems. It needs to have very organized, clear records to maintain legal compliance and ensure no bills fall through the cracks with insurers and patient payers. Excellent, impeccable record-keeping from the patient access specialists smooths this process for everyone else in the office and ensures higher customer satisfaction by reducing the likelihood of mistakes.
How to Become a Patient Access Specialist
While doctor's offices and other healthcare contexts may train patient access specialists on the job, it can be a challenging role to instantly prepare for while trying to impress your new supervisor with your abilities and knowledge. By taking a course through PCC's Institute for Health Professionals, you can get your feet wet while learning the more extensive systems driving priorities in a doctor's office, like insurance, legal compliance, and medical billing. Your knowledge helps you hit the ground running when you get a job since you'll be focused on the quirks of that office rather than on learning the role and the office's needs.
You can complete the course in 2 or 3 terms. Furthermore, all the classes are online and coordinated to help students pass the Certified Healthcare Admissions Associate (CHAA) exam. This exam credential can be a way to differentiate yourself from others applying for the same role at a doctor's office. It shows dedication and preparation and that you invested in this career path. It demonstrates that you have prepared specifically for this job, which signals a unique commitment.
If this is the first time you've considered how to become a patient access specialist, consider your personal qualities first. Are you good at learning a system and sticking to it, particularly detail-oriented work with many small features that all need to be accurate? Do you have a friendly demeanor and the ability to de-escalate tense situations by staying calm and clear? Finally, are you comfortable in medical settings, staying calm even in situations that make others squeamish? These traits could help you become the next highly valued patient access specialist at a local clinic or office!
Portland Community College Equips Healthcare Careers
Many assume that you need many years in school to join the healthcare field. While those roles are deeply valuable, there are also ways to get entry-level positions in healthcare and work in them while getting to know the field better. Many patient access specialists learn a more comprehensive understanding of what medical coders, nurses, doctors, and physician's assistants do all day by working with them. If they do choose to move to a different role within the healthcare field, they make their selection of the next step with a lot more information than the average applicant to those schooling programs.
Many people find ways to take courses part-time while continuing in their highly-valued roles as patient access specialists, either full-time or part-time. Doing so can lower the impact of continued education costs while helping people move up with less or no debt.
Ready to explore all that the PCC Institute for Healthcare Professionals offers? Check out our offerings today.