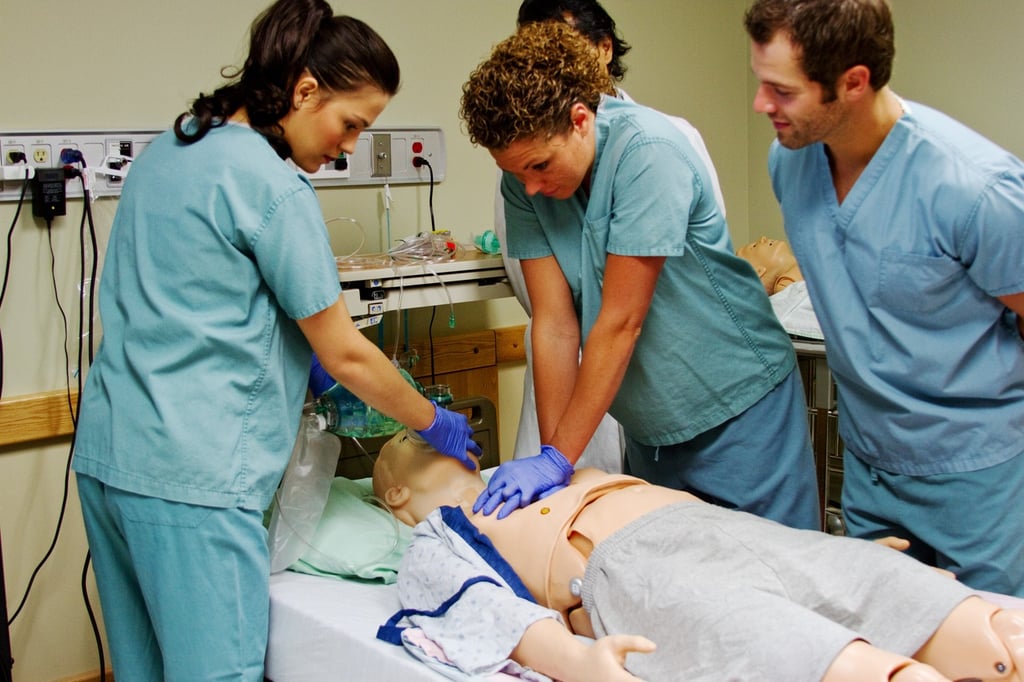 In your healthcare organization, many members of your staff, from nurses to physicians, medical technicians to nursing aides, have to maintain their licenses and credentials through continuing education. Continuing education and additional training helps your staff stay up-to-date on the latest standards and practices, allowing them to provide quality care to all of your patients.
You can help your staff keep up with their continuing education requirements by offering onsite healthcare training. Not only is onsite continuing education convenient for your team members, it can end up saving your company time and money while streamlining patient care.
Types of Onsite Healthcare Training
You can schedule a variety of onsite healthcare training courses to be tailored to your organization's needs. These courses can range from specialized skills to lifesaving techniques all healthcare professionals need to know. PCC Institute for Health Professionals offers a variety of onsite healthcare training, including:
Continuing Education to Maintain Licenses or Add Complementary Skills
Continuing education courses may provide updated information on new treatments or care techniques. These courses can also give your staff members new skills that can benefit many patients, no matter why the patient needs care. For instance, your staff may learn how to care for the mental health of patients using trauma-informed care or narrative medicine techniques. Or, with the population aging quickly, you may decide that your team needs training to better handle the many challenges of caring for seniors.
American Heart Association Training
To create a same atmosphere for patients and visitors in your facility, it's imperative that your staff members understand lifesaving techniques such as CPR, advanced life support and pediatric advanced life support. PCC Institute for Health Professionals provides American Heart Association designed courses to give health professionals the skills they need to move fast to respond to a cardiac event.
Specialty Training
Onsite healthcare training courses can also provide specialized education for healthcare professionals in specific positions, from phlebotomists to paramedics. These courses can help your employees keep up with continuing education requirements or even advance their careers. For instance, through PCC Institute of Health Professionals emergency medicine courses, paramedics can learn mobile integrated healthcare while nurses can gain specialized trauma skills. Through our special topics in healthcare courses, many different members of your team can learn new skills that help them succeed in your organization.
Benefits of Onsite Healthcare Training
Onsite healthcare training offers your company, staff members and patients many benefits. These benefits include:
Streamlined Care Processes
Onsite healthcare training allows you to ensure standardized learning across your organization. Since each member of your staff follows the same practices, you can develop a streamlined care processes to deliver efficient, quality care.
Lower Training Costs
By holding healthcare training at your facility, you can save the costs of travel, hotel stays and other costs of training at other locations. It's far more cost-efficient to train many people at once instead of paying each staff member to seek out training on their own.
You can also maximize the use of your internal training department by strategically contracting with continuing education providers. It can keep your training staff from being overwhelmed and help them stay on top of important training topics.
More Employee Time
When you hold onsite healthcare training, your employees will need to take less time away from their work to continue their education. You can plan trainings on your schedule, when it's best for your organization and your employees. It also cuts out travel time to other trainings, helping employees gets trained in less total time.
Onsite healthcare training makes keeping your staff up-to-date convenient and easy. If you are interested in providing onsite continuing education to your staff members, contact the PCC Institute of Health Professionals today to find the courses that are right for your team.