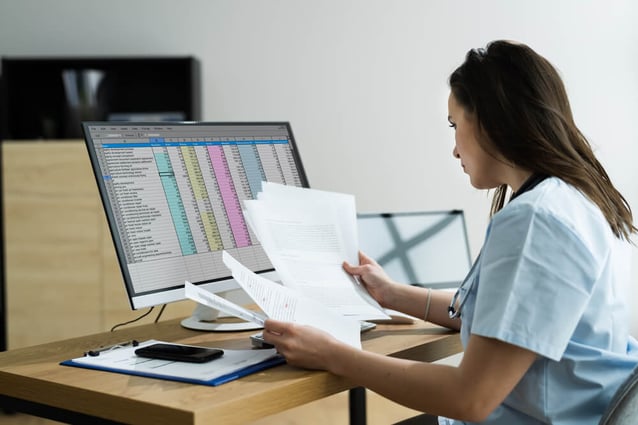 Careers in medical coding are on the rise, and for good reason. It is a rising field in the medical industry and an immensely fulfilling career path as you form the connection between patients, medical providers, and insurance companies.
As a medical coder, you will translate complex diagnoses, procedures, medications, and other doctor's notes into simple, standardized alphanumeric codes. These codes have a few different purposes:
They enter the patient record to make it easier for their doctor and other providers to refer to and learn about the patient in the future.

Insurance companies use them to understand what the patient needed and how it might be covered under their policy.
Coders in the medical field are also responsible for maintaining the accuracy of patient records and verifying those records to ensure that insurance companies have everything they need to process billing. Medical terminology, an updated understanding of current coding guidelines, and knowledge of basic medical concepts will all help you succeed in this field.
The Role of Medical Coding Careers in the Healthcare Industry
Medical coders are, in a way, translators. Patients, doctors, and insurance companies all speak very different languages with highly specific terminologies, from informal to standardized. As a medical coder, you'll be able to understand their different terminologies and translate from one to the other as the industry requires.
Consider, for example, a patient seeing their doctor to complain about chest pains. That doctor will jot down notes from the visit, noting the chest pain and recommending an MRI. The technician at the MRI appointment will want to know the details from the doctor's notes, and the patient's insurance company will need to know exactly what procedure was done (and why) for billing purposes.
As a medical coder, you become the bridge between these entities. You'll standardize the doctor's notes from the visit into standard codes that the MRI technician and insurance company can easily read. Those codes will also become part of the patient's record, making it easy for the doctor to recall details from the initial visit for any necessary follow-ups.
More specifically, medical insurance providers will use the codes generated by medical coders to assign bills, determine which go to the medical provider and which the patients pay, and then track payments from either of these parties. 
Add it all together, and it's clear that coders are the critical glue that holds the medical industry together. Both patient care and insurance billing depend entirely on the accuracy of the codes based on the physician's notes. Your codes may even be used by researchers looking to study medical care and treatment trends on a broader scale.
4 Ways in Which Medical Coders Will Shape the Future of the Healthcare Industry
As a professional coder, you'll already have a major impact on the healthcare field today. But that impact will only widen as the industry continues to evolve. A look at the future of healthcare shows what impact medical coders can and will make:
Align medical coding with technological advancement

. Accurate and comprehensive coding can help automate processes, streamlining the coding and analysis process.

Help in digitizing patient records.

The increased use of electronic health records (EHRs) further standardizes how

medical and insurance providers can review patient information.

Create the foundation for advanced data analytics.

M

edical coding helps inform broader analyses about trends and patterns in illnesses, injuries, and treatments across the medical sector.
Enables compliance with patient and healthcare regulations

. The last two decades have seen an increase in healthcare-related regulations, which will inform how patient records are created, managed, and reviewed.
These advances are impossible without certified medical coders to form a bridge between patients, providers, and insurance companies. Medical coding is an increasingly important career path in the healthcare industry.
As the need for healthcare increases, so will the need for coders. The U.S. Bureau of Labor Statistics expects this career path to increase faster than average by 2030.
How to Become a Certified Medical Coder
Entering the medical coding field requires at least a post-secondary certificate, which includes passing the certification exam by the American Academy of Professional Coders. To prepare for that exam, consider taking PCC's medical coding program.
The program consists of four individual online courses, all of which you can complete in as little as two terms. Learn the world of medical coding through case-based assignments and mock exams designed to prepare you for the Certified Professional Coder exam. 
Medical coding is at the intersection of the entire healthcare industry. It provides the core link between the three primary entities in healthcare – patients, doctors, and insurance providers. Get started in this exciting and future-focused field today by registering for our Professional Medical Coding program.