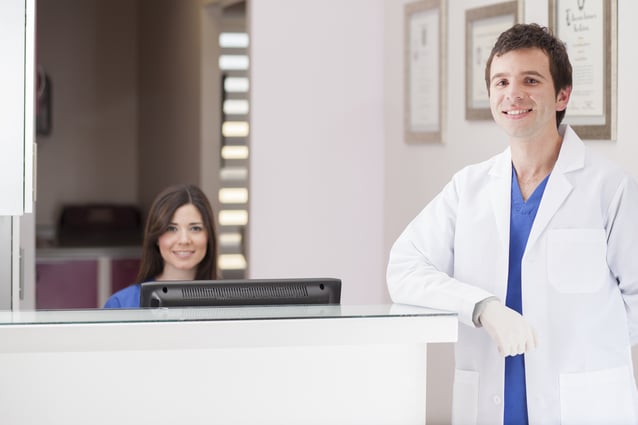 So many important aspects of a doctor's visit begin to solidify when you first walk in the door. Think about the difference between being greeted politely and immediately connected to your provider versus not being noticed and then being haphazardly registered and checked in for your appointment. As a Patient Access Specialist, you get the opportunity to make people feel connected, cared for, and ready for their appointments, all while doing important behind-the-scenes data collection that helps you to continue serving them well during the payment or insurance process.
Maybe you're asking, "What is a patient access specialist, anyway?" Patient access specialists are the workers who first interact with a person coming into a medical clinic or doctor's practice. Their combination of greeting and entering information into the scheduling and documentation databases is one of the vital components of keeping the practice running smoothly. As a Patient Access Specialist, you need a combination of skills to find success in helping patients feel at ease.
Attitude Counts When Working as a Patient Access Specialist
One of the most valuable attitudes you can bring to the work of being a patient access specialist is a positive attitude. People can immediately tell if someone is feeling sour or irritated, so the positivity you put out is a big part of how you start an interaction with a patient. That positivity conveys a lot to the patient. Being at ease and positive yourself shows the office treats staff and patients well. Happy employees indicate a positive workplace, which can be valuable as a marker of quality care. Your positivity helps create an atmosphere where both patients and staff give each other the benefit of the doubt and resolve any misunderstandings kindly, rather than with adversarial attitudes.
Positivity is equally important, though also more of a challenge when patients bring strong emotions when they come through the door. Positivity doesn't mean ignoring the situation and just putting on a blanket giant smile. A Patient Access Specialist becomes very strong at reading the emotional state of others and shifting their positivity from being "chipper" with a happy patient and "attentive and warm" with an unhappy patient. These different forms of positivity that form a diplomatic attitude toward the suffering or stress of the patient can be what makes you stand out in this role.
Details Keep Everyone Calm
Another part of making patients feel at ease is the ability to help patients through the logistical and paperwork-related hurdles of the healthcare system. When they arrive, you're immediately verifying information, ensuring they are at the correct office for the right time of appointment, and checking if any insurance information has changed. You're also the front-line person sharing billing information and taking payments. In many offices, you must handle multiple stimuli at once, type numbers correctly, remember names, and manage the office systems you need to keep in working order. That makes working a full-time schedule as a patient access specialist a full day!
The best way to see the importance of attention to detail as a patient access specialist is to see the ramifications when conducted in a chaotic or disorderly manner. If a patient is sent back with the wrong doctor or nurse, they will understandably be upset you wasted their time, and they are privy to the wrong details in their health profile. If a patient receives incorrect billing information, they may become stressed by the high bills or because it doesn't match the expected amount. While you probably only see the calm, orderly version of what a patient access specialist does in most doctor's offices, they constantly keep patients at ease by staying error-free and paying keen attention as they organize files and databases.
Feeling Fully Prepared: How to Become a Patient Access Specialist
If you feel like you're a positive, diplomatic person with strong attention to detail, you can give yourself an additional leg up before becoming a patient access specialist. You can receive coursework in medical terminology and patient access specialist work from Portland Community College. These online courses help you feel prepared for the work and have a working knowledge of health insurance systems, customer service skills, and healthcare delivery regulations. It gives you more time to focus on each patient once you start work. Furthermore, it helps you keep up to date with changes, recent healthcare reforms, and the medical billing process.
To learn even more about what makes a successful patient access specialist, visit PCC's course catalog today and sign up for a course.