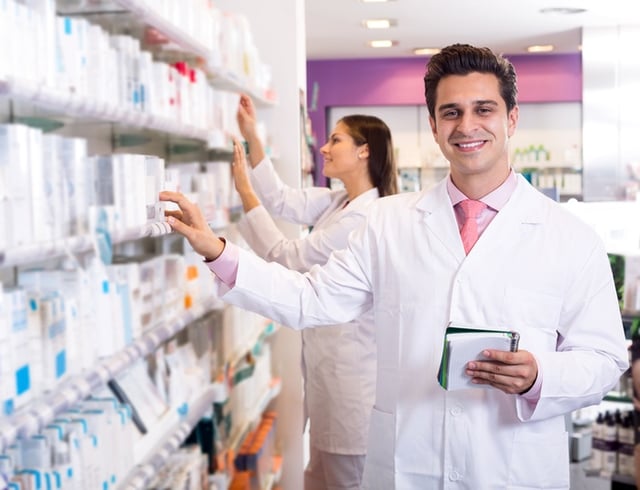 October is American Pharmacists Month and what better way to celebrate than to recognize your favorite pharmacy technicians on October 18. Now is the time to spotlight the people who make valuable contributions to the practice of pharmacy day in and day out.
A Day in the Life of a Pharmacy Technician
Acting as the "face" of the pharmacy and usually the liaison between patients, caregivers, and healthcare providers, a pharmacy technician's role is fast-paced and demanding. Working directly under the pharmacist, the technician is responsible for properly measuring, counting, mixing, and dispensing medications as well as managing third-party insurance reimbursements. Meanwhile, the pharmacist focuses on assisting healthcare providers and patients to ensure safety and proper treatment to satisfy both parties.
As a valuable asset to the pharmacy, attention to detail is key in a pharmacy technician's world. While the role of a pharmacy technician can vary between institutions, a typical day most likely includes ongoing customer service and a lot of multitasking. A pharmacy technician is generally responsible for answering the phone, working with insurance companies and healthcare providers, having a knowledge of computer skills and/or accounting software, processing payments, reconciliation, and dealing with the customers/patients.
How to Become a Pharmacy Technician
Since this is considered an entry-level role, no previous healthcare experience is required in becoming a pharmacy technician. However, one does need to complete training and pass an exam to get certified to increase chances for employment. A potential pharmacy technician can receive their training at an accredited community college, vocational school, or an on-the-job training program followed by receiving an adequate score on the Pharmacy Technician Certification Board exam. Mostly, getting certified shows that you can be trusted in dealing with medication and that you can take initiative.
Do You Really Want to Be a Pharmacy Technician?
Since a lot of your time is helping sick people, it's best to be the type of person who is compassionate and empathetic when dealing with customers. New drugs and generics are constantly being introduced, so it's a pharmacy technician's job to be knowledgeable of the current trends in the pharmaceutical industry.
Again, accurately counting and dispensing drugs is the key task, so having utmost precision and attention to detail at all times is a must. Gaining an understanding of pharmacology through a training program and becoming certified usually takes less than a year.
Although most pharmacy technicians work full time, it really depends on the hours of operation of where you work. According to Glassdoor, the national average salary for a pharmacy technician is $24,955 (as of September 30, 2016), but this can vary widely depending on the area in which you are seeking employment.
PCC Can Help You Switch Careers
Former PCC student Max Drewel worked in the commercial insurance industry for 30 years, but he wasn't ready to retire so he simply switched gears. A friend of Drewel's was a pharmacist and encouraged him to try it out because of its part-time opportunities and portable skill set. Drewel found that the PCC Pharmacy Technician Program was in a good location, offered reasonable tuition fees, and required just a half-year time commitment. Immediately following his internship, Drewel got a job at a full-service pharmacy and enjoys making a difference in people's quality of life.
Whether you're recognizing your favorite pharmacy technician or looking to become one yourself, don't forget to celebrate National Pharmacy Technician Day on October 18. Here's to your health!