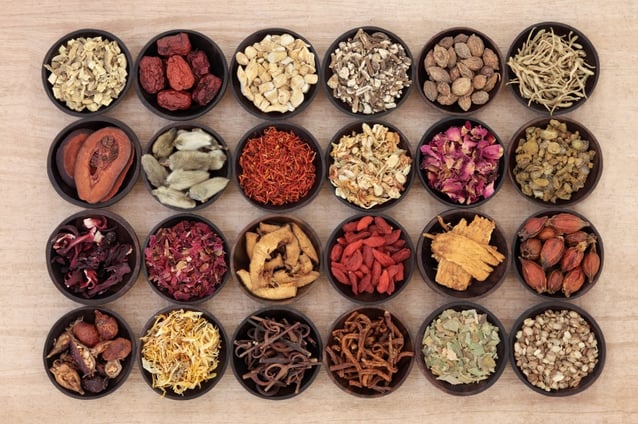 Updated Feb.15, 2023
For many consumers today, achieving healthier lifestyles demands a holistic approach to healthcare. A holistic approach considers a person's physical, emotional, social, mental, and spiritual health. Herbs play an essential part in holistic medicine.
This article briefly describes herbalism In western medicine today. You will also learn how to advance your knowledge and embark on a new career path by taking courses on herbalism at Portland Community College. 
What Is Herbalism?
Herbalism is the study of natural herbs and their effects on the human body. Herbalism sometimes accompanies traditional western medicine. In other instances, herbs may replace traditional forms of western medicine. Herbs may be part of foods, taken as a supplement, or applied to the skin as a topical treatment or tonic.
Herbalism focuses on the whole person to promote healing and wellness using the natural healing powers of herbs.
How to Become an Herbalist?
The American Herbalist Guild (AHG) recommends 1600 hours of study in herbal medicine and 400 hours of clinical experience. Topics studied include anatomy, physiology, biochemistry, and nutrition. Completing studies as a practicing herbalist may take up to two years, depending on the certificate program. In the U.S., practicing herbalism does not require a license or a certification.
In comparison, naturopathic physicians must complete a Bachelor's Degree and four years of study in a Doctor of Naturopathic Medicine (DN) program.
Places to Study Herbalism?
Various educational institutions, such as the one at Portland Community College (PCC), teach the skills necessary to become an herbalist. They provide a credentialed program at its Institute for Health Professionals in the Herbalism for Professionals course of study.
Herbalism students learn from industry experts about the impacts of herbs on human health and healing throughout every life stage. The course is a three-module series that teaches about herbal techniques for restorative health. The class is online in an interactive space. Upon completion, students earn a Certificate in Herbalism from PCC. Advanced herbal studies are available in modules 4, 5, and 6 through the International Integrative Education Institute (IIEI).
The PCC Herbalism course modules 1 through 3 focus on the following studies.
The first module focuses on herbal healing by studying specific herbs and their properties, illustrating the distinctions between Chinese and Ayurvedic herbalism. Students learn about herbal preparations and plant chemistry, as well as the human body's digestive and cardiovascular systems. The first module introduces students to phytotherapy, aromatherapy, and homeopathy.
In Module 2, the Herbs and Health Module, students study the human body's respiratory, urinary, and nervous systems. They learn how vitamins and minerals are part of integrated healing. They continue to learn how to make herbal preparations and study plant chemistry.
Module 3, Holistic Herbalism, focuses on western herbal energetics and skin and topical therapies. Students study the reproductive, musculoskeletal, immune, and endocrine systems with an emphasis on the young and the elderly. The integrative healing segment addresses diet, cleansing, and herbal hydrotherapy.
Each module takes three months to complete. Therefore, students may complete their studies in one year.
What are the Career Possibilities for an Herbalist?
The following is an overview of the options available for a career in herbalism:
Clinical Herbalism – as noted above, the American Herbalist Guild requires 1600 hours in the classroom and 400 clinical hours. Students who complete the PCC certification as Herbalism Professionals may also undertake the AHG credentialing process to earn the title of Registered Herbalist (RH), AHG.

Many herbalists educate others by writing courses, blogging online content, and as professional speakers at herbalist events;

People interested in creating specialty foods may start businesses, as may apothecaries who want to prepare and sell herbal medicines

Herbalists may enter the retail sales market selling herbal medicines in boutique food stores or spice and herb shops

Herbalists often find careers in the International Import/Export field by becoming bulk distributors or supply chain managers for the spice foods industry.
Herbalists can use their expertise in the following areas:
Herbal research and development

Private practice, consultations

Education

Manufacturing herbal preparations
The PCC course provides the background in herbalism for the above careers. The American Herbalist Guild (AHG) is the only peer-review organization in the U.S. for those professionals who specialize in the medicinal use of plants. 
Moving Forward
The PCC Herbalism for Professionals course will help you toward a career in herbalism, regardless of your path. Your studies cover the following:
How various herbs and herbal preparations impact healing and health

The health and healing necessities throughout every life stage
The human body's various systems, their functions, and disorders
We invite you to visit us on the web today to view the current class schedule to sign up for the Herbalism for Professionals certificate program. The PCC staff looks forward to helping you meet your professional goals.