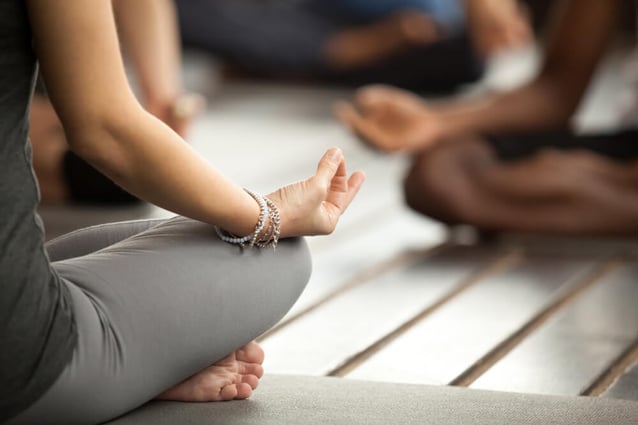 PCC's 200-hour Yoga Teacher Certification prepares individuals to teach both Yoga and (Ayurveda), providing benefits beyond yoga alone. Our Registered Yoga Teacher training program is approved by Yoga Alliance and gives you the practical and theoretical knowledge required for personal and professional transformation. Yoga teacher certification requires you to complete four 50-hour modules. 
Let's explore what PCC's 200-hour course offers and how you can learn to help people live more fulfilling lives with Ayurveda and yoga. 
PCC's 200-Hour Yoga Teacher Certification
Completing PCC's 200-hour course enables you to become certified to teach yoga courses. The course covers theoretical and practical aspects and allows you to experience changes toward feeling good. 
Each module in PCC's course takes one college term and enables you to attain 50 CEU hours or 38 of NAMA's PACE credits. You can take all or some of the modules in any order that fits your schedule. Certification requires you to complete all four modules, after which you can become a Registered Yoga Teacher with the Yoga Alliance. 
Every module in the one-year training program lets you experience the transformational possibilities of each season. For example, the module taken during winter teaches you how to balance your spirit, mind, and body through Ayurveda and Yoga. It includes Mudras, cooking, breathing practices, restorative yoga, Marma, and aromatherapy most beneficial during the cold winter season. 
During spring, the module covers management to balance daily routines, food, lifestyle, spices, and nutrition. It includes Nasya, an overview of Panchakarma therapy, Neti, powders, and healing massage oils. As is beneficial during the shift to Spring, you will also learn the rudiments of detoxifying to experience year-long natural benefits. 
The module taken during summer allows you to find your inner, bliss, beauty, and well-being. It includes the practical and theoretical aspects of Mudra, Mantra, Marma, Yantra, Asana, and Bandha. You can also expect to discover and learn yoga, Ayurvedic recipes that help balance the body during the heat, Dosha cooking tips, and full breathing. 
The module covered during the fall gives insights into Ayurvedic anatomy, universal qualities, Panchamahabhutas, the three bio-energies, and human anatomy. The module also lets you discover key overlaps between Ayurveda and yoga. 
Understanding Ayurveda
Ayurveda is a whole-body system predicated on the conviction that the individual relies on a subtle equilibrium between the spirit, mind, and body. Ayurveda's definition of balance includes consideration of constitution, sensory perception, and proper elimination. Based on ancient wisdom, recommendations often begin with internal purification, followed by herbs and spices, special diets, yoga, and massage; Ayurveda has many benefits for enjoying life.
The building blocks of Ayurveda are life forces, universal interconnectedness, and the body's elements. The healing system eliminates impurities, minimizes symptoms, allows you to lead a harmonious life, increases resistance to ailment, and minimizes worry. Practitioners often tailor Ayurveda plans to individual needs. 
Ayurvedic Yoga
Ayurveda and Yoga are sister sciences, combining exercise with daily food habits to support people in comprehensive, lifestyle-based enjoyment. The practice has unique and overlapping elements of yoga and Ayurveda. Even though they are different systems from India, certified Yogis in many places are increasingly bringing them together to the benefit of many.
Expand Your Career with a Yoga Certification
PCC's 200-hour yoga teacher certification course can benefit people beyond simply running yoga classes, as Ayurveda teachings help people achieve more. Those working in healthcare can gain a better understanding of wellness to offer more comprehensive coverage
Our courses can benefit those working in physical therapy and sports to understand practices better and help offer additional advice for home. The direction may include valuable tips about using Ayurvedic yoga and practicing exercises at home to improve well-being.
The PCC course lets you apply practical and theoretical lessons in everyday life, from your breathing rhythm to your diet. You may acquire a mindfulness and meditation practice incorporating massage, breathing techniques, or yoga poses to alleviate stress or chronic pain. Integrating the methods into your life allows you to feel the need to go deeper. 
Gain Key Skills in Ayurvedic Yoga
Taking our certification course gives you the requisite skills to evaluate people and help them apply practical lessons in their lives. The discussions enable the clients to discover better avenues,
Studying the physiological and scientific aspects of Ayurveda and yoga enables you to guide individuals wishing to enhance their well-being and support long-term health goals. For example, many people want to increase flexibility and counter the impacts of their repetitive habits (i.e. careers requiring excess sitting or manual labor).
In such instances, yogis can use their knowledge to recommend stretches and routines to help others develop and maintain health and flexibility. You can also teach breathing practices and dietary modifications to help people feel their best at all levels. Healthy lifestyles can stave off future illnesses, may reduce existing symptoms, and encourages lifestyle changes for people with early signs of various health conditions. These lifestyle changes can also prevent them from worsening to needing extensive care.
Taking our course allows for your personal and professional development. Certification enables you to attain optimal health, expand your services, and offer viable alternatives to your clients. 
Enroll for a Yoga Teacher Certification Training Today
PCC's 4-module yoga teacher certification program is your best bet if you want certification in Portland. The course includes four 50-hour modules covered in one year. After completing the course, you can expect to acquire certification and register with the Yoga Alliance.
Register today to inquire or enroll in our yoga teacher training program!