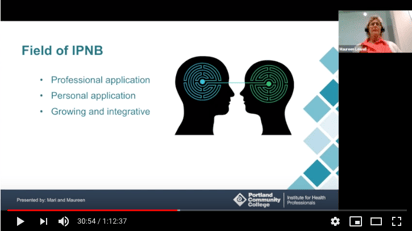 One of PCC IHP's popular fall programs combines Neuroscience + Psychology + Mindfulness + Relationship Studies. Foundations of Interpersonal Neurobiology draws upon ideas like Attachment Theory and Complexity Theory to explore complex interpersonal human relationships.
Did you miss our Fall Orientation webinar for IPNB? Here it is: https://youtu.be/-3tgYw7Ghlo
Earn a Certificate in Interpersonal Neurobiology.
Interpersonal Neurobiology (IPNB) is a theory and practical working model which explores human development, attachment and functioning as being a product of the relationship between the body, mind and relationships.
Register Today
Registration is OPEN for the next Foundations of Interpersonal Neurobiology (IPNB) program! Register using CRN 47701. If you are a first time PCC student, please first complete your PCC application here.

September 24 - First Day of Class
Fall term begins September 23; the Foundations of IPNB class is held on Tuesdays at 5:30pm Pacific. We will hold a live-streamed IPNB Student Orientation on Thursday, Sept. 19. Then, the first class will be held on Tuesday, Sept. 24. Register today!
Other individual Mental & Behavioral Health Classes offered this term: