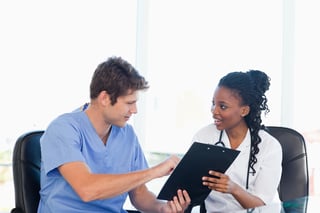 Of the top 20 fastest growing jobs in the United States, over half are healthcare positions. From occupational therapists to home health aides, physical therapy assistants to physicians, there's a huge demand for healthcare workers in all areas of the field.
But many people don't bother looking for healthcare positions because of common misconceptions about the field. Don't fall for these myths about great healthcare careers.
Common Misconceptions About Working in Healthcare
Advancing Your Career in Healthcare Means Going Back to School Full-Time
A huge number of training programs, both online and in-person, offer night and weekend classes to help healthcare workers advance their career without giving up their jobs. For example, many health programs at Portland Community College offer flexible hours so you can both work and learn. Many degrees or certificates take only a year or two to complete.
You Can Only Work in a Hospital
You can find work in healthcare in a variety of settings, not just a hospital. Common settings may include:
Private doctors' offices

Pharmacies

Medical research labs

Colleges and schools

Outpatient surgery centers

Health insurance companies

Rehabilitation centers

Nursing homes

Assisted living facilities
Only 61 percent of nurses work in a hospital, according to the U.S. Bureau of Labor Statistics. Other healthcare professions, like pharmacy technicians, work in hospitals even less often.
You Have to Work Crazy Hours
While it's true that physicians and some nurses have to work long hours, the vast majority of healthcare professionals work 40 hours per week or less. Employees in settings outside hospitals are more likely to have regular hours. Even nurses often work just 36 hours per week.
There Isn't a Variety of Job Opportunities
Over 17 million people work in the healthcare industry—and they aren't all doctors and nurses. You can find a variety of jobs that fit your skills and abilities within healthcare. Positions may include:
Physical therapy assistant

Dental assistant

Pharmacy technician

Sterile processing technician

Nursing assistant

Surgical assistant

Medical technician

Lab technician

Phlebotomist
No matter what you like to do or what you excel at, you can likely find a job in healthcare that's the right fit for you.
There Isn't a Lot of Room for Upward Movement
Healthcare involves so many people, in many positions, working together as a team to care for patients. Each of these positions can mean a step up from your last job. Especially in large hospital systems, it is not unusual to find a variety of titles and pay scales that allow you to be promoted and progress your career over time.
Healthcare is also a field that tends to reward education. By earning a certificate or extra degree, you likely open yourself up to a wider variety of job options.
Working in Healthcare is Dirty
There's no denying that some careers in healthcare mean dealing with bodily fluids every day. However, a huge number of positions in healthcare don't require dealing with messes. Whether you are in an administrative position, work in a pharmacy or spend more time in a lab than with people, you can find a job that means less time scrubbing up and more time doing clean work.
Higher Admin Jobs are Only Given to Older Employees
In any healthcare system worth its salt, administrative positions are given to the employees who can fulfill them. Employees with the right education and experience, at any age, can apply for upper-level positions. In fact, especially in smaller hospitals, it is not unusual to find hospital CEOs under the age of 40.
The healthcare field is full of job opportunities that will only continue to grow as the population ages. Start your education and training now to take advantage of this growth.