Debra Erickson came to the PCC SBDC for help in turning her business idea into reality. Now, Debra welcomes you into The Blind Kitchen community: where vision loss does not have to end your love of cooking! With 62 adaptive kitchen tools and a library of helpful strategies and specialized knowledge, The Blind Kitchen allows blind and vision-impaired people to cook safely, confidently, and independently. This is Debra's story.
Learn more about Debra's entrepreneurial story below.
Thank you for sharing your story with us, Debra! Tell us a bit about your business.
My business is called "The Blind Kitchen" and we provide adaptive culinary tools and cooking strategies for people with vision loss who want to cook safely, confidently and independently in their own kitchens. I love to teach and I love to cook. I was "paused" from teaching cooking to adults with vision loss at the Oregon Commission for the Blind in March of 2020 due to the pandemic where teaching in-person classes stopped for more than a year and a half. The Blind Kitchen became my way to "teach" again.
Tell us about your experience with the SBDC.
I took Business Design Series with Jackie B. Peterson. I had the business idea and the class helped me to organize it into an executable plan. But the most important outcome from taking the class was the resources that Jackie put me in touch with to help the plan to come together, specifically connecting me with other students who had taken her class and successfully started their own businesses before me: Mary Ann Aschenbrenner of Waterlink Web designed an extremely accessible website for me and Edgar Garcia-Chavez of Nayo Creative Productions produced the videos. It really takes a village of the RIGHT people and Jackie was key in connecting Team The Blind Kitchen.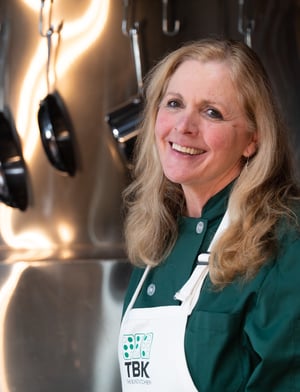 Which of your milestones are you most proud of?
We opened the business on October 15, 2022, about 2 years after the birth of the concept. We had a wonderful party to celebrate!
Another milestone was when I called (one of hundreds of calls across the country) to introduce The Blind Kitchen to agencies and individuals who work with blind and vision-impaired people to help them to cook, and the person on the other end of the line said "I heard about your business and people are really excited about it!" This thrilled me and told me that the word is spreading, giving me more energy to make more calls because they were making a difference. It has now happened several times, but I will never forget the first time I heard it!
What would you say to others who are thinking about starting their own business?
I would advocate that they consult with SBDC to find out if and which class(es) are appropriate for them for where they are in the process of starting their business. I would also encourage them to not try to do everything themselves, to find a way to enlist others to help them do the administrative/marketing tasks so they can focus on doing what they love while figuring out a way to get paid for it.
---
Want to learn more about how the PCC SBDC can help you start or grow
your

business?
---


Programs and services are provided to the public on a non-discriminatory basis. Language assistance service are available for limited English proficient individuals. Reasonable accommodations for persons with disabilities will be made if requested at least two weeks in advance. Please contact us at 971-722-5080 or sbdc@pcc.edu, to request accommodations. Oregon Small Business Development Centers are funded in part through a cooperative agreement with the U.S. Small Business Administration, and the Oregon Business Development Department.