After 22 years at the PCC SBDC, Jackie Babicky Peterson still has enthusiasm! Sean Harry sat down with Jackie in March 2022 to catch up on what she is up to these days.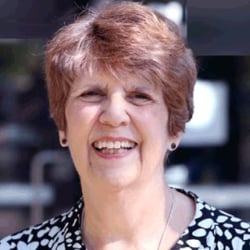 Jackie, thank you for taking time to talk with us today. You've been at the PCC Small Business Development Center for a long time. What are you working on these days?
Yes, I've been here 22 years. These days, I'm only teaching the Business Design Series (BDS) and a few selected classes for the Business Builders program. The BDS is for folks considering going into business who need to develop the basics. In that class we focus on clarifying the idea, finding their target customer, and how to register a business in Oregon. I am able to show them the different forms of business to help them save money and get off to a fast start. In the Business Builders program, I focus on getting their pricing right. I always push "value pricing" vs. "cost accumulation pricing" – our clients should be selling the value their products and services provide, so they can make the kind of money they need in order to thrive.
In addition to these activities, I also get all the calls from individuals coming into the PCC SBDC. I work towards helping find the best resource for the person's need. This thrills me because I get to talk to so many interesting people with great ideas! Helping them figure out what to put into their plan.
Oh, and I also spend time with people who are creating the "for credit" Entrepreneur classes at Portland Community College.
That sounds like a lot!
Well. I have the gift of enthusiasm! I read recently that "Enthusiasm means spirit within!"
I accept that.
You mentioned "value pricing" a minute ago. Can you say more about what you mean by that?
Sure! I always tell people what I think they need to know. People don't buy features, they buy benefits. For instance, when people ask about our programs, I tell them exactly what THEY are going to get out of the program.
We tend to want to tell our life story when we are marketing, but people don't tend to care if you have a PhD, or 300 years of experience, or whatever. I help my clients and students focus on the BENEFIT of what they are selling. People value your products and services and are willing to pay more if you can show them how you find a solution for their REAL problem. The other day I told a client, "10 years from now when you have an event that fills the Moda Center you can tell them where you got the idea, about your experience, and all of that other stuff. Until then, you need to focus on what's in it for them."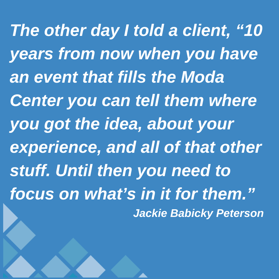 So, 22 years with the SBDC. What did you do before that?
I ran a CPA firm for 15 years and a consulting firm for another 10 years. Before that, I worked for a residential construction company. They built the first condo in Oregon, worked on subdivisions and that kind of thing. I managed all the money for them, and let me tell you, I learned an awful lot about cash flow management! That was 40 years ago, and today I teach people how to allocate their money, so they don't run out of cash. In my position at the SBDC, I use everything I've learned. EVERYTHING I've ever done or learned (good and bad) I use in this job.
You are a well-known advocate for the aging workforce, especially encouraging those of us who have many years of experience behind us to go out and build a business. How does that work its way into your work these days?
Ashton Applewhite wrote in her book (This Chair Rocks: A Manifesto Against Ageism) that, "Aging is inevitable, but ageism is NOT." I like that statement. Ageism is when we use people's age to discount them in some way, as is often done with someone's skin color or sex. I don't think people should be excluded because of age. In a way, it is a diversity and inclusion issue.
There is so much opportunity for those of us who are getting older. I want equal opportunity for people over 50. And 50 isn't all that old these days. At 50, you have another 30+ years of life and wisdom. You can still work, and you have a wealth of experience and observations to draw from. When you've lived this long, you KNOW STUFF. I say, "let's monetize it!"
What kind of transformation do you see in your student entrepreneurs during a training program?
A lot of times clients tend to show up here as a last resort. They have tried other things and start thinking, "what can I really do?" Once they believe in themselves and I've encouraged them that it's not too late to follow their dream, they blossom like a flower and feel appreciated. They tend to stand up and start to realize they have something to share with the world. One of the skill sets I have is to help people articulate their value. Once their value gets articulated (and memorized) they can take it out into the world to build a business and find customers. I teach them that there are three elements to starting a great business: 1) focus on something you do really well – find your deep and narrow niche; 2) articulate that clearly and show the value you bring to your customers; and 3) charge a good price for it! If you don't charge enough, people think you aren't very good. When people do these three things, they can create a nice business (or job) for yourself.
People who come to the PCC SBDC these days do not have little dreams – they have BIG DREAMS. Since the resurgence of businesses after the COVID-19 shut down, people have gotten really creative with what they want to do. One might think, "I got laid off, and I don't want to work for anybody ever again. I've thought a lot about it and see an opportunity here." At the PCC SBDC we hold and teach a basic knowledge of how a business works NO MATTER WHAT THE BUSINESS IS. We help people build on the basics. The work we do is personalized to the particular situation of each of our clients. In my advising sessions I often say, "For YOU this piece of business (marketing, finance, etc.) can be utilized in THIS way." It's never one-size-fits-all. We are always customizing. That's why it's good to have us older people around – because we have so much life experience.
I've been with the SBDC for 22 years and I still have enthusiasm for what we do. I keep retiring, but it's so much fun, I keep coming back.