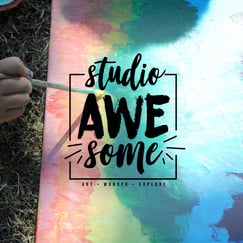 When Kim Boyd recognized the impacts of isolation our community was facing due to the COVID pandemic, she decided to help reconnect individuals with themselves and their communities through Art, Wonder, Exploration and Story labs that provide inclusive, accessible spaces for artful play and story building. Kim came to the PCC Small Business Development Center for help turning her idea into a fully functioning business, and took advantage of structured businesses courses and no-cost, one-on-one business advising. Now, studioAWEsome has reached almost 200 Oregonians in just two months, with strategic plans for future growth.
Thank you for sharing your story with us, Kim. What inspired you to pursue your business?
StudioAWEsome integrates work I have been doing for over 20 years. My experience in education, social work, and art combined with my training in trauma-informed play and story therapies inform studioAWEsome's unique facilitation. Inspired by free form early childhood play and process art, we host labs that invite participants to wonder and explore with their senses using color and texture.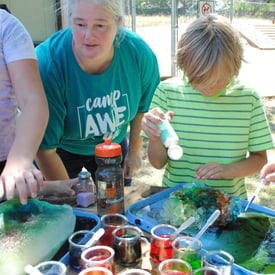 The experiences of isolation, loss, and screen immersion in pandemic life left many of us (kids, youth, and adults) disconnected from ourselves and our communities. Gathering together to build stories, to play with color, and to use our senses helps us rebuild those connections. This is why studioAWEsome's work is so important right now.
I believe that stories are important. I know that exploring with quality art materials is fun. In fact, just this week I shared a delightful painting space on the grass with some kids. Next week I will have the privilege of working sand trays and story building with a family. Later this summer, a group will join me for a combination Tie Dye and AWEsome Sauce lab.
Before coming to the SBDC, what challenges were you facing in your business?
I came to the SBDC with an idea, a target client, and experience, but I did not know how to get from Idea to Business. One of the specific challenges I faced was understanding how to create revenue when my target client could not pay. I also didn't know what I didn't know. My research always came up with too much information and it was hard to understand what was necessary and what was not. I wanted someone to give me a "check-list" to follow so I didn't miss anything.
What types of services did you receive from the PCC SBDC?
I attended the Business Design Series with Jackie Peterson. This class was exactly what I needed and more. I was given tools to help me deepen and define my business idea as well as that "check-list" in the form of a broad roadmap tailored to my needs. I also found community. The other participants were asking the same questions and were curious how to form and reform their amazing ideas into a business structure. The SBDC curriculum was full of information and guidance given at the right pace. When I look back, I am amazed to reflect on how much growth I was able to make in my business development during that concentrated month.
Along with general business building information, Jackie took time during the class to apply different topics and frameworks to our different business ideas. For example, seeing how income revenue plays out for a chef or an artist or an educator or a service provider really helped me understand how to apply the learning to my situation. Specifically, I began to understand different revenue structures which helped me design my pricing model.
The other service I have found to be invaluable is Jackie's continued willingness to work with me after the class ended. She has been available by email and by phone to answer questions, fill in the gaps of my understanding on specific business tasks (i.e. accounting!), and help me problem- solve a specific hurdle. I appreciate her knowledge and obvious joy in sharing what she knows.
Since working with the SBDC, what business milestones have you achieved?
Eight weeks after completing the course, I have a registered, operating business with clients and income. The support was specific, accessible, and met my needs.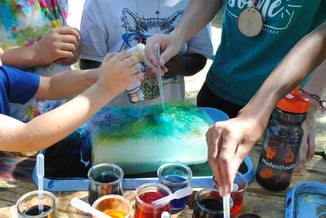 In our first two months we have brought art and story labs to just under 200 adults and children. We have worked with local schools, camps, and other groups. We are connecting with other agencies, assisted living homes, schools, and organizations who are exploring ways studioAWEsome can bring customized art and story labs to their groups. I have been having so much fun!
---
Want to learn more about starting a sustainable business with the support of structured business education and one-on-one business advising? Check out Business Design Series and learn more about the PCC SBDC today!
- - - - - - - - - - - - - - - - - - - - - - - - - - - - - - -
---


Programs and services are provided to the public on a non-discriminatory basis. Language assistance service are available for limited English proficient individuals. Reasonable accommodations for persons with disabilities will be made if requested at least two weeks in advance. Please contact us at 971-722-5080 or sbdc@pcc.edu, to request accommodations. Oregon Small Business Development Centers are funded in part through a cooperative agreement with the U.S. Small Business Administration, and the Oregon Business Development Department.