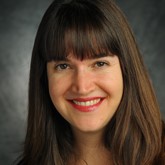 Tatiana Elejalde teaches in VOICES (Visioning Organizations: Inclusive Communities & Equitable Spaces) in the module on Nationality: Origins, First Languages, and Citizenship.
Tatiana Elejalde is originally from Medellín, Colombia and was raised in the U.S. and Japan. She is a native speaker of Spanish, is fluent in English, and needs to practice her Japanese. Her passion for and dedication to equity, language access, civil rights, and human rights work is driven by her multicultural background and love of cultures and languages coupled with her passion for creating equitable access through institutional and systems change work. Over the span of her more than 15-year career, she has worked to give voice to the voiceless and advocated alongside under served communities, most specifically working to create equitable access for the Latino community in and across systems. She has worked as a cross-cultural consultant assessing institutional barriers and developing and redesigning programs, policies, and procedures in multiple sectors including: behavioral health, social services, education, non-profit, and government. She initiated institutional change which specifically addressed the issues of immigrant battered women, the impacts of immigration and acculturation, victim services, and trauma-informed service delivery.
An experienced trainer, Tatiana has created curriculum and trained on the topics of cultural competency, cross-cultural communication, suicide prevention, and culturally-specific service provision in behavioral health and social services. Tatiana was a professional mental health interpreter for many years and through that work noticed that institutions needed to be trained in and guided through an institutional change process which ensures the civil rights of Limited English Proficiency (LEP) community members and recognizes the responsibility and role of the institution. She brings her expertise in language access, program development, and training to the City of Portland's Office of Equity and Human Rights in her role as Language Access Program Coordinator, Equity trainer, and coordinator of the work of the Human Rights Commission. Tatiana most enjoys spending time with her family and friends, traveling to Colombia to see her family, reading books, communing with nature, and loves exploring all the international culinary delights Portland has to offer.