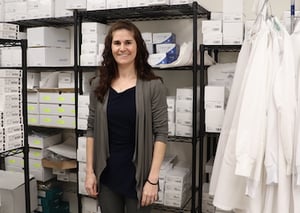 Meet Your Instructor: Kimberly Phillips, BA, MOT, CCRP
Kimberly Phillips is an instructor in the Foundations of Clinical Research program. She teaches courses on protocol overview, sample protocols, project management, data analysis/publication, and safety monitoring.
She worked for the Providence Cancer Institute for 4 years as a Clinical Research Coordinator for melanoma clinical trials and earned her Certified Clinical Research Professional (CCRP) through the Society of Clinical Research Associates (SOCRA) in 2018. She currently works as a Research Associate at the Providence Center for Outcomes Research and Education (CORE) where she supports scientists on a variety of population health research projects.
Prior to graduate school, she taught English overseas in Istanbul, Turkey for several years and enjoys opportunities to teach and train. She has a passion for answering complex research questions through careful research design, execution and analysis. She is also currently pursuing a Graduate Certificate in Biostatistics from Oregon Health and Science University to supplement her research background with a stronger skillset in quantitative analysis and will earn her certificate in March 2020.