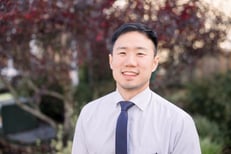 Earnest Kim, Ph.D, is a neuroscientist at Oregon Health & Science University studying the neural circuits behind drug addiction. His current work is focused on discovering the role of dopamine in the amygdala during drug seeking behavior. Earnest has had extensive experience in neuroscience research resulting in first author publications in Nature Scientific Reports, Proceedings of the Royal Society B, and eNeuro. Earnest has been teaching and mentoring for over 10 years and loves teaching hands on neurobiology as a means to understand brain processes.
Recently, Earnest has been passionate about the integration of data science tools to investigate applied neuroscience related questions in healthcare settings. Along with work at OHSU, he is a consultant for the Washington Health & Benefit Exchange where he participates in coding, analyzing, and visualizing data sets. Earnest is excited to utilize and teach machine learning tools in python to tackle real world problems and create meaningful change through evidence-based analysis.
Earnest is also passionate about making a difference in the community. After college, he worked for 5 years in a non-profit building and accrediting a school in Cagayen de Oro, Philippines. He loves connecting with diverse people from different backgrounds and is always open to growing personally and professionally.