Spreading Joy and Building Success: Joy Crazy, LLC
In this video, Shannon Diffenderffer, owner of Joy Crazy, talks about her entrepreneurial journey and the support provided by the PCC SBDC along the way. Read more below: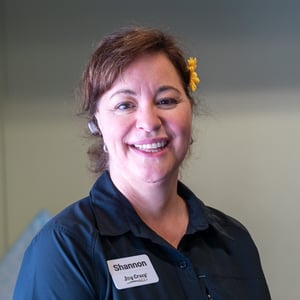 In the vibrant city of Portland, Oregon, where creativity and innovation are celebrated, one small business owner is on a mission to spread joy and create meaningful connections. Meet Shannon Diffenderffer, the visionary behind Joy Crazy™, LLC, a unique lifestyle company that's changing lives through the power of pickleball and joyful experiences.
A Path Paved with Resilience and Joy
Shannon's entrepreneurial spirit was ignited by her lifelong pursuit of finding joy in life's challenges. Born with multiple disabilities, she's always sought the positive in every situation. Her previous success as the founder of a parenting magazine company in the early 2000s showed her the ropes of entrepreneurship. However, life had more challenges in store for her. Just before the COVID-19 pandemic, Shannon had to leave nursing school due to extreme carpal tunnel syndrome, which eventually led to surgery. During this time, she took a warehouse job and suffered an on-the-job back injury. Shannon found herself at a crossroads, physically limited and unable to work a regular job.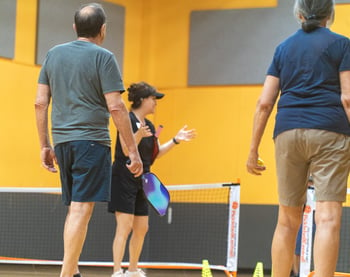 With a desire to create her own path and an innate drive to make a difference, Shannon enrolled in the PCC SBDC's Business Design Series. This marked the beginning of her journey toward Joy Crazy™, LLC. During this pivotal time, she rekindled her love for pickleball, a sport that played a crucial role in her physical and mental recovery. Shannon's venture into teaching pickleball began during the early days of the pandemic when the world needed a little extra joy. She posted her first pickleball classes on Meetup.com, and the response was overwhelming. The timing was perfect, and with the right support and opportunities, her business started thriving.
Before Shannon joined forces with the PCC SBDC, she faced the challenge of narrowing down her business focus from a multitude of ideas. Her broad mission of "connecting others to joyful experiences" needed direction, which the PCC SBDC helped her find. The PCC SBDC taught her to embrace her authentic self and focus on her interests. As a solo-preneur, Shannon became the driving force behind her company, living and breathing her business every day.
Shannon actively participated in the 4-week Business Design Series before moving on to the Business Builders training program, which allowed her to connect with fellow entrepreneurs and receive invaluable one-on-one guidance from PCC SBDC business advisors.
Milestones of Joy and Growth
Shannon's journey with Joy Crazy™, LLC is a testament to the transformation the right support and guidance can bring. She started teaching pickleball on a single outdoor court, taping her own lines on the uneven asphalt. Today, she teaches indoors on multiple wooden gym courts at Friendly House and PCC's Sylvania campus. Her Meetup group boasts nearly 900 members, with over 200 students giving her 5-star reviews. Shannon's connection with PCC helped her become an established presence in Portland's pickleball community.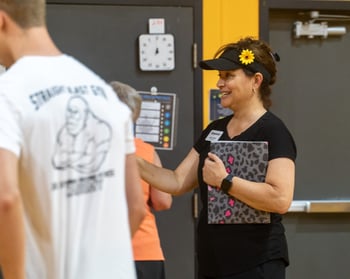 Recently, Shannon achieved a significant milestone by earning the title of IPTPA Level 1 Certified Pickleball Instructor, a well-recognized standard in the industry. This certification not only sets her apart from other instructors but also elevates the quality of her classes. To support her community further, she established the Joy Crazy™, LLC PCC Instructor Page, where students can connect and get a glimpse of the exciting pickleball journey.
A Joyful Future Ahead
Shannon's business growth has been steady and organic, with an expanding community of dedicated students. The most rewarding part of her journey is watching multiple generations of a family take her classes, fostering connections and spreading joy across the community. Her PCC classes are in high demand, often selling out within minutes, and her plans for intermediate/advanced level classes are a testament to her enduring success. Shannon says that the PCC SBDC's comprehensive classes and "top-notch" advising provide entrepreneurs with the tools and guidance they need to navigate the challenging journey of entrepreneurship. Shannon's story demonstrates that with resilience, authenticity, and the right support, you can pave your own path to success and spark joy in the lives of others.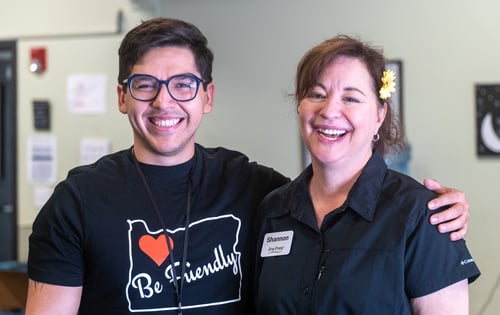 Ready to Ignite Your Entrepreneurial Journey with the PCC SBDC?
Are you ready to embark on your entrepreneurial journey, or are you seeking support to take your small business to new heights? The PCC SBDC is here to help. Reach out to us, and let your journey begin. Shannon's story is just one example of the countless success stories our clients have created. Embrace the joy of entrepreneurship and create your unique path to success!
---
Ready to learn more about how the PCC Small Business Development Center can help you start or grow
your

business?
---


Programs and services are provided to the public on a non-discriminatory basis. Language assistance services are available for limited English proficient individuals. Reasonable accommodations for persons with disabilities will be made if requested at least two weeks in advance. Please contact us at 971-722-5080 or sbdc@pcc.edu, to request accommodations. Oregon Small Business Development Centers are funded in part through a cooperative agreement with the U.S. Small Business Administration, and the Oregon Business Development Department.