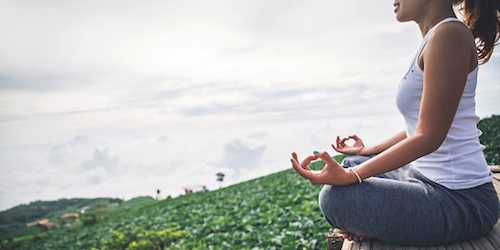 Both yoga and Ayurveda have their roots in India, where they are commonly practiced as ways to improve the health of both the body and mind and prepare oneself for liberation. Though each of these sciences has been used for thousands of years, they have become more popular in Western cultures over the past few decades. By 2020, it is estimated that the Yoga industry in the US will reach $11.6 billion and the global Ayurveda market is not far behind. From a variety of yoga studios to herbs, spices and essential oils, the value of these practices is blossoming across the United States.
Ayurveda and Yoga are sister sciences. Though sometimes separated, they are best practiced in harmony. When woven together, these pathways can provide maximum benefits to health and wellbeing through Ayurvedic Yoga.
The Goal of Yoga
During yoga, practitioners work to achieve better mindfulness and awareness of themselves and their bodies their mind and the breath. As they work through each pose, they are encouraged to observe how their body feels and bring consciousness to each breath. These practices lead to greater awareness of thoughts, emotions and physical sensations.
Yoga improves not only the body, but mind and spirit as well. One can increase strength, flexibility and balance on the physical and emotional level. Independent research shows that it relieves stress, boost the mood and aids healing. Regular yoga practice can help prevent disease and keep the body and mind healthy.
The Goal of Ayurveda
Ayurveda is a full and complete approach to better health -- incorporating many different techniques -- to bring balance to body, mind and consciousness, and to optimize quality of life and lifespan. Through practices like healthy eating, meditation, massage, therapeutic oils and herbal medicines, Ayurvedic practitioners help bring the doshas (life energies) back into balance, relieving symptoms of disease and dysfunction. With balanced energies (constitution), the body can heal and renew itself.
Ayurvedic theory and its various treatments can have a wide variety of benefits for health, from relieving stress to preventing weight gain, improving mood, reducing hypertension and even reversing diabetes and cancer. By following the tenets of Ayurveda, and living in harmony with nature and the seasons, practitioners can enjoy better physical and mental health so as to improve their yoga and meditation practice and age gracefully.
Combining Yoga & Ayurveda for Holistic Health
Both Yoga and Ayurveda work to relieve suffering in both the body and the mind, as well as on subtle levels, whether it is heart disease or anxiety. Some people describe the relationship between the two disciplines as the focus on external supports like food, herbs and cleansing therapies vs. the focus on internal means such as pranayama, concentration, meditation and samadhi.
They also help improve each other. If you practice yoga, your energy will be more in balance according to the science of Ayurveda. If you practice other areas of Ayurveda — like well balanced nutrition and regular meditation — it will improve your yoga practice.
If you are a massage therapist, nutritionist, health worker, yogi or simply looking to expand your healthcare practice to offer integrative medicine, learning more about combining these two ancient sciences could benefit your career and your clients. Through Portland Community College's new course, Ayurveda, Yoga and the Doshas, you can gain all the knowledge and skills you need to put an Ayurvedic Yoga certificate into practice.
You'll learn about Ayurvedic anatomy, including the five elements and three bio-energies. You'll also learn about universal qualities and understand how all these aspects of Ayurveda play a role in Yoga. Sign up today to begin your studies of these inseparable sister sciences.
Learn more about Ayurvedic instructor Ann Wagoner.