In January 2019 Julie Wilson launched her dream business -- Department of Work. She rescues vintage and contemporary, unloved, cast iron cookware. She then cleans it up and re-seasons it so it can get back to work. She also offers restoration services for those cherished family heirlooms. This is their story.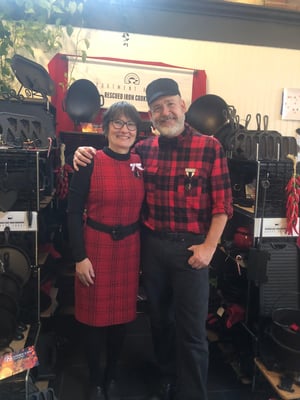 Julie, what inspired you to start this unique business? Refurbishing cast iron has become a passion. I love "rescuing" old treasures. I have a background in theater and costuming and try to bring this creativity to refurbishing cast iron. I find that people share the stories of their families cast iron. Cast iron resonates family history. Cast iron resonates with different cultures as well. I realized that there was an unfilled niche in this market because Portland is a foodie town, we are very committed to sustainability, and we love a great deal. Folks love to share their family cast iron stories.
We have products on consignment at the ReClaim It store on Killingsworth across from Jefferson High School. We also have products for sale at the Two Rivers Bookstore in St. John.
Before coming to the SBDC what challenges were you facing in your business? I needed help with my bookkeeping, financials, taxes. I received great advice, but I'm afraid these topics are still going to drag me down. I appreciate the ongoing nature of business advising I receive from the SBDC
What types of services did you receive and/or in which programs did you participate? I attended the Business Builders program led by Jackie Babicky Peterson and Kim Allchurch-Flick in the winter of 2020. I have also had a few advising sessions with Kim who has helped me pull my financials together and prepare for upcoming shows.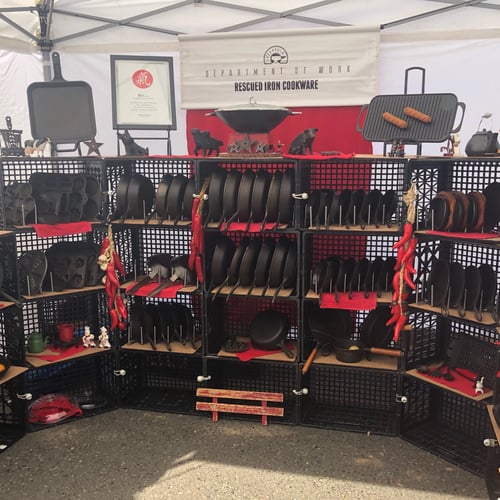 How has the Small Business Development Center helped you overcome your challenges? The tools I picked up in class have helped reinforce for me that this idea is a good one and is very timely. I keep hearing Jackie, say "pay other people to do the things you don't want or don't like to do (like bookkeeping)." I just need some help untangling the mess to figure out how to slowly pass on these tasks in an efficient process.
What have you done differently in your business since working with the SBDC? I have been encouraged to follow my heart. I was able to find a way to keep income coming in during the COVID-19 shutdowns by offering restoration services. I was able to do my own marketing in a way that hasn't overwhelmed me.
How is your business doing now? Events are being offered again now that COVID-19 is finally coming under control, and I am filling up my schedule with events. I see a full summer ahead. I have also found some really great places to consign pieces, especially the really heavy camp ovens. Foster Outdoor in SE Portland consigns all kinds of gear and gets most of my camping gear.
I have found some new avenues for procuring inventory; I'm wheeling and dealing with some collectors - I trade "up" with a really valuable piece and they get rid of vintage pieces that they don't want. I get the volume and they get the value. I sell vintage pieces, but they don't have to be pristine perfect. My customers just want a good usable tool and are often willing to pay a bit extra for the features that vintage offers, but don't necessarily want to spend top dollar.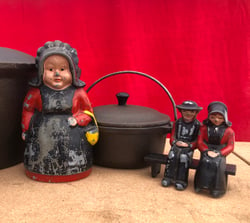 I'm also finding that I'm not afraid to make higher offers of $100-$300 knowing that I'm can turn the product over and make my investment back plus profit.
In January 2021 we were interviewed on the local FOX 12 television station where we were able to share our story. It was pretty cool!
What would you say to other small business owners thinking of working with the SBDC? I'd say, "Go with your gut. You have been thinking about this idea for a long time, make it happen!"
---


Programs and services are provided to the public on a non-discriminatory basis. Language assistance service are available for limited English proficient individuals. Reasonable accommodations for persons with disabilities will be made if requested at least two weeks in advance. Please contact us at 971-722-5080 or sbdc@pcc.edu, to request accommodations. Oregon Small Business Development Centers are funded in part through a cooperative agreement with the U.S. Small Business Administration, and the Oregon Business Development Department.