Kim Allchurch-Flick began her work with the PCC Small Business Develop Center in January 2019. She is the cohort lead for the Encore & Solo Business Builders Program.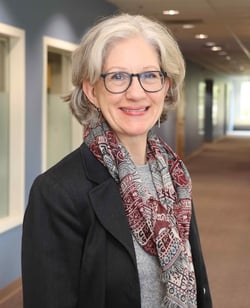 1. Welcome to the PCC SBDC, what brought you here to teach and advise with us?
Sr. Advisor at the PCC SBDC, Jackie B. Peterson! She is such a profound influence, I've taken her courses and read her book, it's dog eared in my office as a consistent reference. I have a very long passion for entrepreneurs, particularly solo and Encore entrepreneurs because I am one and through the years I've seen that people have incredible resilience and ability to adapt and create, they just need some support along the way. I am a connector, collaborator and catalyst, and a very supportive advocate.
2. What is your real world small business experience?
I worked for a couple small pharmaceutical boutique firms in my own territory that covered 5 states. It's the best of both worlds, a little bit corporate, a lot entrepreneurial. At Portland State earning my International Master of Business I became involved with the Center for Entrepreneurship, the eClub and the Impact Entrepreneurs, earning the certificate in the Business of Social Entrepreneurship. As a member of several entrepreneur groups, I am an advisor and advocate. I created my own consulting company for social entrepreneurship in 2014. My best role is as advocate and advisor, the backstage manager, the wind beneath an entrepreneur's wings.
3. What do you look forward to the most as an instructor/Advisor?
I look forward to learning about the amazing and fun new ideas of solopreneurs and helping them establish and grow. Business fundamentals are part of my repertoire as a generalist with a lot of education and experience behind me. Marketing is my true joy, all of this combined, sharing with new entrepreneurs is pure magic when their faces light up as they grasp how terrific their business is, and all they need to do is learn the basic premise of good business.
4. What kind of transformation do you hope to see in your students during a course?
Learn, apply, learn some more, repeat. Smile! You're in good company. Some of the best connections are made during class. The light bulbs go off when they realize they don't have to do everything on their own. That's when the magic really happens!
6. What skills do you feel are needed in order for someone to achieve success in running a small business?
Focus, anticipate, keep track of documents, data and finances, study the competition, assume nothing, be prepared as much as possible and know that some things are hard to prepare for. The best skill for running a small business is knowing early when to ask for help.
7. If you could give one piece of advice to all your future students, what would it be?
Do it, try it. If it's nagging at you, done is better than good in the beginning. Not doing is to create regret. Trying is important. Learning how will give you confidence.
8. How do you keep yourself knowledgeable and up to date on trends and industry standards in order to deliver the best quality of education?
I studied under Jackie B. Peterson, and have both an MBA (Masters in Business Administration) and an MIM (Masters of International Management) degrees. I am an entrepreneur and my experience in successful companies and more importantly in the ones that failed have taught me a great deal. Guidelines and regulations are important, business fundamentals are paramount, creativity is fun, marketing is communication. I stay up to date by reading and attending conferences. I am also a member of OEN, OAME, Impact Entrepreneurs and others.
9. What do you do for fun?
Anything outdoors with my dogs, hiking, beaching combing, agility training, gardening. Travel is a joy, volunteering is incredible, I love to contribute. I'm also on the board of White Bird and Golden Leaf Education Foundation. I love to read and I believe art in the form of music, dance, hand created art are important for healing angst. I also learn for fun, I am a sponge for new knowledge. Above all, helping another reach their goals, contributing to community, that is a great way to live.