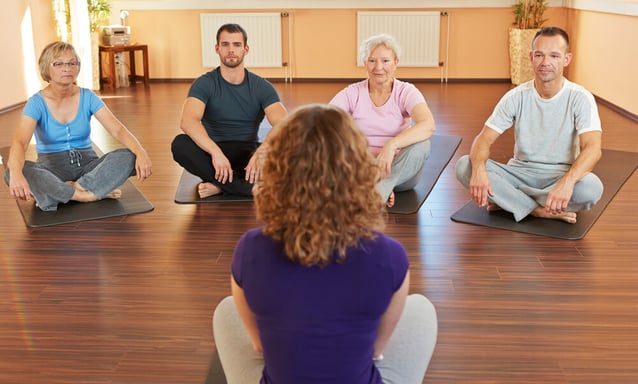 Wellness is a growing focus in the healthcare industry, and Portland Community College's 200-hour yoga program is a great way to become certified as a yoga teacher. Holistic wellness connects body, mind, and spirit through yoga's physical postures, meditation, and breathwork. It provides the additional focus of Ayurvedic yoga, qualifying people to teach a full-body wellness lifestyle.
The yoga industry is rapidly growing, making up a $9 billion industry, and PCC's 200-hour yoga program provides the perfect opportunity to learn how to teach in this field. However, understanding the benefits of Ayurvedic yoga is helpful beyond yoga teaching itself and can provide professionals the additional capacity to offer more comprehensive wellness and support to their patients. It provides them with tools to suggest habits that will benefit people outside their designated medical treatments or help them maintain wellness once their treatment concludes.
During the program, participants can dive deep into the Ayurvedic system, become certified as a yoga instructor, and learn how to facilitate full-body well-being for others.
The Benefit of Ayurvedic Yoga
Ayurvedic yoga combines postures, breathwork, meditation, and lifestyle, enabling people to achieve their full wellness potential. It differs from other forms of yoga in that it is rooted in the concept of promoting holistic wellness.
Unlike physical postures and breathwork (pranayama), Ayurvedic yoga focuses on understanding an individual's life force through diet, lifestyle, relaxation techniques, and mental attitude. It expands into a broader lifestyle, offering a path to balance diet and exercise. This holistic approach to well-being benefits by improving people's lives.
How Ayurvedic Yoga Training Helps Working Professionals
Ayurvedic yoga promotes healthy living, instills good habits, and helps people take better care of themselves while ensuring they have balanced nutrition to improve their mental and physical well-being.
It is advantageous for wellness professionals, especially those in physical therapy or sports medicine because it gives them more tools to advise people outside of strict medical treatment. They can personally benefit from a better understanding of the connection between the mind and body, which they can share with patients to maintain wellness better once they conclude their treatment. Like how doctors increasingly prescribe healthy foods, wellness helps without invasive practices.
Such a structured regiment also helps people maintain a better mindset, which improves motivation and maintenance. It also empowers people to take control of their lives, considers each person unique, and suggests varying approaches to promote well-being. It encourages people to be in tune with their feelings and recognize when things are right and wrong regarding their lifestyles.
Taking PCC's 200-Hour Yoga Teacher Certification Course
Learning to teach yoga involves understanding, mastering, and practicing the fundamentals of the discipline. Whether you want to teach or expand your knowledge of wellness, the course begins with learning the poses and the geography of a yoga class.
Teaching yoga goes beyond simply learning physical postures to deeply understanding body and mind connection, anatomy, and pranayama. It takes knowledge, dedication, and practice to become an excellent teacher, and PCC's 200-hour yoga teacher certification is essential to become a successful and certified yoga teacher. 
Develop Your Understanding of Wellness
Our program gives students an introduction to the fundamentals of Ayurvedic yoga and helps them better understand the mind-body connection. With this knowledge, they can use this wellness system to complement their existing practices and become more effective healthcare professionals.
The program occurs through four 50-hour modules. Completing all of them prompts the Oregon Department of Education CCWD to award you a certificate for Non-Credit Ayurvedic Yoga Health Advisor Training. PCC will also certify you via the Center for Ayurveda and Yoga Study.
Completion and certification mean the Yoga Alliance will allow you to set up yoga training centers for wellness teaching, but it's also beneficial as a direct practitioner. This yoga teacher certification program is ideal for anyone who wants to pursue a career in healthcare, such as nutritionists, dentists, medical professionals, and even physical therapists.
To learn more about becoming certified as a yoga teacher, explore PCC's options today!