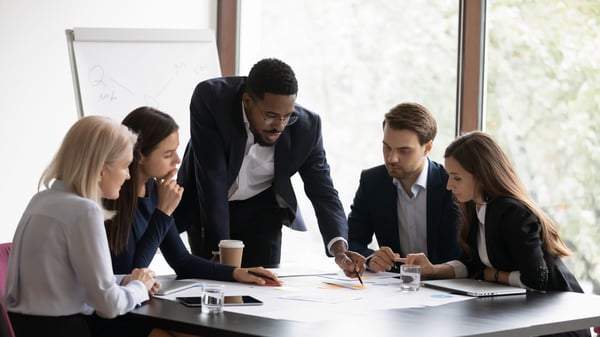 When managing a collaborative team, you'll occasionally mediate between team members experiencing conflict. Even collaborative team members can sometimes butt heads and disagree in ways that stall communication and your work. It's the manager's job to fairly evaluate what has gone wrong, assist in group reconciliation, and find a path forward that accommodates everyone.
That is harder than it sounds, and it still sounds pretty difficult! Many managers opt to train in specific strategies for mediation rather than assuming they'll just muddle through it. As a result, their teams can grow confident that their managers can handle and resolve conflict actively, rather than leaving everyone to fend for themselves. Actively resolving conflict helps teams work together better by not leaving tensions unspoken, where they could fester and damage working relationships or become a bigger issue later. These are just some of the benefits of mediation training for managers, with bigger boosts in confidence and effectiveness that can come down the road.
What is Involved in Mediation Training?
Mediation training helps you practice and test out your instincts in various scenarios to learn new strategies at the moment. That helps to increase your confidence in handling situations and prepares you to react swiftly in any situation. Trainers know a lot about conflict resolution and use a combination of curricula about conflict, communication, and practice in scenarios to help students build their conflict-resolution muscles and toolkits.
These trainers understand everyone communicates differently and offer multiple options for approaching mediation and matching effective strategies with your personality. They help you effectively mediate between team members in a way that is true and comfortable to yourself. Mediation training helps you learn some of the most prominent theories on how and why people communicate, helping you see team conflict in a new light.
Why Mediation Matters for Managers
Mediation training isn't just good for people who specifically resolve conflicts as part of their work. It also provides an excellent basis for anyone who supervises employees since so much of conflict resolution is a study of relationships between people. When you become a stronger mediator, you're also developing key strategies like seeing the many sides of a situation and evaluating how to proceed. It also helps you understand how to communicate in value-neutral ways that prevent conflict from occurring initially. These strategies may not be noticeable because you may not have many dramatic conflict-resolution meetings. Your regular meetings and conversations have better results and fewer overall struggles between team members.
Mediation is valuable when a situation gets out of hand or two people struggle to communicate their needs and project priorities. However, it is a rather time-consuming process. If you can avoid conflict by creating a basis of mutual trust, respect, and collaboration, that's usually better for your company. Needing to help team members talk through a problem isn't a sign of failure, but it is a sign that additional work on team communication could yield positive results rather than more conflicts that need management.
The Workplace Case for Conflict Resolution Class
If you or your manager seems unsure that mediation training is necessary, consider some of these benefits as helpful rationale that can show the value of this experience:
Strong mediation skills can be a factor in employee retention. Believing that your boss is fair and handles workplace conflicts to everyone's benefit is a crucial reason why people want to stay with an employer.

Inclusive, thoughtful language

is vital in mediation training and a high priority for many companies.

The lost productivity of demoralized employees in conflict with each other is bad for the company.

Innovation and gains are more likely in teams that aren't in constant conflict.

This training increases a manager's confidence in their work, leading to additional employee retention possibilities.
Portland Community College Coursework Helps You Resolve Conflict Wisely
People who seem to disagree vehemently often have something else happening. Maybe they believe the other person doesn't respect them, or they are worried about worst-case scenarios rather than focusing on the most likely outcomes. A great manager trained in conflict resolution (at PCC!) has the communication strategies to get to the bottom of the conflict and help build back any missing information or trust. Conflict participants may not feel like they are now great friends, but they should be able to work together.
Managers who choose Portland Community College for their coursework will find that courses in professional development here are high quality, affordable, and flexible for those with busy professional lives. Read more about what is available and sign up today!