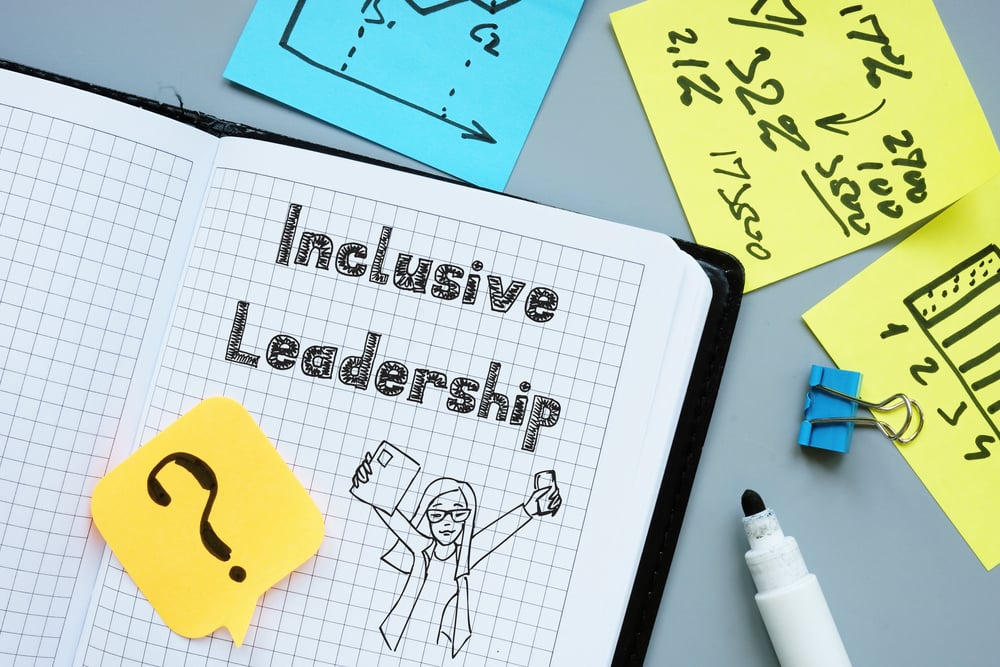 In any healthy team of professionals, there will occasionally be disagreement. Team members bring different perspectives, priorities, and risk tolerances, so they will advocate for different paths forward. This discord seems like an annoying roadblock until you realize it's better than the alternative. Corporate cultures where a single suggestion is mindlessly accepted offer far fewer opportunities for refining and finding the best option available. 
You don't have to give up efficiency or give up having a variety of opinions on the table. Healthy disagreement, respectful conversation, and finding a truly ideal solution are possible when you work toward inclusive leadership.
What is Inclusivity?
When you want to know how to become an inclusive leader, the starting place is understanding what inclusivity is altogether. At its core, inclusiveness means involving different types of people and treating them fairly and equally. However, inclusive leadership takes this concept even further.
If you've ever heard the Golden Rule, treat others as you want to be treated, and the Platinum rule, treat others the way they want to be treated, inclusivity goes to the next level. The idea is that people aren't just treated well and fairly, but also brought into conversations and work in a way that is equitable and promotes greater understanding across the whole group.
What Does Inclusive Leadership Look Like?
Inclusivity can be a tricky balance to walk at work, because different workers have different roles. People will be more apt to weigh in on decisions pertaining to their roles, where some groups speak to certain issues while others focus on other areas. What an inclusive leader must balance is:
Clear communication, so that all stakeholders know as early as possible what different roles at the company mean and when they'll be called upon to offer ideas, feedback, and plans.

An eye for potentially discriminatory policies or procedures, such as an incidental trend that ends up promoting people for having particular personality types, like being aggressively ambitious, even if other candidates would bring more relevant skills to the job.
The ability to cope with tension or conflict, since immediately squashing all conflict can shut down whoever felt the most marginalized in a conversation, accidentally upholding the status quo.
Learning inclusive leadership involves developing skills for patient conflict resolution. Many people learned in their personal lives to end conflicts as fast as possible, not in a way that resolves everything fairly. Inclusive leadership teaches you to take a step back and hear all sides, helping each afflicted party talk through their own issues and reach an agreement or conclusion.
Taking a course on inclusive leadership doesn't mean that you're somehow failing to achieve inclusivity already (though that can sometimes be a valuable acknowledgment to make if it is the case). It's a chance to recognize and adapt to circumstances better, while moving the company forward. For instance:
A class in

Inclusive Leadership

helps you know what to say next when two parties at a meeting clearly disagree on the best path forward. Rather than just mandating a single option, you can ask further questions to determine an alternative option that addresses the root concerns of both suggested strategies.

When there is persistent conflict in the workplace, a class in facilitating difficult conversations can help you to bring the two people together and share with them why it is valuable to work together in a professional way, even if they aren't particularly close in their personal lives. This conversation can help to uncover past hurt or frustration and, ideally, set both individuals on a path to understand each other, and others, better.

When a person at your workplace mentions feeling discriminated against based on race, gender, socioeconomic status, or disability status, coursework can help you ask the right questions to help this person feel heard. They can also help you learn some of the ways you and your company can move forward to change the problem policies or culture in a way that acknowledges and moves forward from the problem. 
What Are the Company Benefits of Inclusive Leadership?
It can take work to rethink your way of leading a team, the data shows clearly that diverse teams that find ways to work together come up with a bigger range of creative ideas, leading to better growth and strength as a company over time. Doing the same thing you've always done may work for a little while, but almost every industry needs innovation to stay on the top. 
If you see a need for inclusive leadership in your own life or the life of your employees, consider how Portland Community College classes on leadership and communication could help your teams thrive.