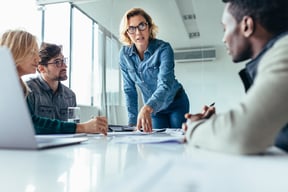 As a manager, you are the first line of defense when it comes to addressing day-to-day HR issues before they become serious. However, it's important to arm yourself with the necessary skills to empower your team and avoid possible legal headaches. In this post, we'll take a look at four leadership skills that are essential for promoting effective teamwork.
4 HR Skills for Managing Your Team
1. Effective Communication
The ability to communicate effectively has a significant impact on your everyday interactions with your team. It's important to be able to help mitigate issues that may arise, as well as help develop a culture where people feel that they are being heard and understood. Keep in mind that how you say something is as important as what you say. Look for nonverbal cues to understand whether your team is following what you're saying, and invite questions to ensure that your message is being received in the way you intend.
2. Sensitive Responses to Sensitive Situations


Certain situations require a careful response that demonstrates sensitivity above all. It's important as a manager to develop the skills to recognize the types of issues and circumstances that call for sensitivity, such as family leave or health and wellness issues. In addition, be aware of privacy issues and key employment laws and how they may impact your role as a manager.
3. Problem Solving and Conflict Resolution

Your instinct may be to avoid involving yourself in resolving conflicts, but as a manager, it's part of your job to do so. By arming yourself with the
knowledge and skills for finding solutions to disputes and disagreements
, you will feel less apprehensive and more confident about working through the process of conflict resolution. Clarifying the actual point of dispute, establishing common goals and working together to meet those goals are effective ways of achieving a win-win solution for all involved.
4. Appropriate Discipline
Being the disciplinarian can be uncomfortable for many managers, but keeping employees safe and ensuring that work gets done in a timely, effective and professional way sometimes requires enforcing consequences. By taking action when issues first arise, before they are allowed to escalate, you have a better chance of resolving issues in an amicable way. Sometimes the appropriate response is termination, and it's vital to understand when that's the best option for your organization. When faced with a tough decision, particularly one that may involve termination of an employee, take a
step-by-step approach
and ensure that you are considering the situation from all angles. Developing a plan in advance for handling various scenarios can be helpful.
HR may not be in your title, but it is part of your job description as a manager of any organization. PCC CLIMB's Personal Development and Training courses can help you hone your managerial skills to communicate more effectively, make better decisions, resolve conflicts and help create a more effective workplace.