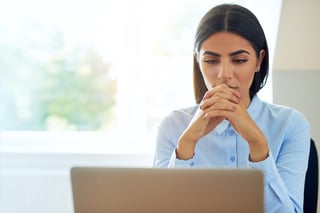 One of the most important life skills a business professional can develop is the ability to make smart and informed decisions. Both logic and emotion play a role in the process, but in order to accurately identify your options and choose the right solution, you need to explore things from all angles.
In this post, we'll take a look at the process for how to make a tough decision and how you can feel more confident about your decision-making skills.
7 Steps for Making a Tough Decision
Make a list of all the possibilities and options. It's important to start the process with an open mind and resist setting too narrow a range of possibilities. This is not the time to place restrictions on yourself or attempt to evaluate the options. In this step, your purpose is to collect the information you need to reach an informed decision. In a group setting, a brainstorming session works well for this exercise. If you're working alone, a mind-mapping technique can be helpful.
Refine your list. What connections can you draw between different possibilities? Can you identify a theme or something that seems to rise to the top? It may be helpful to use a decision matrix to systematically analyze and rank your options.
Get a second opinion. Once you've narrowed your options, solicit the input of a coworker, friend, or family member. Be open to their views. They may be able to see an angle or a solution that you missed.
Use your imagination. Imagine a scenario in which you choose one of the options from your refined list. Then imagine you didn't choose that path. It can be helpful to get very detailed in your visualization of different decisions and their outcomes.
Ask questions. Consider questions like these before you make a choice: Who are you making this decision for? Who will be affected by your decision? Do you feel confident in the choice you've made? Is there a chance you will regret it?
Sleep on it. It can be a good idea to step away from the process for a while. Set aside the work you've done and let it rest for a day or two, if possible. Taking a bit more time to consider your options may provide the clarity you need to feel confident about your decision.
Finally, make your decision. Once you've chosen the best option, consider your decision final. Second-guessing yourself or revisiting your choices is not likely to improve the outcome. By taking the steps outlined above, you should feel confident in making your decision and moving forward with it.
Strengthening your decision-making skills is one of the best ways to be successful in your career, become a decisive leader, and improve your employment opportunities. This professional development course in problem solving and decision making can provide you with the skills you need to identify appropriate solutions and consider all relevant possibilities in order to arrive at the right decision.