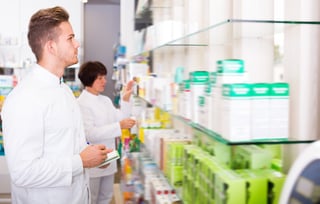 In the growing field of healthcare, you can find a job to fit your needs and skills. Whether you enjoy working face-to-face with people or enjoy focusing on little details, you can find a satisfying. Almost all healthcare careers are taking off, with hundreds or thousands of new positions added every year, so you are unlikely to have trouble finding a job opening for your abilities.
Best of all, no matter where you work in healthcare, you can make a positive difference in the lives of patients—even if you never see them face-to-face. Explore the four growing and expanding healthcare careers below to find out how you can make a difference.
Pharmacy Technician
Pharmacy technicians help patients receive the right doses of the right medications, a vital component of patient health. Pharmacy technicians work in hospitals, pharmacies, and labs, sorting and counting medicine, reviewing prescription orders, managing records and more. They often are the first person a patient speaks to and can help patients better understand their medicines.
Pharmacy technicians must be detail-oriented and careful. Not only can they improve a patient's experience with customer service skills, they must uphold the highest patient safety standards. A great pharmacy technician keeps each patient safe, helps them get the medication they need and helps patients better understand their health.
Learn more about how to become a pharmacy technician.
Sterile Processing Technician
Sterile processing technicians protect patients and healthcare providers from infections and other safety hazards by maintaining a sterile environment, most often in operating rooms. Technicians must be detail-oriented and meticulous as they stock, sterilize and package surgical equipment, prepare operating rooms for procedures and ensure all equipment and surfaces are clean.
A sterile processing technician may rarely interact with patients, but their work is vital to patient health. Without clean and sterile equipment, patients are put at risk for serious and even deadly infections. Technicians protect everyone and improve the safety of hospitals.
Learn more about becoming a sterile processing technician.
Herbalism
Herbalism is a type of integrative healthcare that focuses on uses herbs and plants to improve health. Herbalists must have thorough knowledge of the use of herbs in order to safely work with their clients. Herbalism can also be incorporated into other health practices, such as massage therapy or nutrition, to offer your clients a more comprehensive experience.
When used correctly, herbalism can help improve the quality of life for many people. They can help clients take better control of their health and find natural ways to feel better.
Interpersonal Neurobiology
Interpersonal Neurobiology (IPNB) uses neuroscience to help you create better relationships, understand trauma and improve learning. IPNB principles can help you boost your career, particularly in health care where understanding relationships are so important for both the healthcare professional and their patients.
IPNB helps you offer better patient care by improving your understanding of your patients and your ability to create strong relationships. You'll have improved knowledge of how trauma your patient has experienced affects the way they think and even how they heal. You can offer more personalized, empathetic care that will improve the way they respond to care and treatment.
Learn more about interpersonal neurobiology.
You can make a difference in the lives of others while enjoying a successful career in the growing healthcare field. Learn more about these growing careers and how you can get started at Portland Community College.