Prior to the COVID-19 pandemic nearly 100% of Mimi Martin's Wine & Spirit Archive's revenue came from in-person classes. The restrictions on gatherings in Oregon forced her to redesign existing courses to offer online training. Mimi was able to develop new classes suited to the stay at home orders. Her "Wine Class in a Box" provides a unique antidote to the isolation many people are experiencing. This is her story of resilience and adaptation.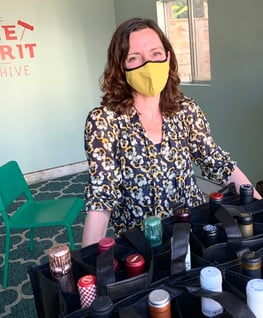 What inspired you to start your business? I've been a food and wine educator for over 20 years. I love working with students, I love being a student and I love wine! I really wanted to build a school from the ground up so I created the Wine & Spirit Archive (WSA) -- a Portland-based beverage school offering training for dedicated wine professionals and wine lovers at all levels. We were the first provider of Wine & Spirit Education Trust (WSET) courses in the Pacific NW, and are Oregon's exclusive provider of Wine Scholar Guild (WSG) training.
Before coming to the SBDC what challenges were you facing in your business? The school was operating successfully at its current scale but it was ready and wanting to grow. I was looking for the structure and support to take the school to the next level. I'm enrolled in the 2020 cohort of the Advanced Small Business Management course. As part of that course, I attend monthly classes and also meet regularly with my business advisor.
How has the Advanced Small Business Management program helped you overcome those challenges? Each monthly session is focused on a specific aspect of the business and I've used the syllabus as a guideline for directing my attention to different aspects of the business. Also knowing I'll have to check in with my business advisor keeps me honest about the work I do and the changes I need to make. Some of these changes are things I've needed to do or wanted to make for years, but this is forcing me to do it.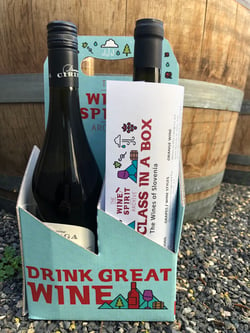 What have you been doing to innovate (pivot) your business through the adverse conditions surrounding the Coronavirus pandemic? This was a big one because pre-pandemic nearly 100% of our revenue came from in person classes. We're no longer able to offer these classes in a way that feels safe for our instructors and students. Instead we redesigned existing courses to better align with online training; we have developed new classes suited to our new lives at home; and we have created "Wine Class in a Box" retail options. For right now, classes that offer true community like our Friday Night Wine 201 Happy Hour, Advanced Workshops and Private Classes for families and coworkers have offered a unique antidote to the isolation many of us are experiencing.
We like to say, "although we can't pour wine in the classroom right now, we CAN keep wine in your glass!" Our physical classroom is closed, but we're still finding ways to create connection and community, advance the professional and personal development of our students, and share the magic of wine.
What are your plans moving forward as the state of Oregon reopens? We'll take it one day at a time and listen to our students to see what they need and feel comfortable with. For now, joining our students (and their pets!) in their home through their computer screen feels like the best way to connect.
What would you say to other small business owners thinking of working with the SBDC? The Advanced Small Business Management program encourages you to look at your business more holistically. If you're spending most of your time on one area of your business (for me it was teaching), this program will force you to examine those aspects of your business that you've been neglecting.
----------------------------------------------------


Programs and services are provided to the public on a non-discriminatory basis. Language assistance service are available for limited English proficient individuals. Reasonable accommodations for persons with disabilities will be made if requested at least two weeks in advance. Please contact us at 971-722-5080 or sbdc@pcc.edu, to request accommodations. Oregon Small Business Development Centers are funded in part through a cooperative agreement with the U.S. Small Business Administration, and the Oregon Business Development Department.