Grow and scale your business with structured business education and one-on-one business advising.

Have you been a successful entrepreneur for 5 or more years?
Are you driven to excel, think big, and improve your bottom line?
Do you want to take your business to the million dollar level, and beyond?
Get the boost you need to move towards earning $1 million or more in revenue with our Advanced Small Business Management program.
Gather your tools, add to your network, and draft a plan that will pave the way to your dream.
Access a network of successful CEOs who, like you, want to continue growing their businesses. Share experiences and challenges to build powerful partnerships and connections.


Plan strategically for the future of your business

with some "big picture" brainstorming. We'll help you

take a critical look at your business and envision next steps, which might include re-financing, reorganizing, or developing new markets, products or pricing.


Focus on advanced strategies for businesses 5+ years old,

enhancing what you already know.

We'll teach you about lean strategies, managing a sales and marketing team, international expansion, and planning an exit strategy.


One-on-one expert advising on business strategy and leadership,

with 10 confidential monthly meetings that focus on growth strategies, overcoming current challenges, and gaining perspective on your business.
What to Expect
Advanced Small Business Management is designed to help you grow faster and scale quickly. This course gives you 30 hours of instruction, in 10 monthly, 3-hour virtual sessions. Plus, you'll get up to 2 hours of confidential, one-on-one advising per month.
Included in the Program
Session 1: Strategic Planning and Leadership
Session 2: Your Business Model (Your Cash Machine)
Session 3: The Entrepreneur Operating System (EOS)
Session 4: Deep Dive Financial Management and Analysis
Session 5: Fundamentals of Cash Flow and Financing
Session 6: Maximize Your E-Marketing
Session 7: Strategic Customer Development
Session 8: Business and Employment Processes the Drive Results
Session 9: Maximizing Human Capital
Session 10: Harvesting Your Business
Investment:
Tuition is $1995.


Payments are made through Portland Community College, and payment plans are available.

Limited tuition sponsorships are available through our community partners. Fill out the form above to learn more.
Alumni Success Story - Derek's Shoe Repair
"[The SBDC provided] a fantastic level of encouragement and support as I did the scariest, hardest thing of my life. You must contact the SBDC!" - Jessica Jones, Owner of Derek's Shoe Repair
Learn more about Derek's Shoe Repair and Jessica's story here.
---
Alumni Success Story - Dorsum Tech
Leo Ochoa of Dorsum Tech says, "The biggest growth I've experienced during the Advanced SBM Program has been in changing my mindset from a startup founder to a small business owner… The Advanced SBM program has also given me the tools to create standardization processes so I can manage my business more effectively. Working with SBDC will give you the tools and guidance to know more about your business and set the right goals and plan to help you get to your next step. You will have a better understanding of what it takes to function effectively as a small business. You will have someone to turn to when you get stuck in your business or encounter a new challenge."
Learn more about Dorsum Tech's success here!
---
NEW PROGRAM STARTS February of 2024!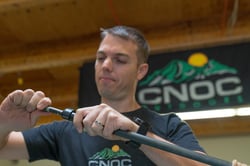 "Becoming a business owner is actually pretty simple. Being a business owner and making it succeed and thrive is one of the hardest things there is. Taking part in the Advanced Small Business Management course through PCC Small Business Development Center gave me just the right tools and perspective to stop chasing my business and start managing it. The information itself is mostly available out there for the keen reader, but the ability to learn it with fellow small business owners and share the struggles of being a business owner is the real value." - Gilad Nachmani, CNOC Outdoors
rev 12.22.21
---


Programs and services are provided to the public on a non-discriminatory basis. Language assistance service are available for limited English proficient individuals. Reasonable accommodations for persons with disabilities will be made if requested at least two weeks in advance. Please contact us at 971-722-5080 or sbdc@pcc.edu, to request accommodations. Oregon Small Business Development Centers are funded in part through a cooperative agreement with the U.S. Small Business Administration, and the Oregon Business Development Department.