Frank Brislawn enrolled in PCC during the Fall of 2015 for Phlebotomy. He writes about the role PCC played in his recent career success.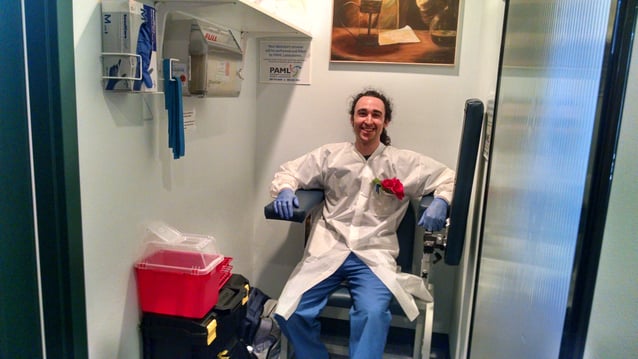 Tell us a little bit about yourself. What's your background? What is your healthcare profession?

I went to Portland State University and attained a Bachelor's of Science in Health. However, since graduating in 2014 I still have found myself in regular, low paying jobs that I was unhappy with. When I heard abou PCC's Phlebotomy program i became interested and am glad that I was accepted into the program. Less than a month after completing the phlebotomy course I was hired at Pathology Assosicate Medical Laboratories and I am very happy with my position as an In-Office Phlebotomist (IOP).
Why did you decide to enroll in PCC Institute for Health Professionals?
I was unhappy and stressed out with my then work life. My friend mentioned that she was going to do it and the more I found out about it the more I became interested. I enjoy body sciences and laboratory work and phlebotomy fits the mode nicely. Even after finding out that other places offered phlebotomy courses, PCC would still have been my option because of convenience and because I have taken courses at PCC before and have found the experience and staff pleasant and enjoyable.
What did you like most about the course?
The teacher (Olga Hice) and my fellow classmates. I loved Olga's teaching style. She was relaxed but knew what we neeed to focus on and do. Because Olga has first hand experience and is currently in the health field she was able to give us real world knowledge and honest answers which she combined with keen watchfulness and tactful reminders.
With the nature of the class my fellow classmates and I quickly got to know each other and developed a camaraderie. We got excited with others at a successful draw and gave encouragement when the vein was missing. We also developed a Facebook group to keep in touch about our internship experiences and about any job openings.
How has this course enriched your healthcare profession?
It has allowed me to attain the skills needed to get a job within the field. It has enriched my life because the course allowed me to change my career path and got me into the health field.
What would you say to other individuals who are thinking about taking this course at PCC Institute for Health Professionals?
Take it! While the course tuition cost can be a little high, it will be worth it in the long run for multiple reasons:
The course is only two terms long. This is incredibly short.
Once you have a job as a phlebotomist you have options to move around into a different area of interest such as being a medical assistant, lab tech, nurse, etc.
You don't need a four year degree to be a phlebotomist (I wish I knew about this program before I went to PSU).
The skills attained in the course and national certification are great to have because if you move then you'll have an easier time finding a job.