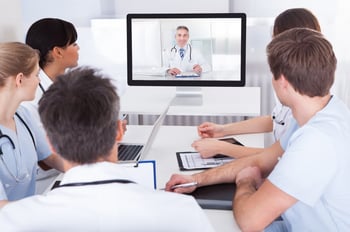 If you're new to online learning, you may have concerns that taking online healthcare classes might be too different from traditional classroom instruction. However, at the PCC Institute for Health Professionals, we design our online courses with student success in mind, taking care to discern which classes are best suited for online learning—and which are best delivered in the classroom. We do everything we can to make our healthcare classes as user-friendly as possible. We know that once you get familiar with our online learning, you'll be amazed by how easy taking online healthcare classes can be!
What Makes Online Healthcare Classes Different
In academia, there is a persistent idea that a certain type of learning, mainly in-person, works for everyone. However, the PCC Institute for Health Professionals keeps in mind that no class is the same and that what works in a traditional setting may not work online, and vice versa. Like traditional courses, all lectures are given in real time. That means you must actually "attend" class by viewing the lecture at a scheduled time. Connecting with classmates also differs from an in-person experience. Distance learning provides a unique opportunity to networks with peers around the world. This creates an environment which combines core concept learning with customized and personal learning.
Where the real difference lies is in the location. Instead of a classroom or a hall, students are expected to build a productive learning space in their own home. This means finding a quiet, distraction-free area, setting up a headset and/or microphone for interactive content, and preparing for school the way you would in a more traditional setting.
The Requirements for an Online Student
Healthcare education demands more from its students both in terms of academics and in logistics. For example, in addition to overcoming the learning curve that comes to being new to online classes, you will additionally be asked to become familiar with new online programs such as the PCC's learning management system called Desire2Learn (D2L for short) which includes unique tabs, links, and pages that walk students through the course. It's also essential that students regularly check their MyPCC email to keep up-to-date on class syllabi, assignments, and communications.
Lectures are still in real time with instructors and classmates present. Your attendance is mandatory and it is encouraged that you be prompt and prepared for the learning experience. Many make the mistake of believing that because the healthcare class is online that it will be an easy pass. But despite its non-location, your healthcare classes are still college level courses that require you to spend 2-3 hours of personal study for every hour of class, in addition to completing assignments, quizzes, reading assignments, and group projects. Because of the rigor, late submissions are not permissible under any circumstance. Therefore, students are required to make accommodations in order to be fully committed to the professional learning experience.
Resources for Online Students
Despite the distance, students should never feel as if they are alone in their education. With specific online discussion boards and breakout classrooms, communicating becomes an essential part of the experience, especially with the class lecturer. Lecturers in charge of leading the class are experts in their field and well versed in education. They provide office hours, which all students are encouraged to attend whether they are struggling, need feedback, or would like to discuss the lesson at hand.
Instructors will additionally provide students with recommended reading, such as researching findings and news briefs, that demonstrate the subject and encourage big questions and discussions. These materials, lessons, and communications are all there to promote learning which students can take with them in their career or to encourage lifelong learning and professional advancement through further courses, such as the CLIMB: Health Training program.
Demonstrating Online Learning
As with a traditional classroom, students will be evaluated and assessed based on several different factors. With the PCC Institute for Health Professionals, evaluation is done not in letter grades, but in completion measures. A student will be awarded either a SC ("Successfully Completed") or NSC ("Not Successfully Completed.") Each course syllabus provided to students will outline the specific requirements needed to receive an SC.
Investing in Online Healthcare Classes
Online classes are not just a new trend or phase in education. Online training in healthcare is the perfect option for obtaining professional distance learning within the confines of your own home or office. By allowing access to the virtual classroom whenever you are able in addition to loads of helpful resources and materials, becoming an online healthcare student can fit into your life situation. For self-motivated, and passionate students, online healthcare classes, such as those offered that the PCC Institute for Health Professionals offers an opportunity to expand the learning from the classroom to the computer—and beyond.